The (Unofficial) Songs of the Summer 2019
From Lizzo to Alex Cameron, here are the tracks our staff can't stop blaring this summer.
Music
Lists
Best Songs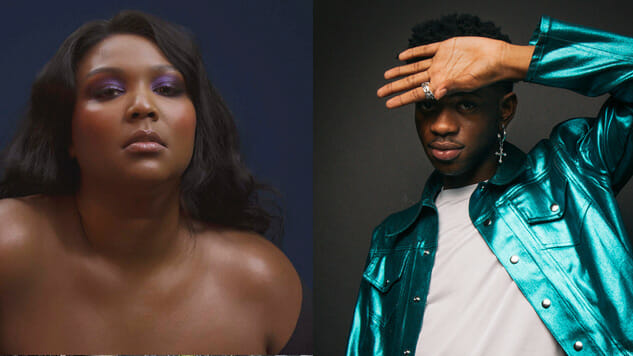 Are you having a hot girl summer yet? The pressure to soak up every beach jaunt, spiked seltzer and patio brunch is intense, but that's not the point of a hot girl summer. According to rapper Megan Thee Stallion, the brain behind summer 2019's unofficial slogan (and, maybe soon, the official owner of its copyright), a "hot girl summer" is just about "having a good ass time, hyping up your friends, doing you and not giving a damn what nobody got to say about it." Sounds easy enough. And the best ingredients for a good ass time? Summer bops. And we've got plenty of them. Every year the speculation as to which song will reign as the capital-S Song of the Summer begins somewhere around May. Usually a clear winner emerges before September, as was the case with most from the last decade, but sometimes it's more of a toss-up. This year, the inescapable "Old Town Road" remix, now tied with a fellow song of the summer, Luis Fonsi's and Justin's Bieber's 2017 hit "Despacito," and Mariah Carey's and Boyz II Men's "One Sweet Day" for the longest-running Billboard Hot 100 number one, seems to be on top. But that's not going to stop us from writing about all this year's candidates, as well as our own personal summer anthems. Keep reading for our staff's votes for 2019's Song of the Summer.
Weyes Blood: "Everyday"
Weyes Blood's "Everyday" may not have the same mainstream ubiquity as some of the other entries on this list, but I'd be lying if I said it's not my own personal "Song of the Summer." The song's bouncy piano riffs, retro-sounding string flourishes and singalong chorus are perfect for a sunny summer day, the kind of track that makes you want to break out in a whole 500 Days of Summer-esque dance routine while walking down the street. Natalie Mering's "true love is making a comeback" line may as well soundtrack any summer romance, while the track's corresponding music video is campy enough to be a first date movie if extended for another 90 minutes. It may get dark in the song's waning 30 seconds or so, but even that can't harsh the buzz that each "THEN AGAAAAAIN" provides. —Steve Edelstone
Mannequin Pussy: "Drunk II"
I know what you're thinking—ugh, another breakup song about getting drunk and forgetting your troubles, but hear me out on this one. Mannequin Pussy's "Drunk II" from their newly-released second album Patience isn't just the breakup song of the year so far, it's the best song of the year so far, full stop. This Philly indie-punk outfit crystallizes the extreme highs of a night out and plunging lows of heartbreak with wailing guitar licks, a cutting bassline and vocals that span the emotional gamut. Lead singer Marisa Dabice dishes out headstrong lyrics with both vigor and vulnerability, never quite settling on one or the other, which further underscores the emotional restlessness of a relationship's end. It's in this paradox of strong-willed proclamations and cries for help that Dabice draws her power, particularly via the piercing outro and this shouted line of rock 'n' roll perfection: "I still love you, you stupid fuck!" —Lizzie Manno
Lizzo: "Truth Hurts"
The so-called theme for summer 2019 is "hot girl summer," and Lizzo has crafted the magnum opus for the season with her Cuz I Love You track "Truth Hurts." From the repeating piano riff to the opening line, "I just a took a DNA test / turns out I'm 100% that bitch," the track is all-around fun and a testament to not letting a relationship hold you down. Lizzo's rapping and energy are infectious, and the song makes you want to dance around your kitchen and scream the lyrics "You coulda had a bad bitch, non-committal" out your car windows. With a catchy beat and even catchier lyrics, it's more than apparent that Lizzo's "Truth Hurts" is not only a summer bop, but a bop for the entirety of 2019. —Molly Schramm
Alex Cameron: "Divorce"
Alex Cameron's newest single "Divorce" may not scream "summer jam" due to its dark, sardonic lyrical nature and the lurid pictures it evokes in the listener. But it sounds like a summer jam—with its drum machine, reliance on keyboards and a backing chorus—and I first heard it while on vacation at the beach. It is the perfect song for hot summer days where you'd like your music to both lift you up and leave you with a wry smile, and I'll be damned if that isn't Alex Cameron's raison d'être. So, give "Divorce" a listen when you're chilling poolside or, you know, getting divorced. —Cole Henry
Carly Rae Jepsen: "Now That I Found You"
Carly Rae Jepsen is no stranger to summer bangers. Her 2012 pop smash "Call Me Maybe" was undoubtedly that year's Song of the Summer, and while her new album Dedicated hasn't produced any clear radio blockbusters, it's still hot weather perfection. Any of these songs could've made this list, but single "Now That I Found You" is infectious. Once again Ms. Jepsen has made the soundtrack to summer romance. "Now That I Found You" is a charged-up chronicle of crushing hard and finding something beautiful as a result, and it is the Song of the Summer. Also, the music video is adorable. —Ellen Johnson
Kevin Krauter: "Pretty Boy"
Hoops bassist/vocalist Kevin Krauter's latest solo single isn't the kind of party-starter one typically associates with Song of the Summer-dom, but those in search of a soundtrack to long, languorous days under the sun will find exactly what they're looking for here. "Pretty Boy" is a sweetly woozy indie-rock track with a deceptive degree of dynamism—the reverb-drenched upshift after the first chorus is sublime—and the faintest vein of yeehaw energy ("But I won't be too alone if I bring my horses / And ride my freedom all the way back home") running through it. Krauter's mesmeric guitars and breathy vocals are equally emotive, expressing the kind of self-assured yearning that fills so many solitary summer hours. —Scott Russell
Zack Fox and Kenny Beats: "Jesus Is The One (I Got Depression)"
Whether he likes it or not, Kenny Beats made the song of the summer with Twitter comedian Zack Fox on his freestyle rap YouTube show. "Jesus Is The One (I Got Depression)" is a profane gut-buster, a mental health anthem and a sublime showcase of Kenny's crunchy, 808-driven, g-funk sampling hip-hop production. If the summer is about laughing with your friends and raging against the police, I can't imagine a better soundtrack than this. —Harry Todd
Lil Nas X feat. Billy Ray Cyrus: "Old Town Road"
Sure, the original version of "Old Town Road" was released last December, but thanks to the remix with the Achy Breaky man himself, it's the most popular song of the summer. It's currently tied for the record for most weeks at number one on the Billboard Hot 100 chart and really doesn't seem like it's budging anytime soon. The lyrics, upon actual inspection, are definitely not anything to write home about, but something about the hokey, joke-y nature of the words on top of a simple, memorable (and cheap!) beat catapulted this song into TikTok meme-dom. If anything shows the power of teens on the internet in 2019, it's "Old Town Road." Yeehaw. —Annie Black
Toro y Moi: "Ordinary Pleasure"
This track was released just before the severe Arctic polar vortex hit the Midwest, but there is just something so plush and summery about anything Toro y Moi touches. "Ordinary Pleasure" bounces and buzzes with life: springy bongos, a slinky bass melting into liquid synths and cool, languid vocals all bursting with a hypnotizing pop energy. The repeated refrain beats the song's pop backbone over its head—maximize all the pleasure! The song sounds like getting day-drunk against the setting sun on a Daytona Beach boardwalk in the '80s, and it rules. —Savannah Sicurella
Kelsey Lu: "Foreign Car"
"Foreign Car" is how summer drives feel in the 21st century. In this track, LA-based cellist/singer Kelsey Lu turns the old California hot-rod sound inside-out, replacing sun-kissed surf guitar with Aphex Twin ambiance and ice-queen R&B. The electric motor, the air-conditioner, automated navigation—all are reflected in the steely sound of this slinky track, which is so heavily indebted to left-field Timbaland production that it probably owes Tweet a songwriting credit. —Substitute Thapliyal