Bodega Memorialize Their Friend "Charlie" in Poignant New Song
Images courtesy of What's Your Rupture?
Music
News
BODEGA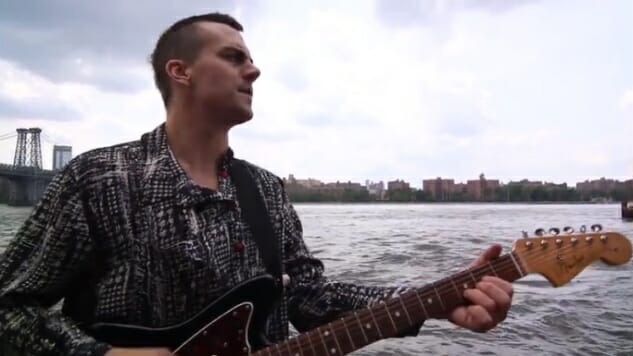 The latest song from one of New York's need-to-know bands, Bodega, is the deeply personal "Charlie," which follows the release of their taboo-tackling song "Gyrate." Without a distinct chorus and featuring a repetitive chord progression, "Charlie" comes across as a poem or letter set to music. The lyrics tell a story, without any smoke and mirrors to see through.
"On New Year's Eve in 2007 my best friend Charlie drowned in the Charleston River," said vocalist/guitarist Ben Hozie. "We had spent every day of that fall semester together; playing records and scheming plans for our great unformed rock and roll band at the University of South Carolina. I've been trying to write him a worthy song since then and only recently found the melody that felt like him."
In "Charlie," Hozie directly tells this story, his tightly layered vocals left un-smoothed. "We met through the song and we lived through the tune," Hozie sings. In the video, water, the thing that takes away in the lyrics, is transformed. Nikki Belfiglio (vocalist) and Hozie photograph one another on their trip to Staten Island and their journey on a boat is framed as cathartic—water rushes past alongside lyrics like, "I see your face in the river. I am with you my friend.". The simplicity in the song's instrumentals allows the story to rise to the forefront. The lyrics are direct, but not without sentiment: "I was standing on the lawn on that New Year's Eve as your body washed up from the river. You were covered in leaves. 'In My Life' I would play on repeat in the lot next to the park that you were buried beneath." (Presumably, that's The Beatles' "In My Life": "With lovers and friends I still can recall. Some are dead and some are living. In my life I've loved them all.") The song ends with the harsh sound of a helicopter/plane engine, coughing, and the lapping of water—at once unforgiving and healing.
"Charlie" is from Bodega's debut album Endless Scroll, out July 6. Watch the video for "Charlie" below and find the band's tour dates further down.
Bodega Tour Dates:
July
04 – Bristol, U.K. @ The Fleece
05 – Brighton, U.K. @ The Haunt
07 – Cardiff, U.K. @ Clwb Ifor Bach
08 – Birkenhead, U.K. @ Birkenhead Library
10 – Manchester, U.K. @ Soup Kitchen
11 – Birmingham, U.K. @ The Sunflower Lounge
13 – Beccles, U.K. @ Latitude Festival
14 – Nottingham, U.K. @ Bodega Social Club
16 – Nijmegen, Netherlands @ Valkhof Festival
17 – Trier, Germany @ Exhaus
19 – Port Grimaud, France @ Plage de Rock w/ Parquet Courts
20 – Barcelona, Spain @ Sidebar Factory Club
21 – Benicassim, Spain @ Benicassim Festival
29 – Richmond, Va. @ Strange Matter
30 – Durham, N.C. @ Pinhook
31 – Atlanta, Ga. @ The Earl
August
01 – New Orleans, La. @ Gasa Gasa
02 – Houston, Texas @ The Secret Group
03 – Fort Worth, Texas @ MASS
04 – Austin, Texas @ The Mohawk – Inside
07 – Phoenix, Ariz. @ Valley Bar
08 – Los Angeles, Calif. @ Moroccan Lounge
10 – San Francisco, Calif. @ Hemlock Tavern
11 – Chico, Calif. @ Duffy's
12 – Portland, Ore. @ Bunk Bar
13 – Seattle, Wash. @ Barboza
14 – Vancouver, British Columbia @ Fox Cabaret
September
27 – Montreal, Quebec @ Pop Montreal