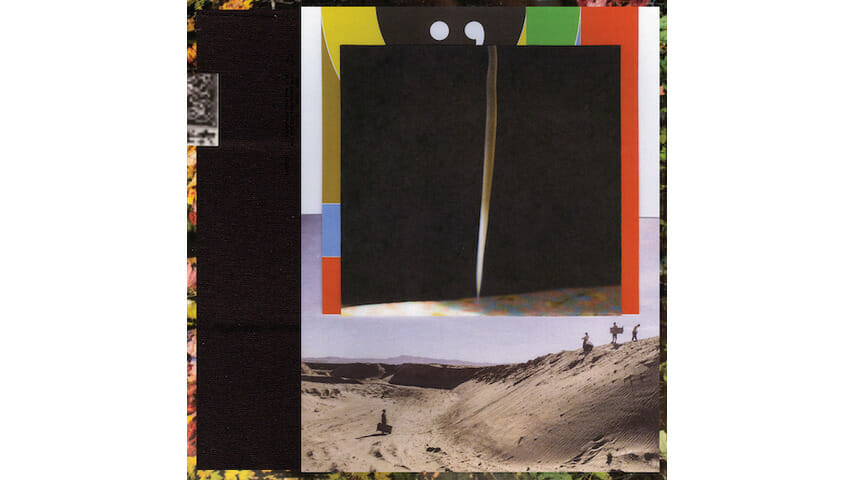 Nearly everything about Bon Iver's excellent 2016 album 22, A Million was inscrutable: the glitchy sonic turbulence, Justin Vernon's effects-treated vocals, song titles rendered in numbers and symbols. Though an expansive ensemble helped Vernon make 22, A Million, the tension between turmoil and vulnerability made it seem like a solitary endeavor by an artist who was trying not to be seen while figuring out how to live a public life.
Bon Iver's latest has a more collaborative feel. Some of that is a result of studio chatter on the opening track, "Yi," that sets a tone. It helps, too, that the album features a roster of heavyweight contributors, including Bruce Hornsby, James Blake, Jenn Wasner of Wye Oak, members of The National, Francis & the Lights, The Staves and violinist Rob Moose, who has become a go-to indie-world string arranger. Bon Iver also makes judicious use of a handful of samples from other artists' songs on i,i to suggest an inclusive creative give-and-take—one where the goal was more about taking pleasure in the process than worrying where things were headed.
The album they ended up with isn't exactly upbeat, and Vernon's lyrics are still cryptic and searching, but there's an element of joy on i,i that was rarely apparent on any of its predecessors. That's not to suggest it's an easy listen. In fact, finding a way in to i,i takes a fair amount of perseverance.
In part, that's because the emotional arc of the album is less clear: It's not so much a voyage of self-discovery as a demonstration of prowess in the studio. Like 22, A Million, the 13 tracks on i,i are expertly assembled, stitching together rich instrumental passages with electronic noise and effects. The songs flow from one into the next, with beginnings and endings that are often indistinguishable. Melodies float up and out of the musical arrangements, but they're sometimes secondary, as if sonics and structure took precedence. Vernon's vocals have the same distinctive double-tracked falsetto sound that has characterized Bon Iver's sound since For Emma, Forever Ago in 2008, and he puts his voice up front in the mix—a sign of confidence, perhaps, in what Bon Iver are doing here. To an extent, what they're doing is reveling in the endless technological possibilities of the recording studio. If Bon Iver's previous albums were about drawing in listeners as Vernon worked through some pretty heavy stuff, i,i finds him swaggering around now that he's figured a few things out, without always seeming to remember to engage the audience.
If you have the patience to drill deep enough into i,i, the bright spots are incandescent. A three-song segment in the middle turns out to be the heart of the album, balancing musical and technical proficiency with the wringing, open-hearted emotion that made Bon Iver's earlier work so mesmerizing. The mini-suite begins with "Hey Ma," where a pinging sound at its start makes room for guitars and subdued strings, then synths, an unobtrusive electronic beat and manipulated backing vocals as Vernon alternates between raw-boned vocals and his delicate falsetto. The instrumentation condenses into a muddle halfway through, then drops out entirely for a few bars to emphasize Vernon's voice. The next song, "U (Man Like)" opens with the unmistakable sound of Hornsby's piano, and Vernon sings in a rhythmic cadence. A chorus of female voices, including Wassner's, joins him, lending depth to lyrics that don't make linear sense, but feel portentous all the same. Then comes "Naeem," another piano-heavy tune with a clapping beat that becomes a martial snare, urgent vocals and samples from Tim O'Brien's "More Love" and an apparently unreleased song by Naeem Hanks—a.k.a. Spank Rock, the riotously brash Baltimore rapper.
After that triple-shot, "Jelmore" comes off like a studio exercise to see how far they could push an omnichord and something called "prepared trumpet." Fortunately, inspiration flashes again on the next song, "Faith." A distant beat propels the track with a train-like rhythm as it expands outward to include piano, synths, saxophones, strings, the Brooklyn Youth Chorus and a soaring serene ecstasy, in the spiritual sense.
For all its considerable musical acumen, i,i still feels clinical at times. Though Vernon and his compadres demonstrate great facility with songwriting—and even more with constructing disparate parts into a whole—their emphasis on structure sometimes comes at the expense of emotional impact, which makes for an album that is objectively dazzling, but not always easy to love.