With a name like The First State, you better be able to flash some credentials when it comes to an original music scene. Fortunately the wide-ranging bands of Delaware come as a pleasant surprise, with impressive sounds from pscycho-billy to power pop. With some fantastic local spots to play and Philly just up the road, Delaware musicians have a great opportunity to showcase their talents.
As part of the 50 States Project, we compiled a list of some up-and-coming bands from Delaware that are well worth listening to.
1. Bright Forest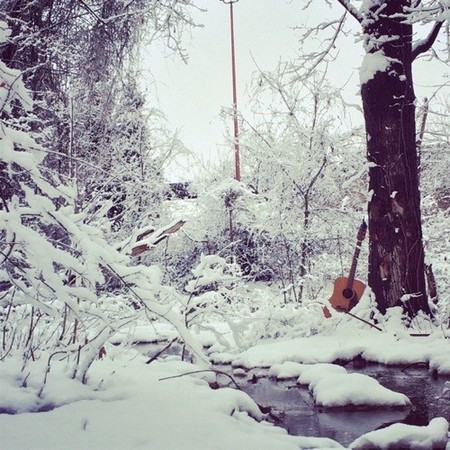 Hometown: Wilmington
Members: Travis Sauer, Joe Stewart
Current Album: Hot House
Travis and Joe have been friends for a long time. Growing up together in Delaware, Travis has played guitar since he was 13 with Joe only taking it up last year. When the two started playing together, it just clicked. They were immersed in the music of Fleet Foxes, Band of Horses and The Shins while writing their first album, and you can hear comparisons throughout their songs. Hot House is full of beautiful folk songs that feel current.
2. Caseracer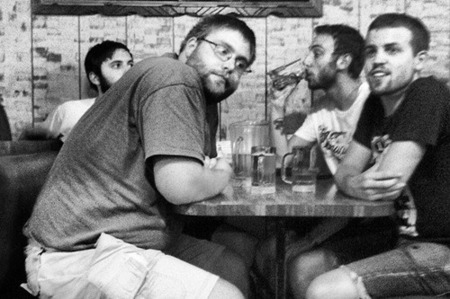 Hometown: Delaware b/w New Jersey
Members: Paul Blest, Jeff Hersch, John Strong, Mike Haller
Current Album: 3 Songs (2013)
Half of Caseracer resides in Delaware, while the other half is in New Jersey, but they get together to make it work. The band's loud, fast punk music will make you want to flail about and release your tension. They don't have a full-length album yet, but one is due later this year. Influenced by bands such as Dan Yemin, NOFX and Matt Freeman, they pull keep things rapid and guttural. Turn up your speakers and dance.
3. Coffin Fly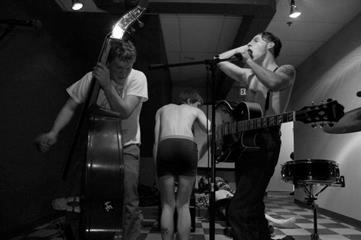 Hometown: Newark
Members: Eric Scherer, Matt DeDonato, Gerrod Mozeil
Current Album: Hooker Creamery (2013)
Named after a fly that lays its eggs in human carcasses, the psycho-billy trio have made a name for themselves over the past couple years. With a passion for cheesy old horror flicks and Hasil Adkins, the boys have a certain gnarly way about them that will charm you to the core. Matt DeDonato's vocals channel Adkins and The Cramps, but put a spin on it for a new generation of weirdo rockabilly lovers.
4. Disaster Committee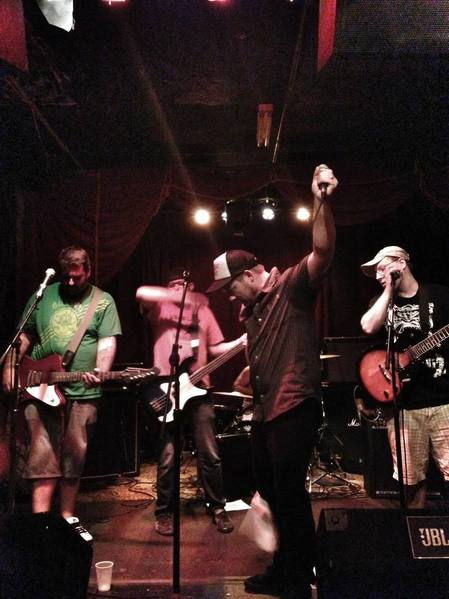 Hometown: Newark
Members: Pat Higgins, Lee Tarczynski, Chris Fanny, BJ Clements
Current Album: Shipwrecked (2013)
Disaster Committee are influenced by punk and hardcore bands of the past, but Higgins has a distinct snarl and growl to his voice. Debut LP Shipwrecked is backed by fast-paced instrumentation that will make you dance. Being relatively new to the scene (the group formed in 2012), the young band has previously released a four-song EP and issued a successful Kickstarter campaign to get the full-length made.
5. The Headies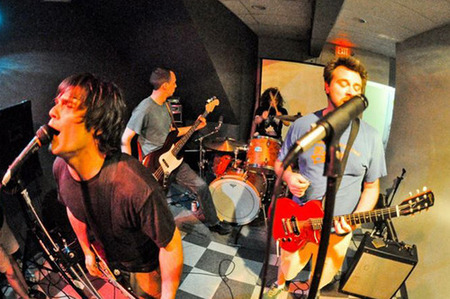 Hometown: Wilmington
Members: Billy Frolic, Mc Ben, Todd Purse, Dan Robinson
Current Album: Meta-Pop (2012)
This high-energy, raucous band delivers the fun wherever they go. The Headies emulate old school punk bands with their own style. With release of their full length Meta-Pop in 2012 and the reissue on vinyl this year, the quartet gives leaves everything they've got on stage and you can hear it in their tunes. Meta-Pop is full of short, wild songs that leave you wanting more.
6. The Keefs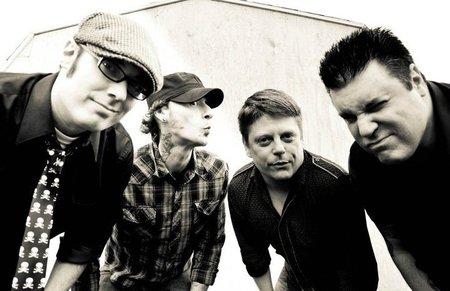 Hometown: Newark
Members: Dave Janney, Vince "Algy Suicide" Kilpatrick, "Two N" Kenn, Dr. Smoooth
Current Album: The Keefs
The Keefs' rock 'n' roll with punk undertones can be a little glammy at times, which is a punk move in its own right; they name influences like Dead Boys, Ramones and Motley Crue, but also play a mean cover of The Replacements' "Bastards of Young." With high-energy sets, they've opened for The Offspring, Henry Cluney of Stiff Little Fingers and many others.
7. Mean Lady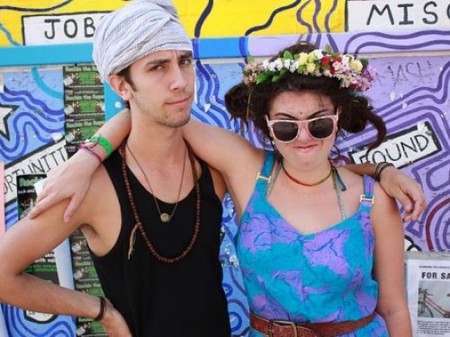 Hometown: Newark
Members: Katie Dill, Sam Nobles
Current Album: Love Now (2013)
They may be in a band called Mean Lady, but Katie Dill and Sam Nobles have a reputation of being awfully sweet. The debut album for the Delaware natives, Love Now out now on Fat Possum, is a collection of warm, melodic songs with a loving vibe. Mean Lady makes music to make people smile. After a trip to SXSW, the duo will also play Firefly this year.
8. New Sweden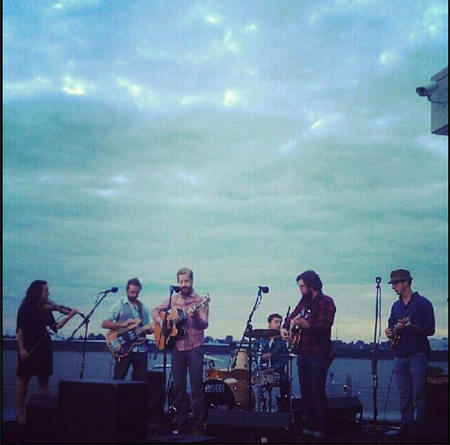 Hometown: Wilmington
Members: William Dobies, Jimmy Dukenfield, Dan Weirauch, Zac Dukenfield, Laura Beth Jewell, Chuck Knott
Current Album: New Sweden (2013)
This Wilmington six-piece packs an impressive punch with a full-bodies sound recalling the Felice Brothers or a countrified Bright Eyes with a twinge of punk. Their beautiful music can be found on a self-titled full length or at many festivals in Delaware, Maryland and Pennsylvania. New Sweden's sound is likable and sincere, perfect to warm your heart on a chilly day.
9. The Spinto Band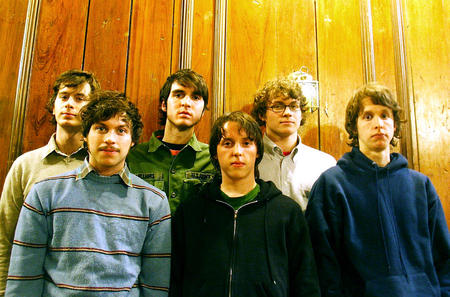 Hometown: Wilmington
Members: Nick Krill, Thomas Hughes, Jeff Hobson, Sam Hughes, Joe Hobson
Current Album: Cool Cocoon (2013)
The Spinto Band have been around for some time now; Cool Cocoon is its fourth full-length album. The band has its own label called Spintonic, and its members been prolific, both with Spinto and in side projects. Cool Cocoon is melodic album, full of power-pop vibes that will please fans of The New Pornographers.
10. Tone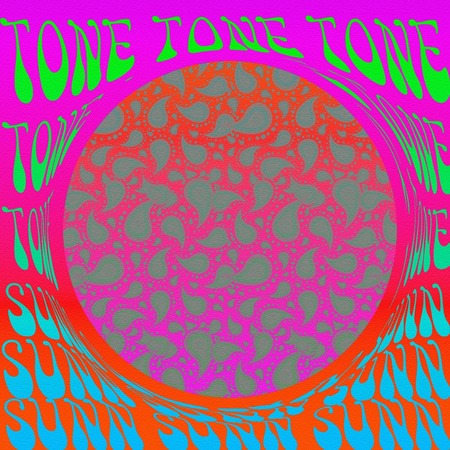 Hometown: Wilmington
Members: Brandyn Mark, Daniel Gutierrez, Dave Johnson
Current Album: Tone II (2013)
Tone really digs fuzz, and fuzz really suits Tone. The sound fits right into the psychedelic garage scene that's been taking off. Think Ty Segall meets Black Angels meets Fuzz. They'd be right at home in the Burger Records family. Their forthcoming LP will be released via cassette and be available later this year. They are talented and noisy, and we look forward to hearing more from them soon.