Exclusive: Drab Majesty Share "Out of Sequence" Video
Photo courtesy of the artist
Music
News
Drab Majesty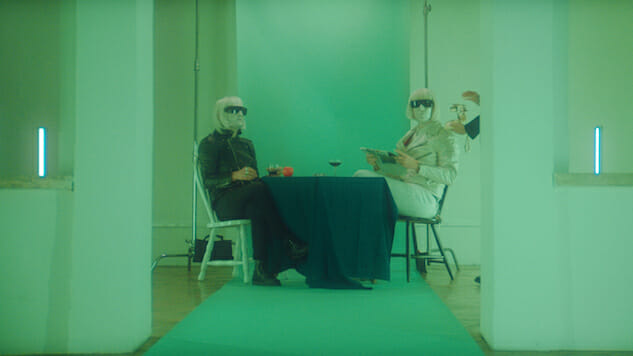 Los Angeles synth-pop duo Drab Majesty have shared their Muted Widows-directed video for their new song "Out of Sequence" exclusively at Paste. The track will appear on their new album Modern Mirror, out on July 12 via Dais Records.
Paste featured Modern Mirror on our list of 10 Albums We're Most Excited About in July, commenting, "Drab Majesty's lustrous synth escapades and intergalactic bleeps are just as slick as their commentary on modern day romance and personal conundrums."
Their new track "Out of Sequence" describes the disconnect between one's former, current and idealized selves. There's a longing that can never quite be quenched, and the song's moody post-punk guitars, wistful vocals and valiant synths echo a similarly dogged sentiment yet ultimately tragic fate.
"Out of Sequence points at the conscious/unconscious reworking of our personal histories to suit the image we strive to attain," the duo says of the track. "It's about a certain kind of decade dysphoria that makes us long for another era—a modern day conceptual nod to the Beach Boys 'I Just Wasn't Made For These Times.'"
Watch the video for "Out of Sequence" exclusively at Paste below, and scroll down for their upcoming shows. You can preorder Modern Mirror here.
Drab Majesty Tour Dates:
July
24 – San Diego, Calif. @ Music Box ^
26 – Los Angeles, Calif. @ The Fonda Theatre ^
27 – Phoenix, Ariz. @ Crescent Ballroom ^
28 – Santa Fe, N.M. @ Meow Wolf ^
30 – Dallas, Texas @ Deep Ellum Art Co ^
31 – Austin, Texas @ Mohawk ^
August
01 – Houston, Texas @ White Oak ^
02 – New Orleans, La. @ One Eyed Jacks ^
03 – Atlanta, Ga. @ The Masquerade (Hell) ^
04 – Nashville, Tenn. @ Exit/In ^
06 – Durham, N.C. @ The Pinhook ^
07 – Richmond, Va. @ The Broadberry ^
08 – Washington, D.C. @ Union Stage ^
09 – Brooklyn, N.Y. @ Music Hall Of Williamsburg ^
11 – Philadelphia, Pa. @ Underground Arts *
13 – Boston, Mass. @ The Sinclair *
14 – Montreal, Quebec @ Theatre Fairmount *
15 – Toronto, Ontario @ Velvet Underground *
16 – Detroit, Mich. @ El Club *
17 – Cleveland, Ohio @ Now That's Class *
19 – Chicago, Ill. @ Thalia Hall *
20 – Minneapolis, Minn. @ Fine Line *
22 – Denver, Colo. @ 3 Kings Tavern *
23 – Salt Lake City, Utah @ Urban Lounge *
24 – Boise, Idaho @ Visual Arts Collective *
26 – Seattle, Wash. @ Neumos *
27 – Vancouver, B.C. @ The Astoria *
28 – Portland, Ore. @ Wonder Ballroom *
30 – San Francisco, Calif. @ Great American Music Hall *
September
18 – London, U.K. @ Dingwalls %
19 – Manchester, U.K. @ Soup Kitchen %
21 – Leeds, U.K. @ Wharf Chambers %
22 – Cardiff, U.K. @ Clwb Ifor Bach %
24 – Paris, France @ Petit Bain %
25 – Lille, France @ L'Aeronef %
26 – Nijmegen, Netherlands @ Merleyn %
27 – Antwerp, Belgium @ Het Bos %
28 – Utrecht, Netherlands @ DB´s %
30 – Köln, Germany @ Bumann & Sohn %
October
01 – Wiesbaden, Germany @ Schlachthof %
02 – München, Germany @ Ampere %
03 – Leipzig, Germany @ Conne Island %
04 – Hannover, Germany @ Bei Chez Heinz %
05 – Berlin, Germany @ Bi Nuu %
11 – Athens, Greece @ The Temple
15 – Hamburg, Germany @ Übel & Gefährlich #
16 – Copenhagen, Denmark @ Vega #
17 – Gothenborg, Sweden @ Musikens Hus #
18 – Oslo, Norway @ BLA #
19 – Stockholm, Sweden @ Fristaden #
20 – Malmo, Sweden @ Plan B #
22 – Poznan, Poland @ Pod Minog? #
23 – Gdansk, Poland @ B90 #
24 – Warsaw, Poland @ Hydrozagadka #
25 – Prague, Czech Republic @ Klub 007 #
26 – Bratislava, Slovakia @ Kulturák klub #
28 – Budapest, Hungary @ Dürer Kert #
29 – Wien, Austria @ Arena #
30 – Lubijana, Slovenia @ Gromka #
31 – Vicenza, Italy @ Vinilie #
November
01 – Martigny, Switzerland @ Caves du Manoir #
02 – Ravenna, Italy @ Bronson #
(^ w/ Body of Light, HIDE)
(* w/ Body of Light, Xeno & Oaklander)
(% w/ SRSQ)
(# w/ Body of Light)