Ed Sheeran Breaks Record for All-Time Highest-Grossing Tour
Photo by Gareth Cattermole/Getty
Music
News
Ed Sheeran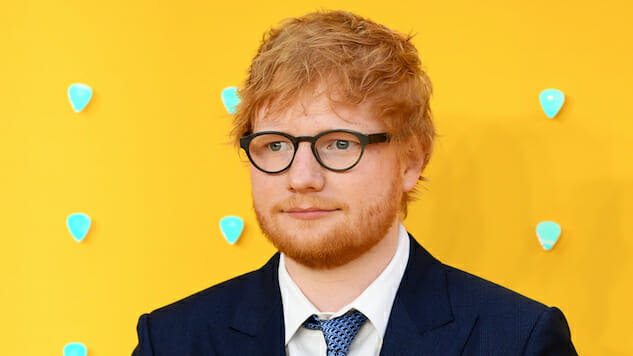 Ed Sheeran is everywhere. There is not a convenience store, fast-food restaurant, radio station or television channel in the world where you can escape the redheaded humanoid. Wherever you are in the world, you're bound to hear his crooning somewhere—he's on TV, he's in movies, he's on the radio and, lest we forget, he's on tour constantly.
Well, it looks like the musician's complete omnipresence has worked out for him: Sheeran is set to dethrone U2 as having the highest-grossing tour of all time, according to Pollstar data.
The musician is expected to break the record as his Divide Tour crosses the $736.7 million mark on Friday night, surpassing U2's previous record of $735.4 million in 2011.
It's important to note that there are some market differences between the two tours, namely the amount of shows the two acts performed and Sheeran's lower ticket prices. U2's 2011 360 Tour ran for "only" 110 shows, whereas Sheeran's current, two and a half year-spanning tour will amount to 255 dates once it concludes on Aug. 26, per Pollstar. The average ticket price of Sheeran's tour was $86.75, as compared to U2's $101.15, hence the need for twice as many dates to catch up to the record.
Sheeran previously broke U2's highest-attendance tour record of 7.3 million in May when the musician reported over 7,316,970 attendees for his current tour. Pollstar reports the musician will be up to 8,504,493 attendees as of Friday's show in Hannover, Germany.
"I just found out the Divide tour is now the highest-grossing tour of all time, this is amazing!" Sheeran told Pollstar. "I feel very lucky to have experienced all of the wonderful countries and crowds over the past 2 1/2 years. Thank you to the fans and everyone who made it possible."
Looks like the news is being received on both ends of the spectrum: "Even jojo siwa could make that amount of money with like 300 shows," one Twitter user argued, while another praised Sheeran, tweeting, "Hardworking. Cheap prices. Beautiful lyrics and vocals. Interacts with the public. Knows what a real WORLD tour is. Gave his fans from across the world (also from countries that most artists dont go to) multiple chances of seeing him live. M&G are free.Other artists should learn."
Meanwhile, Sheeran himself shared the news and thanked fans via Instagram, writing, "Today the Divide tour broke the all time tour record set by U2. Its now the most attended and highest grossing tour of all time. Thanks so much for each and every one of you who have come to a show. 12 shows left, will never forget it x."
Revisit Sheeran's 2013 (pre-massive stardom) Daytrotter performance below.