Fiona Apple Is Working on Her First New Album in Seven Years
Apple is tentatively targeting an early 2020 release
Photo by Scott Dudelson/Getty
Music
News
Fiona Apple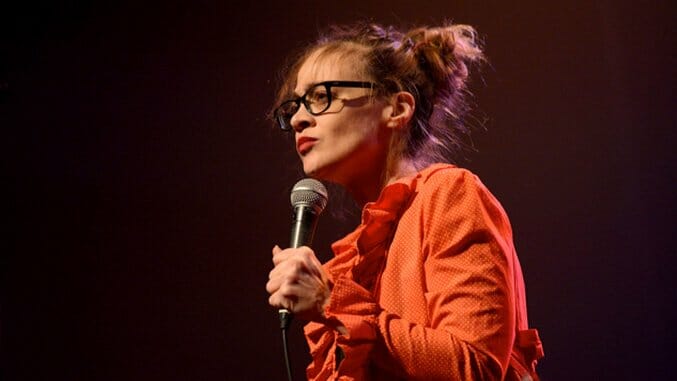 Grammy-winning singer-songwriter Fiona Apple is hard at work on her first new album in nearly a decade, discussing the project in a rare interview published by Vulture on Wednesday. Asked what her life is like nowadays, Apple replies, "Well, it is music now, because I'm finishing a record," later adding she's "hoping for early 2020. I think."
The new album, untitled for the moment, will be Apple's first since 2012's The Idler Wheel Is Wiser Than the Driver of the Screw and Whipping Cords Will Serve You More Than Ropes Will Ever Do, which itself followed seven years after 2005's Extraordinary Machine. The musician acknowledges her reticence to release new music in her discussion with Vulture, noting that it's "hard to say" when her new album will be ready. "I was supposed to be done a million years ago," she says, "And I go off and I take too long making stuff."
Asked to describe the new record in relation to her previous releases, Apple explains:
It's probably its own thing. But I don't know how to articulate that. It's like, if you've been working out every day for a month and then nobody sees you, they see the difference, but if you've been doing it all the time, you don't really see the difference. I can't really know the growth or the evolution or anything like that in what I do, because I'm in the middle of it.
The press-shy artist also spoke to the publicity cycle accompanying a new album release:
I worry a lot about what it's gonna be like when I actually have to put out an album and go out there. I think I'm getting close to finishing. While I'm doing it, I have to put the rest of it out of my mind. It's just fun. It's just me making stuff, on my own time, and then not making stuff for years, and then starting to make stuff. It's just around this time when things are starting to shape up with the album and everything is getting toward the finish line—that's when I start to get a little concerned for myself. I'll be okay, I just know that it's not going to be all enjoyable. Every time I go out on a photo shoot, I think, "This is different from seven years ago. I don't feel like this anymore."
And Apple also elaborated on her decision to donate proceeds from her 1997 single "Criminal" to While They Wait, an organization offering legal and other support services to immigrants seeking asylum in the U.S.:
I was, like everybody, getting really frustrated. A lot of us want to go down and get these kids out of their cages and give them food and blankets and showers, but there's no way to fucking get in there. They won't let you in and they won't even take donations. I was looking on Twitter, which is unusual for me. I did a Twitter search on immigration and I found [Scott], and this organization made the most sense for me. If I can't get stuff in there, at least I can try and help them get out of there. When you can help and you want to, it's really wonderful to do that.
Apple teased her new album back in March, sharing a since-deleted, fan-archived video of her snuggling with her dog during a break from recording at her home. Prior to that, she had revealed in a May 2018 fan Q&A that she was working on new music, offering no details beyond an affirmative confirmation.
More recently, Apple and Jakob Dylan contributed a cover of The Beach Boys' "In My Room" to the soundtrack of Laurel Canyon sound documentary Echo In The Canyon, which was released in late May. Back in January, Apple duetted with King Princess on a new version of "I Know."
Stay tuned for further updates on Apple's new album. You can read her full interview over at Vulture.