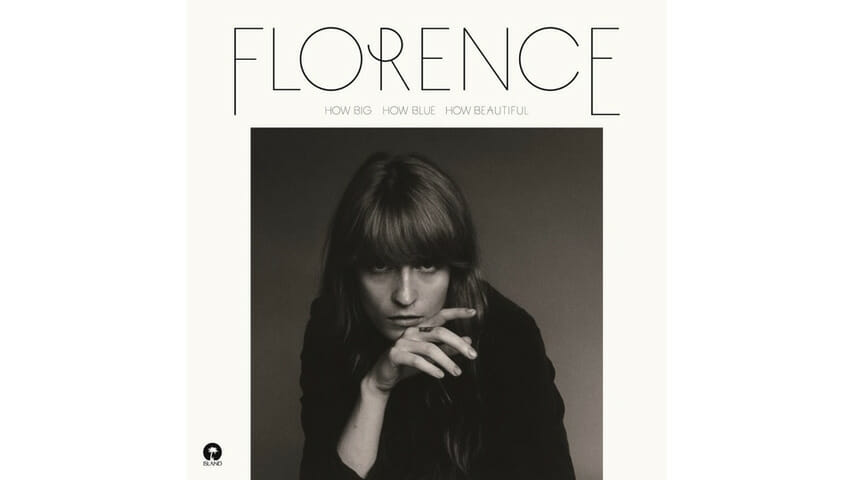 "Maybe I've always been more comfortable in chaos," sings Florence Welch on her third LP. That lyric could be the British singer's mission statement, summarizing the grand ambitions of How Big, How Blue, How Beautiful. Collaborating with producer Markus Dravs, Welch finds clever ways to enrich her bewitching blend of alt-pop, soul and art-rock—wringing out her usual quota of widescreen melodrama, but without the overwrought theatricality that dragged down much of her previous work.
Beautiful presents a more measured style of "chaos" than 2011's one-dimensional Ceremonials, which over-emphasized its nautical imagery and the sheer heft of Welch's operatic voice. The 11 songs on Beautifull resonate in a deeper way by varying the sonic palette and focusing her words inward. On lead single "What Kind of Man," Welch builds from brooding, ambient R&B to seismic rock, weaving anthemic chants and brass into a rumination of love-via-torture. The sizzling "How Big How Blue How Beautiful" finds the singer glimpsing her own mortality through an endless California skyline she likens to a "kiss upon the lips," as the arrangement swells into a symphony.
Welch's previous albums—with their multi-tracked yelps, harp flourishes and pounding toms—were distinct in their whimsicality, but her bombastic style grew into a crutch. With Beautiful, she sounds liberated in sprawl, veering from soulful shouters ("Delilah") to measured electro-pop ballads ("St. Jude"). The breadth alone is impressive—but Welch shows even more growth as a vocalist. She may have risen to fame through walloping at full volume (like on her breakthrough hit "Dog Days Are Over"), but she's discovered more subtle—and emotionally affecting—ways to harness her instrument. On "Various Storms & Saints," Welch strings romantic images into an epic Victorian poem, building her voice from a hushed croon to a grandiose holler. "Hold on to your heart," she shouts, the words dissolving into white noise. No doubt she'll heed her own advice.