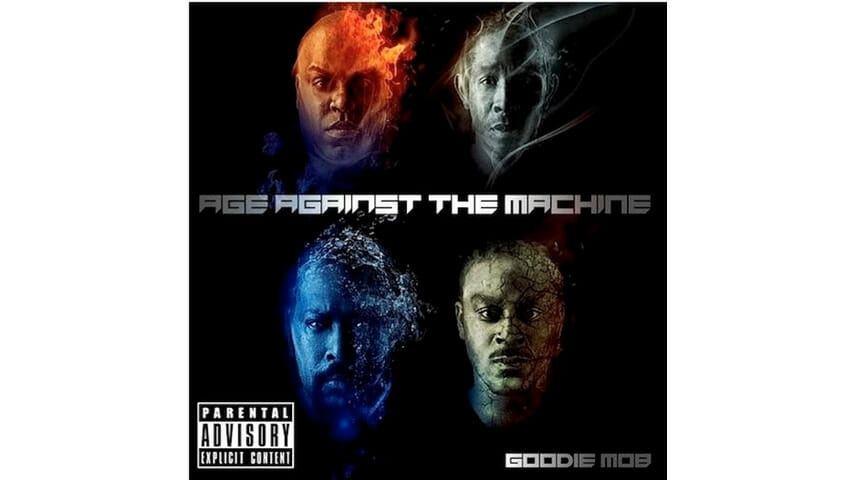 Cee Lo Green can't not be the center of attention. He's a flamboyant soul singer, a blistering anti-rapper and a weirdly magnetic celebrity: Whether he's re-wiring black pop music in Gnarls Barkley, twisting an F-bomb into a celebratory hook or randomly rubbing a kitten on The Voice, it's impossible to take your eyes and ears off him. Reuniting with Goodie Mob, Green's pioneering Dirty South hip-hop crew, would be illogical for any other artist. But since when has this guy ever followed normal logic?
It's been 14 years since World Party, Green's last album with the Mob—but, unsurprising, his idiosyncratic presence dominates Age Against the Machine. On occasion, the album feels more like a "Cee Lo featuring Goodie Mob" production: "'Nexperiance" finds Green preaching and raving over dusty toms and a psychedelic, Pink Floyd-styled organ atmosphere; "Amy" is a Cee Lo song in everything but name, with Green belting about his "first white girl" over a soulful, "Fuck You"-styled groove.
Scene-stealing is in Green's DNA, so it's kind of an unavoidable problem. And it's not like his bandmates (Big Gipp, Khujo, T-Mo) aren't given ample breathing room: Khujo (along with the reliably excellent T.I.) brings intensity and Southern charm to the marching band sizzler "Pinstripes," and Big Gipp dominates on "Kolors," a rumination on gang life and the redemptive power of music, set to a jazzy, Malay-produced sprawl that culminates in a gorgeous bloom of Rhodes and bass.
What's odd is that Green's presence dominates—even when he's not singing or rapping. Take the bloated "Come As You Are." It's a maximalist, orchestral side-show, outfitted with TNT drum blasts and action-film strings—and while that carnival atmosphere suits Green's oversized personality, it's an awkward sonic platform for Goodie Mob's less eccentric members. These songs harness poignant observations on race relations, gang life and even spirituality—but those nuances are often lost within the music's maximalist blast.
Age Against the Machine isn't a seamless reunion—it's too messy, too bloated (18 tracks, not a single necessary interlude), too Green-centric to feel like a pure collaboration. But in a way, those Perfect Imperfections come with the territory. Even at its worst, it's a Machine built with fascinating craftsmanship.