2020 Grammys Recap: Scandal and Tragedy Hang Over an Often Lackluster Ceremony
The death of a sports superstar and internal Academy scandal loomed over Billie Eilish's big night
Photo by Rachel Luna/Getty
Music
Features
Grammys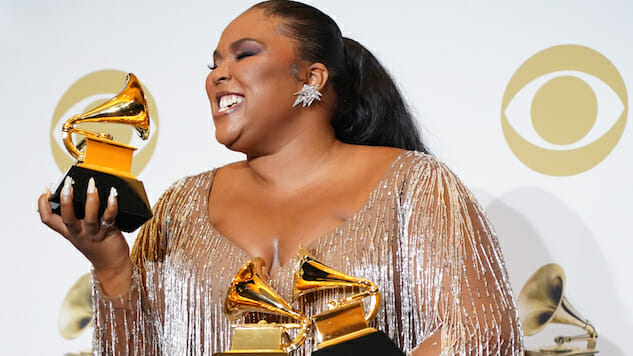 As a hardcore music fan, the only thing you can really consistently count on from the Grammys is vaguely interesting live performances and, more often than not, disappointment. That being said, the main categories in the 2020 nominations were actually quite good, from a critical standpoint: Lana Del Rey's impressive Norman Fucking Rockwell! received an Album of the Year nomination, as did Lizzo's explosive Cuz I Love You and Billie Eilish's blockbuster WHEN WE FALL ASLEEP, WHERE DO WE GO?, and the Best New Artist category glittered with some of our favorite fresh new faces: Maggie Rogers, Yola, Rosalía and Lil Nas X, as well as the aforementioned Lizzo and Eilish. All in all, it was an impressive and diverse lineup.
Sunday night's Grammy winners comprise a much smaller pool. Eilish made history, becoming the youngest performer to ever win Album of the Year, at age 18. She also won the three other biggest awards: Record and Song of the Year, as well as Best New Artist. She also left with the trophy for Best Pop Vocal Album, beating out the often-snubbed Ariana Grande and Taylor Swift's Lover, for a grand total of five Grammys. She's also the first woman to sweep those four major categories.
That's an incredibly momentous occasion for Eilish and her brother Finneas, two industry upstarts who crafted one of the year's most talked-about albums in a "bedroom." However, Eilish likely has a long career ahead of her (she's only 18, after all), whereas Lizzo has been hustling for the better part of a decade, from the time when Eilish was in elementary school. While Eilish should be celebrated, it would've been perhaps even more gratifying to see her share some of the major category wins with someone like Lizzo, who makes spreading positivity a priority and had the year of her career in 2019, or Lana Del Rey, who was being recognized for her best work yet. Ariana Grande also probably belonged in the mix, following the 2019 Album of the Year snub for her thank u, next predecessor Sweetener. At least she killed it during her performance Sunday night, hitting notes only a cocker spaniel could hear.
Tyler, The Creator won for Best Rap Album, which was great, except IGOR is hardly a rap album. The Recording Academy also thought it would be hilarious to have Sharon and Ozzy Osbourne present the rap awards while butchering all the artists' names. It was aggressively anti-funny and even in poor taste, especially considering that hip hop remains the biggest genre in music. The Recording Academy needs to do better.
Not only did Tyler take home a trophy, but he also performed one of the best numbers of the night. Adorned in an IGOR wig and pink and red suit, Tyler brought his aggressive live persona to the Grammys stage, with a couple dozen clones to back him up. The camera shook in time with "EARFQUAKE," and Tyler's free-flying alter-ego reminded us that the Grammys are often at their best when they're at their weirdest.
Other performing highlights included Tanya Tucker's glorious duet with Brandi Carlile of their Best Song-nominated "Bring My Flowers Now." Another country icon, Bonnie Raitt, also made an appearance to salute the one and only John Prine, who won a Grammy Lifetime Achievement Award last night. Raitt graced us with a stripped-down take on her 1974 hit "Angel From Montgomery," which originally appeared on Prine's 1971 self-titled album. Billie Eilish also did a paired-down version of her song "When The Party's Over" while Finneas accompanied her on the keys, but it really would've been more fitting to have Lana Del Rey do a song at the piano. Del Rey went home empty-handed, and she wasn't a presenter nor performer.
The other performances were mostly middling medleys. The ever-impressive guitarist Gary Clark Jr. teamed up with The Roots for his protest-blues track "This Land," Camilla Cabello performed a heartwarming song for her father, who was in the audience, and Lil Nas X entertained with a little help from Billy Ray Cyrus and kid yodeler Mason Ramsey. Usher performed an uneven Prince tribute with FKA Twigs, who danced but didn't sing. Demi Lovato performed an emotional rendition of her song "Anyone," her first live performance since her overdose, and received a standing ovation. Nipsey Hussle won a posthumous Grammy for the DJ Khaled/John Legend collab "Higher" and was saluted with a tribute featuring Meek Mill, Roddy Rich and Kirk Franklin.
The worst performances of the night were courtesy of country couple Blake Shelton and Gwen Stefani and Aerosmith's abrasively bad number with Run DMC. A flailing Steven Tyler was certainly not at his best. The Jonas Brothers did their duty with a rendition of "Sucker," but Nick had something in his teeth, and it was hard to focus on anything else.
Lackluster performances and predictable winners weren't the worst of it, unfortunately. The evening's events were clouded by the shocking and unexpected death of basketball icon and Los Angeles Lakers star Kobe Bryant, who along with his daughter Gianna and seven other people, perished in a helicopter crash on Sunday. This tragedy hit extra hard for Grammys attendees, as the show was broadcasted from the Staples Center. Thankfully, host Alicia Keys addressed the elephant in the room with ease and grace. "We're all feeling crazy sadness right now," Keys said. "We're literally standing here, heartbroken, in the house that Kobe Bryant built." Lizzo also opened the show with the line "Tonight is for Kobe." Bryant's jersey was also spotlighted on stage throughout various performances, including Lil Nas X's ensemble mix featuring BTS, Diplo, Young Thug, Mason Ramsey and Nas himself.
What wasn't addressed, however, is the internal breakdowns within the Recording Academy itself. No less than 10 days after CEO Deborah Dugan was let go from her position, the show went on business as usual, with no mention of the scandal whatsoever. Dugan was hired just last summer as a replacement for Neil Portnow, who famously told women to "step up" at the 2018 ceremony. The Grammys have been accused of rampant sexism and racism in years past, and notably only 11 percent of nominations from the last seven years were women. Dugan was working to implement a diversity task force, but it remains to be seen what initiatives the Academy will implement to address these issues going forward.
The last issue with last night's program that's worth mentioning is the length. At nearly four hours long, the telecast was an absolute slog to get through. The Recording Academy awards upwards of 90 Grammys each year, but only a handful are actually announced during the Broadcast. The rest is all performance, and during a year when 60% of those numbers are worth tuning out, the bulk of the show can feel burdensome.
You think that was exhausting? Get ready to do it all again in two weeks for the Oscars. Only next time Brad Pitt will be there, so at least there's that. We'll be waiting eagerly throughout the remainder of awards season to see if anyone manages to top Billy Porter's motorized red carpet look. Hats off to all of last night's winners, but let's hope next year's Grammys broadcast feels less like a chore and more like a delight to behold.
Find the complete list of 2020 Grammy winners right here.