Hazel English Announces Her Debut Album Wake UP!, Shares New Single "Off My Mind"
Photo by Janell Shirtcliff
Music
News
Hazel English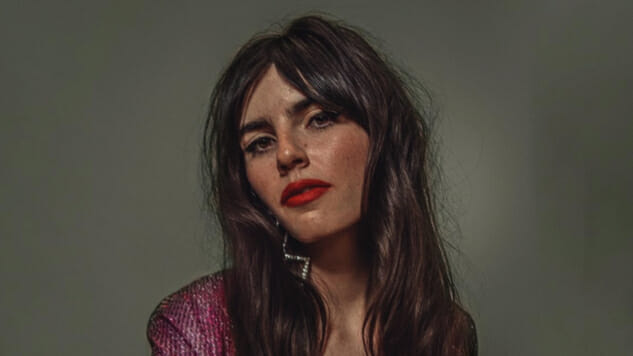 Australian-born, Los Angeles-based indie-pop singer-songwriter Hazel English is imploring listeners to Wake UP! on her forthcoming debut album, set for release on April 24 via Marathon/Polyvinyl. New single "Off My Mind" is out now, along with a slickly edited, '60s-infused music video.
"Off My Mind" follows "Shaking," which English released back in November 2019, and like that track before it, the new song finds her moving from muffled dream-pop to polished, nostalgic rock that still overflows with breathy melody. "Every time we talk / I just don't know what to say 'cause / I'm caught in a moment in between," sings English over chiming guitars, marching drums and soft electric piano stabs—meanwhile, the video's whimsical retro footage takes us back through the decades, to simpler, sunnier-seeming times.
"'Off My Mind' is about feeling stuck in a situation but too afraid to make a move," explains English in a statement. "It's about the limbo state between where you are and where you want to be."
Wake UP!—titled to serve as a clarion call to mindfulness and presence, even in the face of relentless anxiety and distraction—follows English's pseudo-full-length debut, 2017 double EP Never Going Home / Just Give In. Justin Raisen (Angel Olsen, Charli XCX) produced the new album in L.A., as did Ben H. Allen (Animal Collective, Glass Animals, The Big Moon) in Atlanta.
Watch the "Off My Mind" video and see the details of Wake UP! below. You can preorder the album right here. English will soon announce live dates in support of her new record.
Wake UP! Tracklist:
01. Born Like
02. Shaking
03. White Noise
04. Off My Mind
05. Combat
06. Five and Dime
07. Like a Drug
08. Waiting
09. Milk and Honey
10. Work It Out
Wake UP! Album Art: