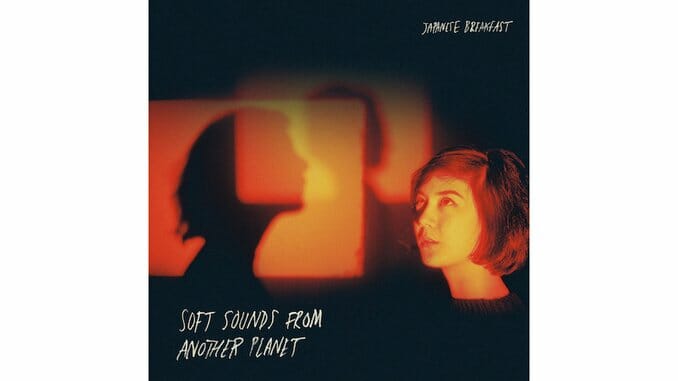 Michelle Zauner, sole creator of the indiepop project Japanese Breakfast, made 2016's Psychopomp amid the death of her mother from cancer, a catastrophic event that can easily turn anyone to an unfamiliar path. For Zauner, it meant an ongoing search for solace in loss. Soft Sounds From Another Planet continues that journey. It's a somber, starry lullaby that results in periods of fitful sleep marked by struggles with fading love and death's vague mystery.
But there's something comforting about the record too, with its interlocking muted chords, muffled drums and sudden shocks of electric guitar that adds sharp slices of lightning. Soft Sounds is full of pretty interludes of ambient noise, mixed with shoegaze and electropop touches.
"Diving Woman" is one of the few songs in which the song's heroine is dominant. Amid spacepop sounds and buzzy guitars from a flowery echo chamber, she declares breathlessly "I want it all." But the dreampop haziness of "Machinist" only describes a deep communication gap with a boyfriend who's gone cold to the relationship. The cascading, sultry sax solo that closes the song plays like a glowing sunset that lingers long after it's gone.
Zauner's songs about broken relationships briefly reference vulgar sex acts that stem from journeys—on the road, in the restaurant, in the smoking lounge—of which she's a part, but where the man, whether good or bad, is always in charge. In "Boyish" his eyes stray hungrily, and the act brings her down with one look, forcing her to confront what she thinks is her physical ugliness. Unlike Liz Phair's Exile In Guyville, the surface beauty rhetoric here is toned down but still cuts hard enough to be realistic. The love ballad infuses a woozy doo-wop beat reminiscent of The Shirelles' "Will You Still Love Me Tomorrow?," another song famous for a girl doubtful of low-calorie words. "I want you and you want something more beautiful," Zauner sings with metered restraint, showing vulnerability and lack of self esteem.
With undulating, ever-moving synths, the acoustic pop of "Body Is a Blade" attempts to bridge the divide between grieving the past and moving on, acknowledging the ability to feel pain is a gift. Paying homage to icons and decrying "cruel men" on "Till Death," Zauner simply lists mental ailments and stages of grief, without embellishment, and it delivers huge impact.
The mourning bells that close the album show Zauner still can't shake the knowledge that she's bound for the same fate as her mother, but it's only one part of the story. The sparkling synths and muted mood that help define Soft Sounds From Another Planet may also be the transformative vessel Zauner travels through in her remaining days of love and life.