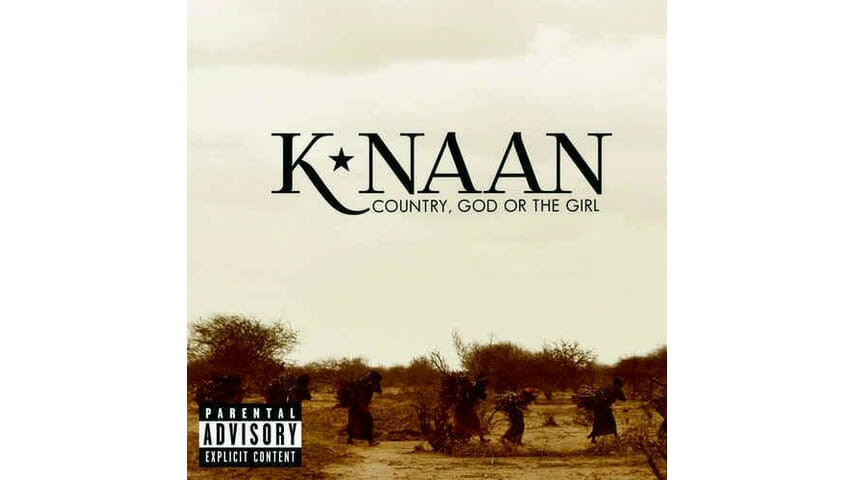 Pop-rappers are always the villains. Flo Rida, Black Eyed Peas, "Starships," supposedly overly earnest, banal, mindless—this is the stuff Real Rap fights against with classic tropes like crack cooking and offhand misogyny (I'm being an asshole, but rap fans have an enormous double standard when they apply nonmusical virtues to their idea of "quality" rap). K'NAAN entered the crosshairs with 2009's "Wavin' Flag," an international World Cup theme with, boo hoo, a "Coca-Cola remix." His ratio of singing to rapping increases with every record. And if you guessed that Real Rap Fans would never like this stuff no matter how good it could possibly be, well he's proof.
K'NAAN's third album finds him in world-conquering form. Comparing himself to "Slumdog Millionaire" on a will.i.am duet that samples the Romantics' "Talking In Your Sleep," nailing down not just Bono but Keith Richards (has he ever been on a rap record before?), the Somalian-Canadian rapper's a ham if not Sheryl fucking Crow. And he's excellent at it, with melodies that destroy Maroon 5's (see "Nothing to Lose," the poppiest cut Nas has ever appeared on) and occasionally thrilling lines ("Survival is like my addiction" is a favorite), even if he cares less and less about those as his showbiz career ascends on.
From growing up rapping about the warzone that is living in Somalia, his heart is a given, which frees up his brain to write hits. The bubbly "More Beautiful Than Silence" and Nelly Furtado comeback "Is Anybody Out There" do their chart bid but the piano-swollen "Hurt Me Tomorrow" outclasses them all, as well as the gorgeous thumb-piano setpiece about how "I make it seem so simple." "70 Excuses" brings in a creaky acoustic guitar for just those ("I could've been a scholar if not for classes," "I could've been employed if not for the boss," etc.) and dolls it up with a bit of tenor sax. The Bono cut, "Bulletproof Pride," predictably kind of sucks, and "The Wall" gives the eye-rolling haters some palpable ammo with lines like "You don't need a fighter jet to end our arguments," so there's more than one way to trim this 16-song hour into a more razor-sharp 45 minutes. But with major-label rap mostly in the toilet—how many blog devourers or Top 40 listeners alike bought Big K.R.I.T.'s Live from the Underground?—this is as good a time as any to embrace melting-pot pop-rap in the Wyclef mold as a pop takeover, though nothing on Country, God or the Girl will ensnare a whole nation's summer the way, say will.i.am's streak from "My Humps" to "I Gotta Feeling" did. It's not quite as immediate as pop-rap requires. As for overestimating his audience's intelligence—or their interest in geopolitical unrest—there are worse ways to fall from the top.