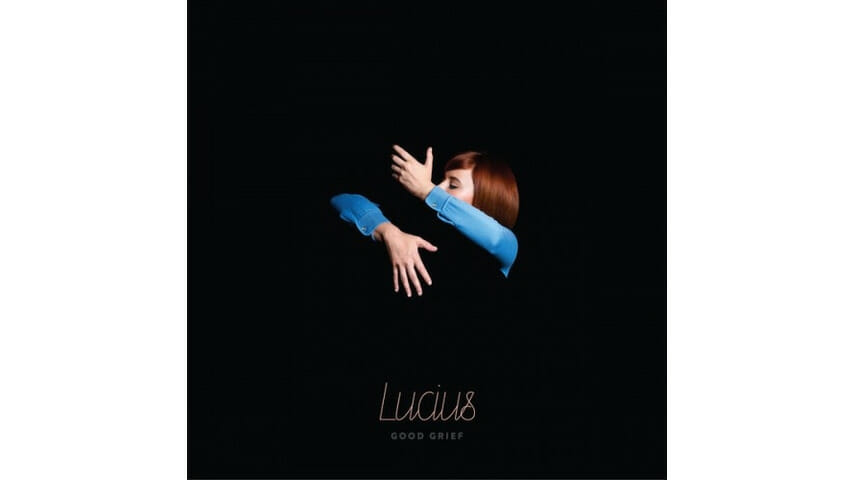 Jackson Browne set the standard for road songs in 1977 with "Running on Empty," a tune (and album) about the contradictions of life on tour: the disconnect from home and the camaraderie on the bus, the exhaustion and exhilaration, all blending into a kind of weary romance for an itinerant existence that can be surreal. Lucius knows just how Browne felt.
The Brooklyn band spent most of 2014 on the road—"We didn't sleep in our own beds for more than 20 days in a row that year," singer Jess Wolfe says—and came home with more than enough inspiration to write a road song of their own. "Dusty Trails," tucked away at the end of the group's new album Good Grief, takes a more aspirational tack, as if Wolfe and co-singer Holly Laessig know the only way to make it through tough times and doubt is to keep moving forward, building character through hard work and self-sacrifice, until that dusty trail becomes, in their words, "a golden road."
It's apt imagery for Lucius. All that time on tour since the 2013 release of Wildewoman, their first full-band album, has honed the fivesome into a tight musical machine. It's also steered them in a more pop-centric direction, which they say reflects the way the band has evolved as a unit onstage. "With Wildewoman, the live show kind of outgrew the record and became a lot bigger and more visceral," Laessig says.
The visceral side shows through right away on Good Grief: "I had a dream where you were standing there with a gun up to my head," Wolfe and Laessig sing on opening song "Madness." The band accompanies that unsettling image with dreamy swells of strings that take flight over a booming rhythm on the refrain. It's a pop song, in a lush, unhurried way, but the real pop fireworks begin on the next song, "Something About You." It's big and bold, crackling with energy as Wolfe and Laessig let their voices ring out over sweeping synthesizers and a slippery, pulsating bassline perfect for any number of mid-'80s Hot 100 chart-toppers. They dial in a similar vibe on "It Almost Makes Me Wish for Rain," stacking up colorful layers of vocals, synths and rhythm. "Almighty Gosh" summons the spirit of Big Country with hand-claps and a stinging, effects-treated guitar riff. The only thing missing here is a cameo from MC Skat Kat, and that's a compliment.
For all its '80s pop touchstones, Good Grief is very much a forward-looking record. Wolfe and Laessig have grown as songwriters, and their deepening confidence—and already enviable vocal ability—makes them willing to push in new directions and play with different sounds and styles, in conjunction with bandmates Dan Molad, Andrew Burri and Peter Lalish. Ballad or banger, the result is song after song with earworm potential, finishing with a masterful four-song stroke that culminates in "Dusty Trails." Wolfe and Laessig's voices dominate the understated song, which is at once a post-tour catharsis and a succinct summary of the band's progress so far. "I know I'm no doctor/ But if I was guessing I'd say it was just growing pains," they sing. "And painful as growing is/ We can't forget/ it's our ticket to taking the reins." Just to further mix the metaphor, let's say Lucius is now firmly in the driver's seat. It will be a pleasure to see where they're planning to go.