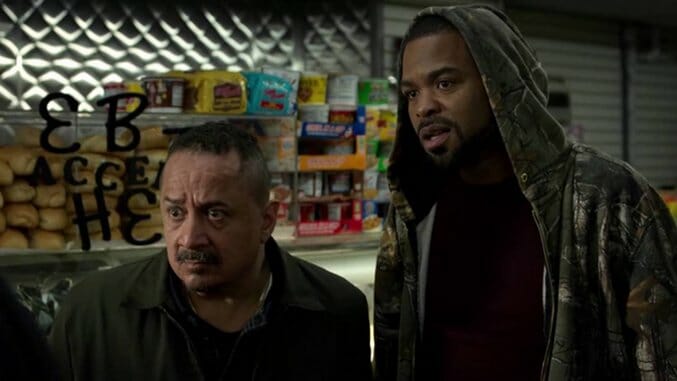 Netflix's newest Marvel spinoff Luke Cage is an exercise in badassery on so many levels. The titular character is a black convict-turned-superhero who, using his mostly bulletproof skin and supa-strength, dishes out justice in Harlem like it's cake at a birthday party. Born out of the Marvel Universe as Power Man, Luke Cage made his official television debut in Jessica Jones, another Netflix-Marvel production. (The TV streaming service has a few contracts with the comic book publisher, in case you couldn't tell.)
What makes this series stand out among other Marvel offerings is its homages to black culture. Show creator Cheo Hodari Coker uses the vigilante plot point and the campy-but-empowering ethos of blaxploitation films to fuel an underlying discussion about what it's like to be black in America today. Unlike most caped crusaders, Cage is not afraid to show his face or sport a hoodie, an article of clothing that has become synonymous with negative assumptions about race through the shooting of Trayvon Martin.
Racial identity is especially evident in the show's music. Ali Shaheed Muhammad of A Tribe Called Quest and composer Adrian Younge use a number of real-life guest musicians to ground Luke Cage in a clever and surreal pseudo-reality. Here are seven awesome artist cameos from the first season.
Note: This list is basically free of spoilers, so read easy.
1. Raphael Saadiq
Raphael Saadiq perfected his smooth vocals and sexy stage presence as a founding member of Tony! Toni! Toné! before breaking out under his own name in the late '90s . While his sensual brand of neo-soul could have easily soundtracked the entire show, his songs "Good Man" and "Angel" perfectly introduce Cage (Mike Colter) and his initial adversary Cornell "Cottonmouth" Stoakes (Mahershala Ali) during episode one. Saadiq's seen playing this eerie tune live at Harlem's Paradise, a happening nightclub owned by Stoakes. The venue plays host to both inventive culture and vicious crime. On any given night, notable artists can play its cozy stage while a mistake-making cronie might be getting thrown off the roof. For unknowing patrons and artists, music masks this mayhem.
2. Faith Evans
This sultry voiced R&B vixen shows up in episode two to hypnotize a Harlem's Paradise crowd with her 2005 single, "Mesmerized." And while patrons are getting down to the funky track, tragedy strikes elsewhere in the neighborhood, causing a violent showdown between Cage and Stoakes. Evans herself is no stranger to pain and misery. She's best known for singing the chorus of Puff Daddy's 1997 Grammy-winning hit "I'll Be Missing You," a lasting tribute to her late husband, Biggie Smalls.
3. Charles Bradley
It's befitting that Charles Bradley shows up to sing "Ain't It a Sin" in episode three. By now, Cage has gone full superhero to get back at Stoakes for his misdeeds. Meanwhile, Stoakes is drawing a hard line with his politician cousin, Mariah Dillard (Alfre Woodard), letting her know that he'll always be a gangster. Bradley, who spent most of his musical career impersonating James Brown, knows exactly how important being yourself is. After being discovered by Daptone Records co-founder Gabriel Roth in 2002, he's slowly gained recognition as one of the world's best funk revivalists.
4. Jidenna
As a longtime independent producer and an artist on Janelle Monae's Wonderland Records, rapper Jidenna is an artist to watch. His performance during the intro of episode five was the most appropriate and cutting of the entire season. "Long live the chief," he spits during a midday soundcheck, while Stoakes hawkishly observes his empty club kingdom. Meanwhile, Cage is across town trying to clean up the mess of their ongoing war under the scrutiny of Detective Mercedes Knight (Simone Missick). And while the lyrics might appease Stoakes, they're also an indictment of his power. This song is the title track to Jidenna's forthcoming album, due out by the end of the year.
5. The Delfonics
After episode five, music takes a back seat to Stoakes and Cage's escalating fight, as well as the appearance of several new villains. By episode nine, the tides of power have shifted and, shakily, The Delfonics ride in to grant life in a sea of death. The iconic Philadelphia soul group peaked in popularity during the late '60s with saccharine tracks like "La La (Means I Love You)." Later, the band's music was sampled by various hip-hop artists and spotlighted fondly in Quentin Tarantino's Jackie Brown. In Luke Cage, matching "Stop and Look (And You Have Found Love)" with another one of Det. Knight's revelations makes for one chilling scene.
6. Method Man
While Luke Cage is running from Detective Knight, the cops, and pretty much everyone else in episode 12, he decides to stop a robbery in progress and ends up saving iconic rapper Method Man (no good deed goes unpunished, people). Method Man, an original member of the Wu-Tang Clan, aids Cage's escape by trading hoodies with him. While Method Man has never been an exceptional actor, he delivers one of the show's most powerful and resounding lines: "You know, there's something powerful about seeing a black man who's bulletproof and unafraid." Afterward, he raps Mohammed and Younge's song "Bulletproof Love" on a morning radio show hosted by Sway, that dude from MTV.
7. Sharon Jones and the Dap-Kings
Like Charles Bradley, Sharon Jones is signed to the Brooklyn-based label, Daptone Records. After singing backup for Lee Fields (another Daptone artist), she began working exclusively with the label's house band, the Dap-Kings, and has released seven albums since 2002. The title track off breakout effort 100 Days, 100 Nights closes out episode 13, the final installment of Luke Cage's debut season. As cliffhanger after unsettling cliffhanger gets tossed at the audience and the fate of Cage is left hanging in the air, the fake audience of Harlem's Paradise begins clapping and cheering. "Always forward," Cage says, just before the credits roll. "Forward always."Perhaps this means Cage will persevere for another round and, hopefully, great music will accompany him.