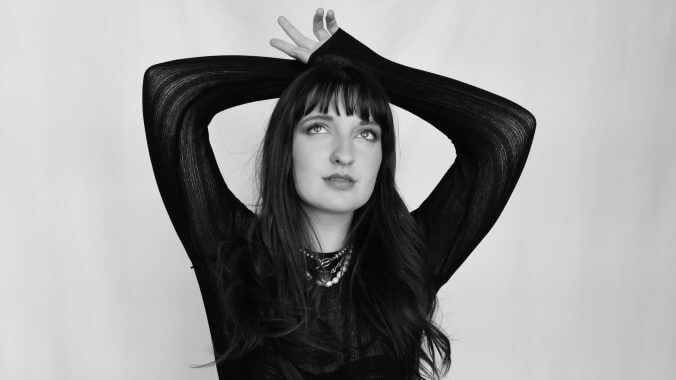 Three months ago today, California multi-instrumentalist and singer/songwriter Madison Cunningham took to the Cypto.com Arena stage in Los Angeles to accept the Grammy Award for Best Folk Album. Her sophomore LP, Revealer, was a smash hit and vaulted her into an elite corner of music history. Cunningham was nominated alongside Judy Collins, Janis Ian, Aoife O'Donovan and the Punch Brothers, all peers of hers that she greatly admires. With summer looming, the magic of that night has begun to wane, though she sometimes questions if the magic of that night ever existed to begin with. "It still feels like it maybe didn't happen," she says, chuckling. "I think that's a version of a high."
After taking in the absurd, euphoric privilege of winning a golden microphone, she quickly went back to work on her music. "I definitely came back down to Earth very quickly, but there's a fever dream sort of romance that hovers around it still," Cunningham adds. "It's so surreal that it's easy to distance yourself from, and then you're facing [the question]: 'Can I write a good song again?'" The answer is yes, as she is one of our brightest storytellers. A focal part of Gen-Z's burgeoning nucleus of multi-hyphenates, Revealer helped Cunningham skip the "star in the making step" altogether.
Despite winning Best Folk Album, Cunningham has never bought into the notion that she fits into that genre. In fact, she rejects genre as a general concept. "I think they are very shortsighted and narrow, because their descriptions can only do as much as they can," she says. "It's all a bit silly." Revealer being nominated next to Collins' Spellbound was an odd juxtaposition from the Recording Academy. While the latter was another tender entry from one of folk's most-beloved songbirds, it was a sonic that Collins has been revisiting over and over for decades. Cunningham's album, in contrast, was a fresh, inventive take on what "folk music" means in a contemporary space. Meandering across every subgenre and texture from rock 'n' roll's spectrum, Revealer was deftly perfect and rightfully rewarded with the proper hardware.
But, as she begins placing her focus on the next project, Cunningham has opted to not get too comfortable amidst the buzz of Grammy night. "The headspace, for me, has been to not dwell on it for too long and to make sure that it's not shadowing the next thing," she says. "Because I don't make music for that; that was a beautiful bonus to a record that I was proud of. It's important to move on from it as quickly as you can and not trap yourself into making music to get it again." Winning a genre award might initially seem like a foolish accolade for someone who doesn't buy into the categorization of music, and Cunningham is well-aware of how it might lead to casual listeners pigeonholing her into one place. "I suddenly felt like I'd heard the word 'folk' so many times that it didn't sound like a word anymore," she adds. "I think that category is super funny, but I also think it's just another word for 'singer/songwriter.'"
Folk music has become a benchmark for boundary defiance. While someone like Collins will forever be revered for her lyric-driven, acoustic ballads composed during the counterculture era, the genre she helped maintain relevance for has changed exponentially. It's a complex type of storytelling that doesn't follow any specific sonic blueprint, and Revealer is eons above the folk archetypes that traditionalists would buy into. But, then again, the Grammys are hardly a benchmark for a finger-on-the-pulse, good-faith-read on contemporary music—which is what makes Revealer's nomination, and win, so important. Some of 2022's best projects were left behind across every category, thinning the ceremony's importance even further. "I can think of multiple records last year that didn't get included, and that's where it all starts to feel hokey to me," Cunningham says. "It's like, 'What is this actual conversation about? Why do we do this?' But, there's a piece of me that still feels a great deal of pride, because [winning a Grammy] was my childhood version of what it meant to make it."
Revealer was a great step of technical growth for Cunningham, who broke out of the Americana shell she built on her debut LP Who Are You Now in 2019. By grounding herself in blues, soul, alt-rock and orchestral tones, she experimented and took risks while continuing to hone her meticulous approach to songwriting. "I wanted to let my guard down on [Revealer]. I wanted to avoid making the same album twice, so I was hoping that it would feel very similar to the heart of how I write and how I'm represented—sonically—but making broader strokes," she adds. "There were a few songs on the back-half of the album that definitely represented a side of me that I'm not sure I've shown before. I'm really proud of those tunes and surprised that I was able to engage with those instincts and walk away really liking the outcome and owning it and loving it."
Cunningham is an arrangement obsessive, almost to a religious extent. On the opener "All I've Ever Known," the first song she wrote for Revealer, Cunningham helms the entire movement, playing every instrument. That process was the initial concept for the album altogether, as she wanted to write, arrange and record everything by herself. She also avoids improvisation, preferring to arrange and write her guitar solos before playing them. "Some people are incredible soloists and that's where they shine. For me, I've never been that sort of player, but I love letting the guitar step forward," Cunningham adds. "I just fold [a solo] into the arrangement and find a way to make it feel new, even if it doesn't deviate from the structure." Running her performance of "Hospital" on Jimmy Kimmel Live! back, her technical finesse and prowess feels even more singular and astonishing. Don't think too hard about how she is, somehow, able to sing such mountainous melodies while playing such intricate riffs. The answer is only known only by Cunningham and the heavens above her.
Greatly influenced by multi-hyphenate Jon Brion—who is notoriously all over the map in his compositions but arrives in those quadrants through herculean technique—Cunningham loves exploring how other musicians approach their crafts. "The way people represent themselves on audio, that's the most-fascinating thing to me, to see that progression in other artists," she says. "From experience, it's a journey to find your sonic stamp. It's like hearing your voice back on speaker: At first, you're like, 'That's how I sound?' And then, eventually, you settle into your thing. I admire that in others. I always love looking under the hood and seeing how people come to find the final version of a song. It's fascinating to see that in comparison with previous versions."
In turn, Cunningham elected to christen her Grammy victory and whirlwind 2022 with a deluxe edition of Revealer, fashioned with bonus tracks, remixes and demos that illustrate the metamorphosis of "Hospital," "Who Are You Now" and "Life According To Raechel." Though the rough drafts of the album had Cunningham transforming into a singular, multi-instrumental entity, she is naturally drawn to collaboration. For years, she's been a regular collaborator with Andrew Bird, and, in Revealer's extended universe, she teams up with pop singer/songwriter Remi Wolf to reimagine "Hospital." "I love being around somebody else's instincts. I very much see the value and the teamwork around it," Cunningham adds. "I keep my mind and spirit open to what it could look like to challenge myself working with someone else."
Cunningham's collaboration with Wolf—who gives "Hospital" a second, more-chaotic life—came from a friendship sparked between the two musicians over the past few years. Paired with bonus tracks and demos, Cunningham gives us a wide presentation of the stages "Hospital" went through before landing on the raucous, mirage of blues we first heard last fall. "'Hospital' was supposed to be this person that was coming apart but keeping it together. On the first version of that, musically, it mirrors that feeling. You see sharp edges every once in a while, but it's pretty contained and rounded off," Cunningham says. In a jangly, blissed-out third chapter (titled "Hospital (One Man Down)"), the song becomes something wholly fresh under the tutelage of Wolf's own brilliance. "I thought: 'We should make a version that is completely unruly and unlike anything I've made.' Watching Remi and seeing how she makes records and loving the way her records sound, I thought it would be really interesting to put those two things together and see what color it made. There were truly no rules. We built it from the ground up and followed whatever felt right in the moment," she adds.
Stand-outs from the new edition of Revealer are the brilliant "Death By Suspicion" and "Inventing The Wheel," two patient melodies of prose and dynamic instrumentation. Both are sweet, subtle indie folk tunes that find Cunningham meditating on the multitudes of life's expectations and looming fragility, preserving the initial tracklist's narrative and thematic arc. "Inventing The Wheel" was the last song written for Revealer and, during the final leg of the production process, was shelved in favor of "Sara And The Silent Crowd."
"Sometimes I look back in retrospect and doubt why we didn't put ['Inventing The Wheel' on the album]. We probably could have found a place for it, but I love keeping things lean and mean and being like, 'Here's an 11-song record and there are no sleepers,'" Cunningham says. "'Sara And The Silent Crowd' felt like this send-off, and I really wanted the record to have that, to be like watching somebody wave from the back car of a train. ['Sara'] has that sentiment, and the lyrics it lands on are open-ended but final." Cunningham has been playing "Inventing The Wheel" live for a while now and has a place forever in her catalog—as she nestles it into the nightly setlist right next to "Life According To Raechel," her swan song written in the wake of her grandmother's passing.
It's been nearly a year since Revealer entered our orbits, though that time has passed much quicker for Cunningham. She was one of the first artists since the beginning of the pandemic to play a Tiny Desk Concert at NPR's headquarters in Washington, D.C. last year—bringing "All I've Ever Known," "Hospital," "In From Japan" and "Life According To Raechel" to the space behind Bob Boilen's desk. "It felt like walking into a storybook," Cunningham says. "I've seen that set for so long and seen so many performances that really moved me and inspired me, so getting to actually be there behind the desk, we all felt a bunch of reverence for it. You get one shot, hopefully it sounds good. There was a lot of electricity around [the performance]. We were all buzzing. It's very much you plug in and trust the process and play your best."
Eight months since its release, Revealer is getting a second life and Cunningham is trusting her process. The press cycle for the album is over, which allows her to write from a new place. Despite sharing a stage with some of the greatest musicians in the world, being honored for her revelatory sophomore album and finding pride in what she's made, she's not eager to place Revealer on too high of a pedestal. "When I'm removed from an album, it's easy to become more critical of it—even though there's no changes that can be made," Cunningham says. "That's probably why I feel critical of it. It would scare me if I wasn't, because, if I felt like I had done my best work, then I wouldn't be excited for what's ahead."
Head to YouTube to watch any of her performances and you'll find comment sections littered with her devoutest admirers singing her praises. One user calls "Life According To Raechel" "one of the greatest songs to appear on Tiny Desk"; another proclaims her to be the love-child of Joni Mitchell and Jeff Buckley. Many adjectives come out of the woodwork to describe Cunningham's artistry: enchanting, captivating, phenomenal, "the artist of our generation." What a gift to be in community with her, our audacious, curious rock 'n' roll shape-shifter.
Keen on finding her creative center again, Cunningham has been filling herself up with ideas and samples of new things. Her headlamp remains lit as she marches onward towards the next album. It took a lot of energy to put Revealer into the world and, after spending the last few years touring and recording relentlessly, Cunningham is trying to get more rest—despite being, admittedly, not very good at managing the distribution of attention she gives to sleep and music-making. However, she opts to not sit in the same place creatively for too long. When the next project finds its footing, it'll be roaringly different from Revealer, and Cunningham will fall in love with it over and over again for as long as it'll allow her to. She is likely to find her name on nomination graphics once more and the cycle will tumble on and on—and here we'll be, ready and eager for each second of it.
Matt Mitchell is Paste's assistant music editor. He lives in Columbus, OH, but you can find him online @yogurttowne.
Watch Madison Cunningham perform live at the Paste Studio in 2019 and 2021.