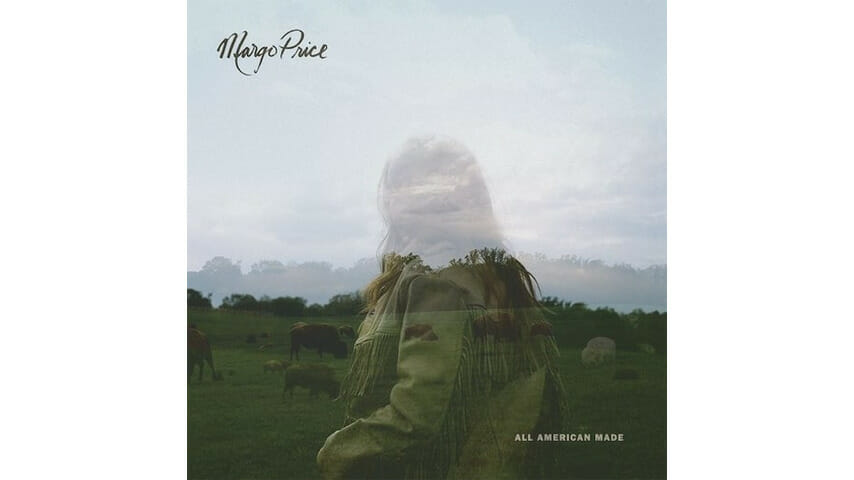 Country star Margo Price has always toed the line between diving backward into country music's canon and ushering an innovative future for the genre. Luckily, she's able to do both on her don't-you-dare-call-it-a-slump sophomore release All American Made.
In terms of format, Price sticks to the roots of traditional country music—four-line rhyming verses built around a strong, sing-along-worthy refrain. Vocally, she still pays homage to spunk-country's foremothers to whom she's oft compared like Dolly Parton and Loretta Lynn. And sprinkled throughout the All American Made, Price name-drops heroes of yore like Farm Aid founders Neil Young and Willie Nelson on "Heart of America," Levon Helm in "A Little Pain" and Tom Petty on the title track. In fact, she even invites Willie to sing on the lovely balladic duet "Learning to Lose."
Looking ahead, however, Price expands her musical horizons past the cliché of three-chords and the truth on All American Made. Price's voice sounds stronger, more confident than on her wily, yet ragged debut. Her backing musicians help build a versatile foundation for her croons and her screams, even throwing down a funky jam on "Cocaine Cowboys." Additionally, Price enlists fellow Christian gospel quartet and fellow Nashvillians The McCrary Sisters on "Do Right By Me" and The East Nashville Orphan Choir on the closing title track to double down on soulfulness.
While the autobiographical narratives within Midwest Farmer's Daughter—romantic loss, death of her oldest child, industry backstabbers and a weekend-long jail stint—seemed to buoyed its success, the growth on All American Made seems completely natural. After all, since she signed to Jack White's Third Man Records in 2015 for the 2016 release of Midwest Farmer's Daughter, Price has gone on to headline venues across the U.S., Canada, and the U.K., and perform at fests like Glastonbury, Newport Folk Festival, Telluride Bluegrass and Bonnaroo.
Like Newton's Third Law says, however, for every action there's an equal or opposite reaction. For the 34-year-old Price, every success she's celebrated in this wild industry we call a living comes with its own set of challenges and setbacks directly related to them. She alludes to a major one, leaving her son (and sometimes even her husband, co-writer, co-producer, and multi-instrumentalist band member Jeremy Ivey) at home while her tour schedule pushes on relentlessly in "Pay Gap," singing, "Honey I work so hard for my money / And I leave my babies at home / Breaking my back, trying to bring home a check / And working my fingers to the bone." She mentions her son again on the acoustic "Nowhere Fast," bemoaning, "And I miss my child, and I miss my friends / but even they quit calling me on the phone asking me how I've been / Maybe I'm to blame for the shape that I'm in / Maybe I'm insane but I'm leaving you again / Living in the present, trying to forget the past / Yeah I'm going, nowhere fast." That separation anxiety reveals itself in "A Little Pain" when she admits, "Gotta please everybody except for myself / Like Levon said, 'I ain't in it for my health.'"
Still, Price manages to frame some of those personal laments into a macro sense, attacking current socio-political issues throughout All American Made, as well. The overarching theme of the aforementioned "Pay Gap," is an attack on unequal wages in America (after all, her band used to be called Margo & The Price Tags). In "Heart of America," she elaborates on some of the issues that Midwest Farmer's Daughter tackled, especially the constant struggle of the agrarian working class versus mechanization and corporate absorption. As she tells it, "Neil and Willie tried so hard in battles they have gone / But that was still longer after the much bigger war had been won / No one was there to save the wheat and the cattle at our home / They took every field my family owned."
The most important message on All American Made is one of resilience, though. The title track in particular captures the lifelong struggle of trying to reach that epitomized life of liberty and the pursuit of happiness. Over sound bites of presidents past, Price offers a montage of All-American imagery—going to California in vintage pickup trucks over endless highways. But she counters these ideals with our inglorious history of international arms dealing, mistreatment of our own working poor on welfare and a subtle jab at Trump. Although she's been singing "All American Made" at shows for months before the announcement of this record, it sounds especially pertinent and symbolic in these fraught times. As the closing track, "All American Made" seems to show Price and all of us what we can be at our worst and who we can be at our best. After all, the twin notions of hope and persistence comprise the consummate American-made dream.