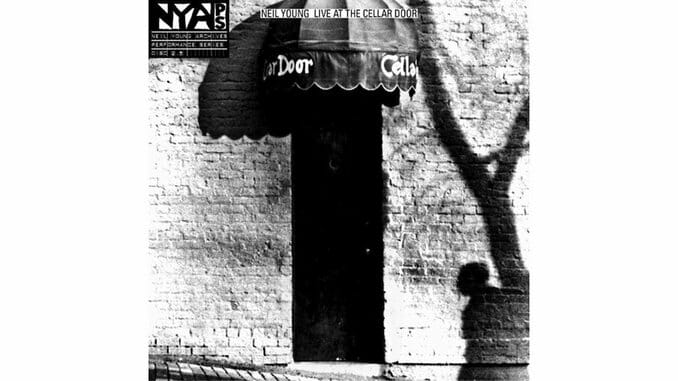 I once found an old Neil Young bootleg in my parents' record collection and thought it was the greatest thing. This brand new release—collected from Young's residency at the Cellar Door in Washington D.C. between Nov. 30 and Dec. 2, 1970—might be even better than that cherished relic, though, for Live at the Cellar Door captures moments of exceptional intimacy with historical significance.
Live at the Cellar Door, part of the Archives Performance Series, includes two discs worth of rare and diverse material of Young performing solo on guitar and piano, all restored to impeccable sonic quality. And since these shows took place just months after After the Gold Rush was released, the double LP offers fascinating versions of now-classic songs like the title track, "Only Love Can Break Your Heart" and "Tell Me Why."
Additionally, Young performs reworked versions of Buffalo Springfield's "I Am a Child" and "Expecting to Fly," along with then-unreleased songs like "Bad Fog Of Loneliness" (which originally appeared on 2007's Live At Massey Hall '71) and "Old Man" (released on 1972's Harvest). Even Young's back catalog was met with excited recognition and this particular version "Cinnamon Girl" is a rarity for sure, as Young quietly admits to an adoring crowd, "That was the first time I did that on the piano."
Although cobbled from six different shows, Live at the Cellar Door sounds like a cohesive entity. The recordings have been remastered with such love; each string on Young's acoustic rings with clarity and weight, and each crack in his voice stings with resonance. And yet, a distant haze pervades the record that could convince listeners that this is an actual bootleg on wax.
Likewise, the structuring of Live at the Cellar Door feels deliberate and considerate. The performer-audience relationship sounds natural, as Young's banter flows between tracks and the crowd's reception sounds genuine and incredulous, as best emphasized during the deadpan banter before the closing track. Young begins by introducing "Flying on the Ground is Wrong," a Buffalo Springfield favorite, as an old, old song about drugs. As audience cheers, the 27-year-old future Hall-of-Famer responds almost prophetically, "You'd laugh too, if this is what you did for a living."