Watch Maya Hawke Dodge the Devil in Nick Cianci's New Music Video
Image via Nick Cianci/YouTube
Music
News
Nick Cianci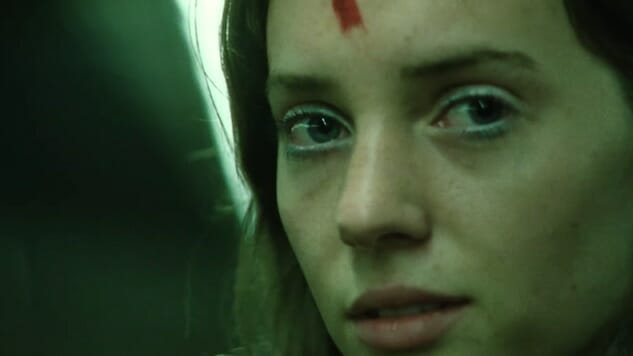 Brooklyn-based singer/songwriter Nick Cianci has shared the bizarro visual for "Goodnight, and Happy Birthday" starring buzzing Stranger Things newcomer and newly minted musician Maya Hawke.
The video begins with Hawke going about mundane tasks—eating ramen, making eggs, flipping through tarot cards—until the latter conjures a woman with a face covered in blood in her apartment hallway. The woman then begins to taunt Hawke by christening her with red marks on her forehead, following her into the subway and leading more face-painted, dastardly figures into her apartment. As the song comes to a close, the devilish strangers possess Hawke and suck her into their strange cult.
Directed and shot by Dillon Moore on 16mm film, Cianci's first music video was loosely inspired by the morbid imagery in the song.
"Although the lyrics depict a birthday party, all of the action is dramatized inside the narrator's anxiety-ridden head," Cianci told The Line of Best Fit. "We loved the idea of a protagonist whose obsessions and fears materialize before their eyes, and, not only proves unfazed by them, but is intrigued by their deeper meaning."
Luke Cage and The OA's Camrus Johnson and singer/songwriter SAMIA also make appearances alongside Hawke.
Cianci's dirge about the fear of failure and the unknown was first released in January and was recently followed by "The Night We Crashed Your Dad's Car" in early April.
Check out the new video below.