10 Essential Post-Punk Albums From 2019 (So Far)
Photos by Anthrox Studio, Megan Magdalena, Daniel Topete
Music
Lists
Post-Punk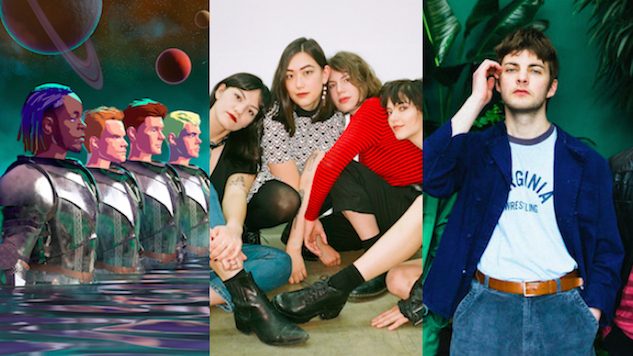 Three or four decades after its peak, post-punk means a lot of different things. What denotes "post-punk" now? Is it the pointed guitars? The chugging rock rhythms? The sarcastic speak-sing? The arty observations? The playful self-awareness? Or is it a feeling or sound that can't be put into words? Whatever criteria you use to define punk's often moodier, sometimes goofier counterpart, you should take time to explore one of music's most dynamic genres. From its underground prime to countless revivals, post-punk is still alive and kicking, even delivering some of the most interesting guitar records as of late. For a sample of some of the most mercurial players in post-punk today, check out 10 of the best post-punk releases from 2019 so far, listed alphabetically by artist below.
1. black midi: Schlagenheim
It may be hard to write about, but Schlagenheim is a record you feel more so than anything else. Case in point: First track "953" features one of the hardest hitting lead guitar riffs in recent memory, an opening salvo that makes you want to drop everything and go run a mile—something I actually did, resulting in my fastest time ever. Within mere seconds of hitting play on their debut album, Geordie Greep and Matt Kwasniewski-Kelvin make their case as two of our most inventive contemporary guitarists, all while you try your hardest to keep time with a beat that will still elude you after 10 listens. There's a high barrier to entry for Schlagenheim, a record by a band who refuses to meet you halfway. Pedantic and pretentious all the way through, Schlagenheim showcases why black midi are generationally great instrumentalists despite our inability to follow what they're doing and why. By the end of "Ducter's" anarchic pandemonium, you won't know what hit you, but you'll find yourself quickly returning to "953" for another go around of an album that showcases some of the most talented musicians around, coalescing behind an experimental, genre-less and extremely noisy sound to exceptional results. Schlagenheim is beyond weird. Schlagenheim is a legitimate one of a kind record. Schlagenheim is a masterpiece. —Steven Edelstone
2. Fontaines D.C.: Dogrel
Fontaines D.C. have been pigeonholed as the British Isles' next great post-punk export à la Shame or Idles, but this Irish five-piece deserve more than that reductive framing. Fontaines D.C. are more poetic than the bands they're lumped in with, and their debut album Dogrel is a testament to a different set of concerns. Dogrel takes on the degradation of urban cities as lively cultural hubs and launching pads for people to make something of themselves—or at least put some change in their pockets. Frontman Grian Chatten and his bandmates share a love of literature and poetry (the Beats, James Joyce, Patrick Kavanagh, etc.), and they write songs together in Irish pubs, resulting in a brazen-faced, romantic portrait of Dublin and its vast characters. Two of their biggest calling cards are self-belief and authenticity. The uplifting lyrical themes on the lead track "Big" ("My childhood was small / But I'm gonna be big") are analogous to "Rock 'n' Roll Star," the lead track on Oasis' Definitely Maybe, though "Big" has more wit and spit. If self-awareness is one factor of the renewed interest in post-punk, the intense, charismatic Chatten certainly has it as he pokes fun at charisma ("Charisma is exquisite manipulation"). Dogrel is an album of tremendous ardor and vivid landscapes, and interspersed with an Irish underdog spirit, Fontaines D.C. are nearly untouchable. —Lizzie Manno
3. The Gotobeds: Debt Begins at 30
The third LP from Pittsburgh's best is all about friendship. Every song has at least one guest on it: Tracy Wilson of Positive NO! trades off lead vocals with Eli Kasan on the pop song "Twin Cities," Protomartyr's Joe Casey shouts along on "Slang Words," Tim Midyett from perpetually overlooked indie rock legends Silkworm plays guitar on "Parallel," and people like Pavement's Bob Nastanovich, Shellac's Bob Weston, and Matador Records co-head Gerard Cosloy show up elsewhere. Instead of mucking up the mix, these guests fit in seamlessly with the Gotobeds' unpretentious and joyous take on hearty, beefed up rock 'n' roll. I've written this before at this very same website, but The Gotobeds sound like they could've been blasting through college radio stations at any point over the last 40 or so years while also sounding absolutely of the moment, and Debt Begins at 30 extends their streak of timelessly great rock records. —Garrett Martin
4. Hash Redactor: Drecksound
A lot of modern bands seem to forget that post-punk can be really funny. Hash Redactor's Drecksound might sound like a heavy, intimidating bear of a record, but it has some of the most sharply sardonic lyrics I've heard in years. Alec McEntyre's sneering vocals resemble Mark E. Smith more than a little, which is good timing, because the world's got an opening for a Mark E. Smith for the first time in about 42 years. There's some almost free jazz-sounding guitar splatter between McEntyre and George Williford, and the rhythm section made up of Nots' Charlotte Watson and Meredith Lones powers through the murk and keeps everything on track. It's a hell of a debut from this Memphis punk supergroup. —Garrett Martin
5. Necking: Cut Your Teeth
Cut Your Teeth, the debut album from Vancouver quartet Necking, has too much nuanced humanity to write them off as just another punk band. Their minimal, shouty post-punk and grunge-tinted rock songs would fall flat if they weren't performed with discernible gusto or infused with as much simmering rage or relatable sulk. Perhaps one of the reasons their emotions are so believable is that three of the four band members went through breakups while writing the album. That said, the four women that make up Necking—singer Hannah Karren, guitarist Nada Hayek, bassist Sonya R and drummer Melissa Kuipers—aren't just howling about the usual suspects. They do so when necessary, but first and foremost, they embark on a quest to become functioning people, or whatever their own definition of that is. On Cut Your Teeth, Karren's vocals are brimming with a confident danger—she cackles and yells as if she's at a loud bar with her closest girlfriends, sharing a heartfelt, drunk moment together as they pile on the partners that have done them dirty. Their frenzied rhythms have a sense of urgency, and their twitchy, melodic guitars utter a threatening "Get out of my way" just as much as an overwhelmed "I'm losing my mind!" —Lizzie Manno
6. N0V3L: NOVEL
The debut EP from Vancouver art collective N0V3L sounds both tighter and looser than the other records on this list. Its guitar riffs are more tightly-coiled and the lyrics are delivered with an unmistakable anti-capitalist ideology, but it's also packed with funky, disco-punk grooves that will help you unwind. On "Sign on the Line," you won't know whether to organize a collective bargaining strike or put on cyclops sunglasses and head for the dancefloor. "To Whom It May Concern" is a firestorm of chiming guitar stabs, and though these ricochets are methodical and mathematical, there's a spunky attitude underpinning it all. "Natural," on the other hand, is the brass-tinted dance-punk tune to end them all, and "Will to Power" is the disco-funk cut with bratty punk vocals you didn't know you needed. —Lizzie Manno
7. Patio: Essentials
All 27 minutes of Patio's debut album Essentials are artful and purposeful. This Brooklyn three-piece—Alice Suh, Lindsey-Paige McCloy and Loren DiBlasi—aren't the most adroit post-punk band going today, but what they create out of sparse sounds is impressive. The satisfying contrast between DiBlasi's pointed deadpan and McCloy's soft vocalizing is just one reason for their intrigue. The vocal interplay between DiBlasi and McCloy on "Boy Scout" is the best example, and it also displays the full range of their lyrical charm. Lines flicker between self-deprecating or violent to wry or just plain sad. DiBlasi sings, "I just feel like I always lose / I think I'm going to go home and listen to Washer / Instead of spending any more time with you." McCloy's delicate vocal harmonies on "End Game" are welcome pillows of melodic pop, and DiBlasi's punky, disconsolate grandeur on "Open" struts slowly with grace. —Lizzie Manno
Disclaimer: Loren DiBlasi is a former Paste editor.
8. Pottery: No. 1
After a solid performance at this year's South By Southwest and tours opening for Parquet Courts, Viagra Boys, Oh Sees and Fontaines D.C., Montreal five-piece Pottery released their debut EP No. 1, recorded in just over two nights and cut live to tape. Crediting Orange Juice, Josef K and DEVO as influences, Pottery blend the whimsical, danceable and the arty leanings of some of pop and punk's greatest groups. The instrumental "Smooth Operator" is a slinky opener, evolving from a cool and collected bluesy strut to an anxious punk freakout. Another somewhat rootsy tune "Hank Williams" is unexpected, but it's one of the peppiest country-punk tracks since Iceage stomper "The Lord's Favorite." "The Craft" finds their eccentric post-punk at its sharpest and most cartoonish. Their wonky percussion, frisky vocal snarls and lyrics of life's rat race result in freakish art-pop profundity. —Lizzie Manno
9. Toy: Happy in the Hollow
Toy have always dabbled in the sinister, but the quintet's fourth album, Happy in the Hollow, is their most wholehearted embrace of ominous murk. If their last LP, Clear Shot, was a moderately dark album, then Happy in the Hollow is near pitch-black with just a small lit torch to navigate through the darkness. While their previous albums leaned on a mix of psychedelia, krautrock and shoegaze, their latest full-length is much more fluid—injecting a bit of wiry post-punk, dialing back some of the indulgent psychedelic pastiches, and underscoring the sublime hooks and melodies that made them such a fascinating group in the first place. Knowingly or not, "Sequence One" provides a sturdy example of the album's lyrical dynamic ("Smokey sentimental crush / Turns into atomic sludge"). Toy never fully commit to dewy-eyed romance or moody, winding sci-fi and instead, they occupy an arresting lyrical middle ground between the tangible and intangible. Their motorik rhythms, gloomy guitar work and Dougall's spectral vocals result in a creepy aura while their various synths and keyboards either enhance its hair-raising quality or counteract it with shimmering pop crescendos. Their guitars are often intensely rhythmic and blistering or harrowing and atmospheric, but always with a distinct purpose. Despite not matching the thrilling highs of Clear Shot or their self-titled debut, Toy make a strong case for Happy in the Hollow as their most cohesive and compelling record. —Lizzie Manno
10. Truth Club: Not An Exit
Maybe this Raleigh four-piece fits more squarely in the indie rock category, but there are enough post-punk rhythms and tones to justify its place here. Truth Club's debut album Not An Exit is full of propulsive movement, but Travis Harrington's earnest voice and tender lyrics are firmly tethered to the ground. Their guitars pump, twinkle and echo, but never remain static for too long. On "Student Housing," the guitars cascade with precision, on "No Planned Sequel," they rumble with grit, and on "Luminescence" they hum with subtlety. In addition to their guitar mystique, Not An Exit is more poetic than most indie or post-punk records. Harrington writes with mature poignancy about topics like entrapment, belonging, purpose, desire and anxiety. "Path Render" is an affecting view of one's life from the ether, and on "Tethering," Harrington poses a question that will leave you in silence for a while: "If everyone's supposed to leave their own mark on everything / At what point does the world just seem too worn out?" —Lizzie Manno