Rina Sawayama Is Just Like the Boys in "Comme Des Garçons" Video
Image via Eddie Whelan
Music
News
Rina Sawayama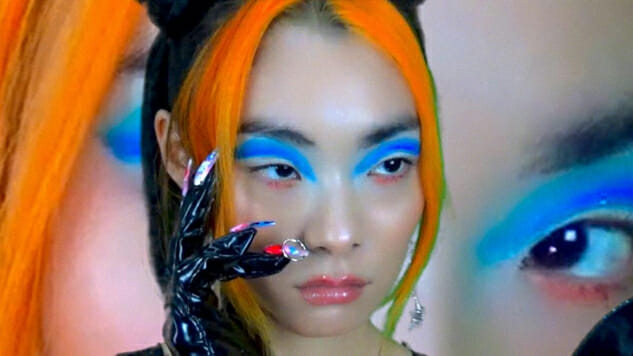 Just a few days ago, Dirty Hit pop-lover Rina Sawayama released a Pabllo Vittar-assisted remix for her recent single "Comme Des Garçons (Like The Boys)," which saw the track move from unadulterated disco to deep-club. It provides a good look into the kind of sounds Sawayama is planning to explore on her debut album SAWAYAMA, due out on April 17.
Now, riding the success of the single, Sawayama shared a music video for the original mix of "Comme Des Garçons," directed by fashion filmmaker Eddie Whelan. Like many of Sawayama's visuals, it has that uniquely '90s Darkchild-inspired futuristic look, a la Britney Spears or TLC. Most of the video takes place in front of a green screen with Sawayama donning several larger-than-life ensembles that play with confident masculinity. Sawayama poses and crawls on the floor as luxury brand iconography, such as the logos for Yves Saint Laurent and Mugler, descends from the heavens to provide Sawayama the determination she's singing about. At one point, she dons devil horns and a tubetop that reads "Dieor."
Of the video's inspiration, Sawayama says, "Male confidence can quite often be a performance—in the media, in the workplace, in movies, in music and that's what I wanted to explore with this video with Eddie and Ben." You can see those bits of masculine performance throughout the video—Sawayama flexes her biceps or wears loose-fitting mens' workwear. "We are entering a secret and surreal lab where this masculine figure is being scanned and studied, then going on this wild journey through different versions of myself," she continues. "We wanted to make a music video that's got humor, movement and is essentially a fashion film that combined the visual worlds of Hype Williams, Hiroyuki Nakano, and Boris Vallejo."
You can check out the video below.