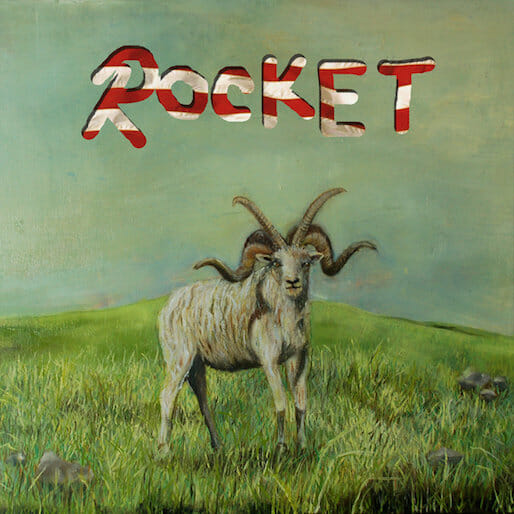 Before there was Car Seat Headrest, the hyper-productive bedroom-recording hero of Bandcamp was a guy named Alex G, aka Alex Giannascoli, aka Sandy. As of April, he's now officially known as (Sandy) Alex G.
Giannascoli, from Philadelphia, spent the early '10s cranking out fuzzy, guitar-driven folk-pop whose lo-fi nature couldn't contain its creator's natural knack for a memorable melody. He bounced around from label to label and built up a big following on Bandcamp, breaking out a bit with 2014's DSU and then signing to Domino Recording Co. for 2015's Beach Music.
But his new album Rocket comes with a significant bump in interest and attention thanks to Frank Ocean, who recruited Giannascoli to play on his two 2016 albums, Endless and Blonde. Now, (Sandy) Alex G has become widely known as "Frank Ocean collaborator (Sandy) Alex G" in headlines on music websites.
But Giannascoli's work stands on its own, never more so than on Rocket, a 14-track travelogue of the 24-year-old's varied interests. The album has been called Giannascoli's country album, and there are a handful of songs that make prominent use of banjo ("Poison Root") and violin ("Bobby," the title track). No doubt about it, these songs leap from the speakers, thanks not only to Giannascoli's generally easygoing way with a tune, but also violinist Molly Germer's vibrant parts. Her rustic fiddle curlicues make "Powerful Man" one of Rocket's highlights.
But the ever-restless Giannascoli never stays twangy for long. Just as often, his obvious Elliott Smith influence shines through, as on the dimly lit "Judge," the stark and sinister "Big Fish," and "Proud," with its resolute pace and light keyboard touches. "Wish I could be strong like you," he sings in the latter. "Wish I had something to prove." For years, this has been Giannascoli's primary lane, and he is perfectly comfortable here: weary, bittersweet, exquisitely crafted but eminently relatable. He is a worthy of a place in Smith's aesthetic lineage.
Elsewhere, however, Giannascoli is in exploratory mode. "Witch" and "Alina" are shimmering dream-pop trips, and "Horse" sounds like an experiment in loosely organized, not-so-harsh noise. On the other hand, "Brick" veers toward industrial electro-punk, and "Sportstar" is a glistening slice of piano-powered robot-pop. Of all these genre junkets, only the groggy, jazzy "County" really misses the mark. It feels like it wanders, but never goes anywhere.
But at least he tried, and that's one of Giannascoli's many good qualities: He doesn't seem satisfied with being a preternaturally talented indie-pop-rock singer-songwriter. He wants more. He wants to try it all. He's as interested in misshaping a great song as he is perfecting it. Most of the truly great ones have that quality. (Sandy) Alex G seems headed that way.