Watch Snail Mail Perform "Heat Wave" Live While Walking Through a Park
Image via Cardinal Sessions/YouTube
Music
News
snail mail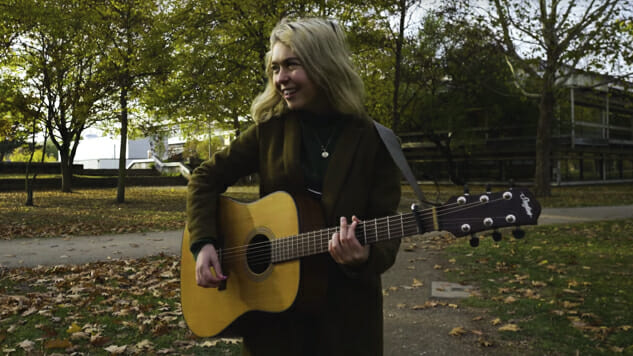 Snail Mail's heartfelt, stream-of-consciousness songwriting is tailor-made for intimate spaces. Lindsey Jordan's music just sounds right coming from a bedroom studio, a close-mic'd solo performance—or a solitary stroll through a park. German-based production studio Cardinal Sessions shared a video Monday of Jordan performing her Lush cut "Heat Wave" while walking through a park in Cologne, guitar in hand. The video was shot in one take, and finds Jordan singing through strap malfunctions and errant dog-walkers alike.
According to its bio, Cardinal Sessions aims to "challenge the classic music video and try to replace impersonal footage with immediate and emotional snapshots." Their videos feature artists from all over the world performing in locations around Cologne, including everywhere from empty fields to crowded city streets.
Snail Mail will be touring throughout the remainder of the year and into next. Find a full list of those dates here and watch Jordan's performance of "Heat Wave" below.