Listen to SOAK's Amazon Original Cover of Sleater-Kinney's "Modern Girl"
Photos by Ellius Grace, Charlie Engman
Music
News
SOAK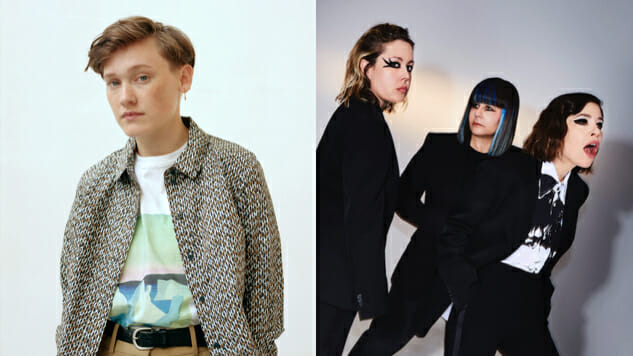 SOAK has released a cover of Sleater-Kinney's "Modern Girl" via Amazon Music, a rendition that is sonically close to the original but also all her own.
Bridie Monds-Watson, better known as SOAK, took the song and molded it to her sickly sweet vocals, despite not changing much. Based in a mellowed, forlorn guitar, the track is centered on the sarcastic lyrics and overall meaning behind those lyrics.
"After reading Carrie Brownstein's autobiography, I came back to this song on multiple occasions and caught myself smiling at the brilliantly sarcastic nature of its lyrics," SOAK said in a statement. "I think with time this song only becomes more relevant and its tongue-in-cheek nature is such a beautiful 'fuck you' to consumption and the limitations media puts on women."
SOAK recently had her national television debut on Late Night with Seth Meyers, and she released her critically acclaimed sophomore album Grim Town via Rough Trade Records in April. "Modern Girl" is featured on Sleater-Kinney's 2005 album The Woods. The trio recently announced that drummer Janet Weiss would be departing the group. After a four-year hiatus, the group is back with a forthcoming album, The Center Won't Hold, due out in August and produced by none other than St. Vincent.
SOAK's cover is available exclusively via Amazon Music, and is featured on Amazon's PROUD playlist, which features the latest music from LGBTQ+ artists.
Listen to SOAK's cover of Sleater-Kinney's "Modern Girl" via Amazon Music here. You can also read Paste's April interview with SOAK about her album Grim Town here.