Here's What You Need to Know About St. Vincent's Apple Music Radio Show
Photo by Stephen Lovekin, Getty Images
Music
News
St. Vincent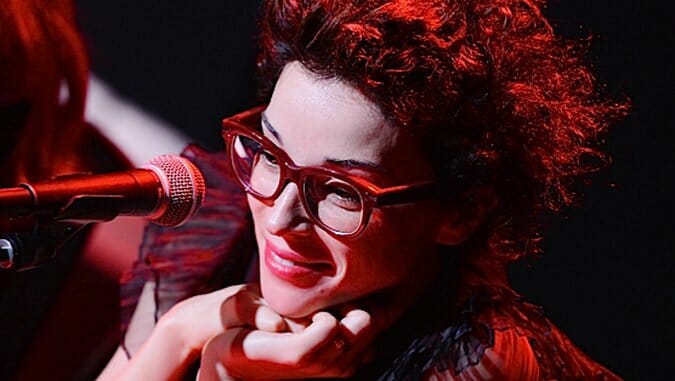 Indie rock goddess St. Vincent, a.k.a. Annie Clark, wants to make you a mixtape.
Clark is set to host an hour-long radio show on Apple Music's Beats 1, and new details about the show's title and premise have come to light. On Mixtape Delivery Service, Clark will field notes from fans and curate show-length playlists dedicated to them. For example, one 11-year-old listener sent in a recording detailing her love of Clark's music and explaining that she has "singing parties" with her friends—Clark's playlist in response featured delightfully danceable tracks like "Enjoy the Silence" by Depeche Mode, "Groove Is In The Heart" by Deee-Lite and "Blue Monday" by New Order. Clark also spent some time chatting one-on-one with the young fan.
Clark's Mixtape Delivery Service will be the first artist-curated show to air on Apple Music, which launched this morning in an iOS update. The service boasts a number of other artist-run shows, including Queens of the Stone Age's Josh Homme's Alligator Hour, Dr. Dre's The Pharmacy and Elton John's Rocket Hour. Drake, Disclosure, Pharrell and for some reason Jaden Smith will host shows of their own, as well. The only downside of the platform is that, for now, these shows are not available on an on-demand basis, though an Apple rep did tell Rolling Stone that on-demand programming will be made available in the future.
Mixtape Delivery Service premieres tonight at 10:00 p.m. EST on Beats 1. There's no cost to listen, so feel free to be a digital witness.