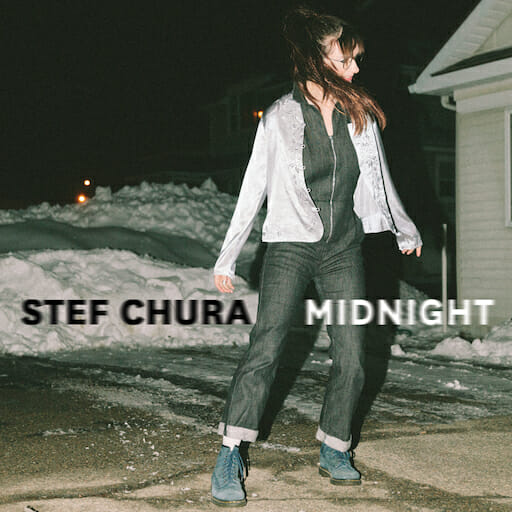 Stef Chura sings "If only you can hear me scream" 10 full times on "Scream" before she, well, screams. Bizarrely, it's one of the few instances on Midnight, Chura's sophomore release and first full-length release on Saddle Creek, where she shows restraint, a fleeting respite for her vocal chords that take hit after hit throughout the entirety of the record's 43 minutes. Howling throughout with a confident vibrato, it's perhaps the most impressive raw vocal performance since Hop Along last put out an album, reminiscent at times of a young Karen O.
A major step up from her 2017 debut Messes (which was reissued in 2018 by Saddle Creek), Midnight is the complete realization of the Detroit-based artist's solo project, chock full of perfectly fuzzed-out guitars on one of the best-recorded DIY-leaning records in quite some time. That's thanks in large part to Car Seat Headrest frontman Will Toledo, who helps mold Chura's songs into ones that sound like his own. "Scream" resembles the song structure of Teens of Denial's "Unforgiving Girl (She's Not An)," though potentially even exceeding it as Chura's guitar solo provides a fist-in-the-air moment before she brings the house down for one final chorus.
Midnight ebbs and flows with precision, riding a wave of down-tempo stunners right into crashing guitars that threaten to blow out your speakers. Showcased to its fullest potential on "Degrees," Chura and Toledo alternate between melancholy ruminations over a single guitar and simple drumbeat and exploding crescendos where Toledo's organ sounds only further prop up Chura's impressive-as-hell solo, leading to two-and-a-half minutes of largely instrumental lo-fi bliss. It's the kind of song that will absolutely kill live for years to come.
Toledo even appears for a welcome duet on "Sweet Sweet Midnight," a mid-tempo track that chugs along as the two trade verses until electronic drums and various synth tones take over. This would have been one of the more unique songs in Toledo's lengthy back catalogue, but Chura unsurprisingly takes it to the next level. Hell, Midnight rivals—-and perhaps surpasses—-the best of Car Seat Headrest, entirely thanks to Chura's vision and impressive musicianship.
Chura has been one of the more buzzed-about rising artists in the indie rock community for quite some time; Midnight more than delivers on that initial hype, surpassing virtually all expectations en route to becoming one of her genre's biggest breakouts. This an indie record for the ages, a wonderful listen where each song is completely essential to the project as a whole. Midnight is an incredible record, owing, but in no way indebted to her pitch perfect partnership with Toledo, one that's further catapulted by Chura's distinctive voice and extraordinary songwriting chops.