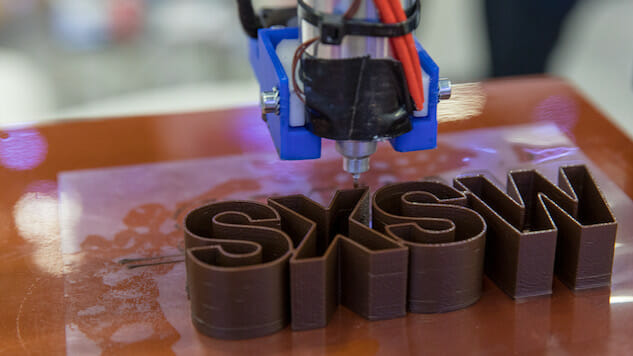 Austin's famed media conference SXSW, the cooler older brother of TED, has announced its lineup of keynotes and featured speakers for their 2019 convention. While the Millennial Woodstock has already rolled out a list of artists performing as part of their music showcase, they've only just announced several dozen speakers who will partake in events organized by themes of film, music, interactive and "convergence."
A wide range of figureheads will speak on keynote panels and in solo presentations. Adam Horovtiz and Michael Diamond of the Beastie Boys will appear in conversation with Amazon Music editorial head Nathan Brackett. Former Speaker of the House of Representatives John Boehner will talk with Kevin Murphy, CEO of the largest multi-state cannabis operator Acreage Holdings. Record producer, solo artist and soundtracking extraordinaire T Bone Burnett has his own block of time for a keynote address. Editor-in-chief of WIRED Nicholas Thompson will speak with Roger McNamee, Silicon Valley investor, author, bassist and business partner to Bono. Finally, Vox's Recode editor-at-large and SXSW regular Kara Swisher will host a panel with a surprise guest.
Featured speakers will include an assorted variety of public figures, industry leaders and innovators: beloved Georgia gubernatorial candidate Stacey Abrams, Talking Heads legend David Byrne, Gibson guitars CEO JC Curleigh, designer and futurist Hans Ulrich Obrist, and best-selling authors Rachel Hollis and Brian Solis.
The speaker lineup will also feature panels, conversations and live podcasts. Appearing as "entertainment influencers": Gen X hero Ethan Hawke will speak with powerhouse producer Jason Blum, Elizabeth Banks will talk to Aidy Bryant about their Hulu series Shrill, Elisabeth Moss and Brandi Carlile will speak on their recent ventures, and The Ringer's Big Picture and Talk the Thrones casts will appear for live shows.
Gwyneth Paltrow and Poppy Harlow will chat about entrepreneurship, Kevin Reilly and Peter Kafka will talk journalism, while Nile Rodgers and Merck Mercuriadis will discuss songwriting, and the Olympic twins Winklevoss will talk crypto.
Other featured sessions include "Creativity in the Age of Innovation" with Nick Law, "The Weekly: The New York Times Expands to TV" on the paper's first foray onto the small screen, and "Film Critics' Preview" with Alicia Malone, Amy Nicholson, Jacqueline Coley and Monica Castillo.
Admen Trevor Guthrie and Marc Simons will host "Experimenting with Experiential: How Giant Spoon Stays One Step Ahead," CMO of Carbon Dara Treseder will lead "The State of the Story: How Carbon Won 'The Big Game,'" a tag team of culturally minded TV showrunners will panel up for "When Life Becomes Art" and wrestling's Stephanie McMahon, Paul "Triple H" Levesque and Charlotte Flair are set to lead "The Women's Evolution in WWE and Beyond."
Ike Barinholtz, Amber Heard, Padma Lakshmi and Anthony D. Romero will take charge of "Making Change On and Off the Screen," while audiences can learn more about the government-entertainment complex in "Shooting Stars: How NASA Works with Film & TV."
"We're fortunate to bring together a diverse group of creative thinkers and leaders to share their perspectives," said Hugh Forrest, SXSW Chief Programming Officer, in a statement. "The breadth and depth of programming at this year's event is what continues to make SXSW unique and indispensable."
The conference is set to take place March 8-17 in Austin, Texas. Find out more here.