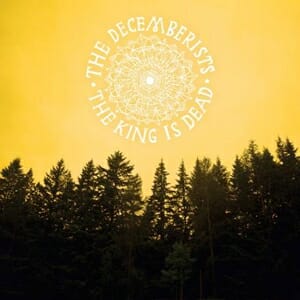 Stripped of both mythology and prog-rock, Oregonians shine.
The Decemberists' medieval rock opera The Hazards of Love pitted the band's die-hard supporters against those with little tolerance for Elizabethan syntax and folk-metal guitars. Released two years later, The King is Dead is a tuneful concession to the latter group. Most of the frills and festoons have been trimmed from the Decemberists' sound, leaving behind a lean, rootsy mix of Americana and Celtic-flavored folk songs that recall the work of Colin Meloy's college band, Tarkio. Meloy still tosses multiple SAT words into his lyrics, whose portrayals of the American heartland owe more to William Faulkner than, say, Larry McMurty, but he doesn't sound so overzealous here, which makes The King is Dead an easier pill to swallow for some than its puffed-up predecessor.
Framed by crisp layers of pedal steel, acoustic guitar and harmonica, the album's tracklist is an exercise in rustic restraint, with only one song topping the five-minute mark. Gillian Welch sings harmony on seven numbers, playing the Nicolette Larson to Meloy's Neil Young, while R.E.M. guitarist Peter Buck lends his familiar jangle to "Down by the Water" and "Calamity Song." Those cameos make for some of the album's best moments—as does Annalisa Tornfelt's fiddle playing on "All Arise!," a saloon-styled country rocker—but The King is Dead still winds up being one of the Decemberists' most personal efforts to date. Meloy, who performed The Hazards of Love under the guise of two mythical characters, has boiled down his literary tendencies into 10 concise, autobiographical songs. Those who preferred the less accessible The Hazards of Love will likely point to straight-laced songs like "Rox in the Box" as evidence of the Decemberists losing their mojo. But The King's strength lies in its ability to pack light and still pack a punch.