The Men Return With Ferocious New York City
Hard-charging group's ninth album returns to the noisy sound of their early LPs
Music
Reviews
The Men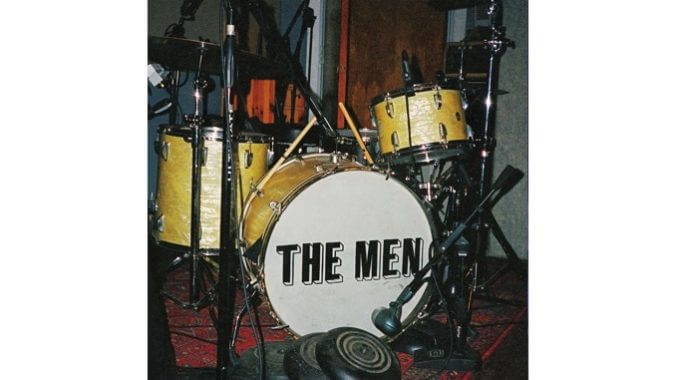 Whatever else The Men have been over the years—and the New York band known for tough, noisy garage rock songs has done several other things besides—they've never been half-assed about their music. Led by co-founders Nick Chiericozzi and Mark Perro, The Men have explored country, surf and classic rock styles, along with the punk and noise influences that first launched the band in 2008.
Those sounds are back in full force on their latest, New York City, a ferocious album that keeps the needle buried in the red for most of its 37 minutes. These 10 songs, also featuring drummer Rich Samis and bassist Kevin Faulkner, are sweaty and lean, packed with buzzsaw guitars and speedy, bludgeoning rhythms. The aesthetic of New York City evokes the album's municipal namesake at its grittiest: it's the sonic equivalent of someone dragging you into a glass-strewn alley on the Lower East Side after dark for a little tune-up. But, you know, in a good way. From the very start— the ominous, thwanging guitar part that opens lead track "Hard Livin'"—The Men go hard here.
After the first couple of bars, "Hard Livin'" shifts into a pummeling rocker where guitars surge over a percussive piano part while Chiericozzi sings in a leathery yawp, like he's been gargling the shards of glass in that alley. The song doesn't end so much as downshift directly into the second track, "Peace of Mind," where a grimy riff takes over and the vocals jostle for space with the guitars over a relentless beat. It's riff city on "Echo" as thunderous, overdriven guitar barrels along over splashy open hi-hat, while "Eye" lays back into something slower, with more sludge. Chiericozzi's lead vocals initially consist of screaming out the song title, with the same kind of intonation he might use if he were swearing revenge against a mortal enemy. It's electrifying.
There are hints here and there of The Men's other musical pursuits: fans of The Who will find plenty to love in the riff and wordless backing vocals of "Eternal Recurrence," while "Anyway I Find You" is maybe almost a power ballad, albeit one that envelops the yearning harmony vocals in a thick blanket of gnashing guitars. At any rate, it's the one song on New York City that comes anywhere close to being a slow jam.
Even so, "Anyway I Find You" is no less intense than the rest of the album, which feels in its way like a homecoming. After forays into other sounds over the past decade, The Men have come back to their old digs, kicked in the door and cranked up the amplifiers. It's as if they had never been away.
---
Eric R. Danton has been contributing to Paste since 2013, and writing about music and pop culture for longer than he cares to admit. Follow him on Twitter or visit his website.