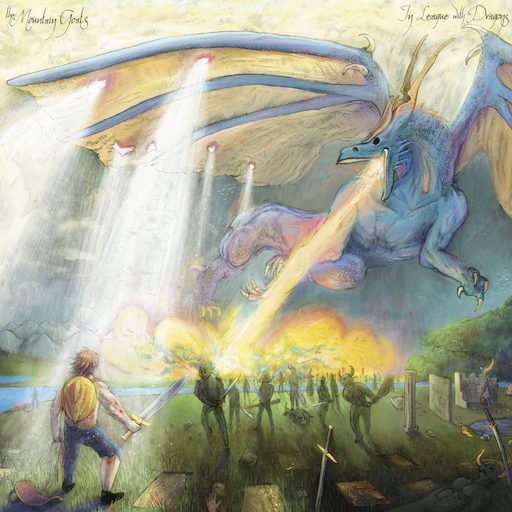 "It never hurts to give thanks to the local Gods/you never know who might be hungry," John Darnielle sings in "Younger." Thank the Music Gods for the Mountain Goats, who gift us with yet another elegant and elaborate album with In League With Dragons.
If you told me that John Darnielle was Warren Zevon's secret son, I would absolutely believe you. His voice is breathy, his lyrics wry and his phrasing deceptively simple. But what the Mountain Goats really excel at are their orchestrations: lush and complex but never overwhelming.
"Done Bleeding" opens the album with a very simple guitar, then adding drums—they're very forward, creating a sensation of floating in deep, dark water— then keyboards and Darnielle's vocals. Without that very deliberate order, the song would be a little too slow to serve as the opener, but as such, there's a sense of motion as the actors are making their way to the stage for the performance.
The album's title, In League With Dragons inspires visions of Game of Thrones or a D&D game, and that's intentional. There's an element of fantasy all over the album, from the tabletop battlefield of "Younger" ("It never hurts to give thanks to the navigator/even when he's spitting out random numbers.") to "Clemency for the Wizard King" is light and airy and breathy and sweet and sincere and as if Tenacious D's "Wonderboy" was written as a serious rock song. The title track has the vaguest lyrics related to the theme – "It's hard to get revenge/the human element drags you down" could be about a lot of things – but the country guitars slide in as "huge wings blot out the sun." In case you think they're dropping the theme entirely, he also name-checks fantasy artist Boris Vallejo in hopes he might put this mighty warrior on a calendar or book cover.
But it's not just a concept album for nerds. There are noir influences as well, including "Waylon Jennings Live!" which paints a fabulously funny portrait of a man who is either a spy or an international drug lord or maybe the legend himself. Meanwhile, backstage we have "Passaic 1975," another tale of an overindulging rock star, but it's more tragic than judgmental. It's been a long time since we've had an adult-oriented "Just Say No" song – Bad Company's "Shooting Star" comes to mind – and they're generally syrupy and sneering, but Darnielle wrote an immensely tender and widely circulated eulogy for Steely Dan's Walter Becker upon his passing in September 2017, and it's hard not to picture the wise and sardonic sage in his darkest days when you hear the tune.
Even "Possum By Night" has a touch of a heist film, as the sharp-toothed scavenger's dream of one last job, knowing some of them might get stuck in the intake vent or hit by cars while the others feast. It's sung with an immense tenderness, considering it's about screeching monsters rummaging through your garbage.
"Going Invisible 2" is the weakest track, orchestrally understated and letting Darnielle's vocals carry the song, but it's not as exciting as the rest of the album. Similarly, "An Antidote for Strychnine" is haunting, but it's more of an art piece than a song that one might seek out to listen to casually.
The album ends with the prog-lite "Sicilian Crest," proving that, once again, the Mountain Goats are unafraid to go a little weird in order to stretch and bend between genres. With 16 albums behind them, it would be easy to repeat themselves and crank out another dull routine. But Darnielle and company have more respect for their audience than that, producing an album with the potency to draw in new listeners and give thanks to those already in their company.