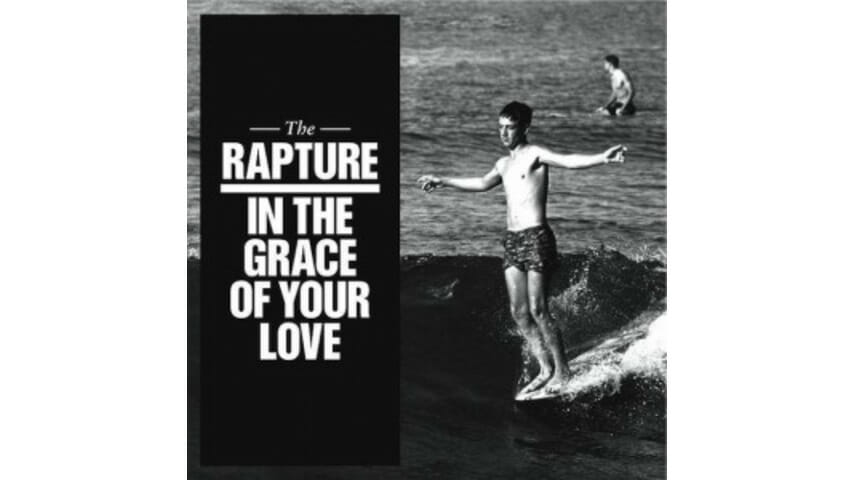 In The Grace of Your Love does not reinvent The Rapture, not even superficially. The New York dance-punk originals are still playing hard, city-slicker bangers; Luke Jenner's teetering yelp is still an acquired taste; their album cover and promo photos still convey a stark, effortless suave, and of course, they're still signed to DFA. The five-year gap since the band's last full-length Pieces of the People We Love has subversively encouraged a lot of people to write off their scene-defining presence as something ready for the history books, but Grace serves as a flagrant reminder of all the ways The Rapture can be great.
It's not that easy: the band's vocal-heavy, post-disco inversions could be among the most geeky combinations in modern music, but against all odds they've stayed consistently and idiosyncratically cool, and that's probably to do with the power of unparalleled grooves. Take the title track; the lyrics could've been penned by Donna Summer, but its irresistibly slinky beat (and Jenner's ability to make words about nothing sound like words about everything) elevates it into a year-defining anthem. That bare-faced commitment takes guts, but it's not like The Rapture haven't been down this road before; In The Grace of Your Love has the band sounding clinically unconcerned with expectation, they inflate their niche, songwriting crushes into something that makes "House of Jealous Lovers" look subtle. That means clashing a rave-piano hook and a flamboyantly disco sax solo into an epoch-ignoring triumph of dance music historiography ("How Deep is Your Love") or blasting giant slabs of grimy, Gaga-bating synths in your face sans any masquerading ("Sail Away") or getting the nerve to let a completely undanceable, Beatles-esque love song sneak into one of the deep-cuts ("Roller Coaster"). For all of that potential disaster, it's amazing how the band keeps themselves sounding so capable. Their passion reverberates off their work.
There's no doubt in my mind that these songs will sound their best at a live show or a house party—it's much more an album for the hips than the head, and there's really nothing wrong with that. But I will say In The Grace of Your Love makes the last five years without The Rapture seem a lot more empty, sometimes you don't know what you're missing until it returns.