Twin Peaks Take Loose to a New Level on Lookout Low
We meet up with the Chicago band at a Brooklyn diner to get the lowdown on their new album
Photo by Cooper Fox
Music
Features
Twin Peaks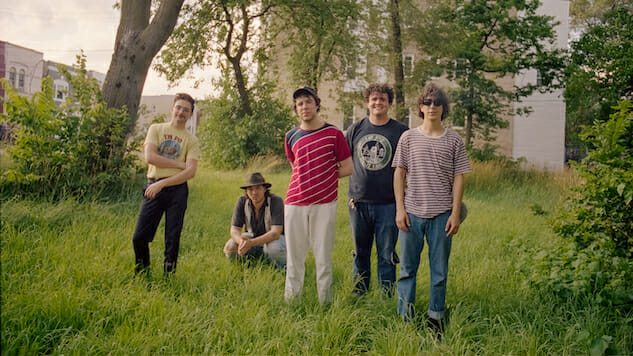 "Oh shit, that's where that guy got shot!" Twin Peaks singer and guitarist Clay Frankel screams, grabbing his phone to take a picture to send to his friends. We're in Bushwick, Brooklyn at Tina's, an old-fashioned trucker diner where a few scenes in HBO's The Deuce were filmed, including one where a pimp is shot at the counter. Frankel is practically starstruck.
But it's the only time he or any of his four bandmates lose their cool, even when talking about their quick rise to major touring band status. They mention their biggest moments offhandedly: performing for more than 10,000 people alongside Wilco at Millennium Park, hitting the stage at Red Rocks last August and even performing at the Cubs' World Series trophy presentation in 2016.
"Theo [Epstein]'s a big fan apparently," guitarist and singer Cadien Lake James says nonchalantly, referring to the most famous General Manager in baseball.
Keyboardist Colin Croom adds, "This short dude comes up to me and is like, 'Hey man, do you guys know any Tom Petty songs? I'd love to play with you guys,'" before mentioning that "short dude" was Eddie Vedder.
If anything, they were a little more worked-up at the mention of the Village Voice's 2015 4Knots Festival, which took place on a pier in Manhattan, because a member of Brooklyn band Surfbort drunkenly jumped from a multi-story yacht situated to the side of the stage into the disgusting water of the Hudson River. Maybe it's too early—it's 10 A.M., after all, and the coffee at Tina's isn't too strong. Maybe they're just getting used to all of this.
Ever since their 2014 breakthrough, Wild Onion, the Chicago band has become one of the best classic rock-minded bands around (and local legends in their hometown). Known for their raucous, beer-drenched shows, Twin Peaks have made a name for themselves on the live circuit—few acts put on an act as fun as theirs. And they've become central to the Chicago music scene in the process. They seem to be friends with virtually everyone—and even live with a handful of them too, including Whitney's sound guy, Knox Fortune and Frankel's Grapetooth counterpart, Chris Bailoni—and routinely play alongside or produce many of their peers. The mayor of Chicago just declared Whitney Day a few weeks ago, but don't be surprised if Twin Peaks receive their own city holiday at some point in the coming years.
"Somehow it's adapted," says bassist Jack Dolan of the Chicago DIY scene. "It's kind of created better music. It's not like a ton of shitty bands playing garage rock. There's a lot of stuff. It's cool."
But they knew they needed to leave Chicago to record their new album, Lookout Low (out now on Grand Jury). There are too many distractions at home—too many shows and bars around. It's too easy to get sidetracked.
So they ended up in rural Wales instead.
"We were listening to Aha Shake Heartbreak, that Kings of Leon record that came out awhile ago," Croom says. Dolan adds, "That conversation was, 'What are our options for producers?' 'That'd be cool, who did that one?' We basically looked it up, [Ethan Johns] showed the most interest of all the people we asked, and we went for it."
There's another casual mention of a big moment. Johns has produced records for some of this century's biggest and most critically acclaimed artists, from Paul McCartney and Stevie Nicks to Laura Marling and Ray LaMontagne. Johns' only stipulations: Record the album at his home studio near Monmouth, Wales, and record it live, two ultimatums they happily accepted.
"He was kind of uncompromising in that way," explains drummer Connor Brodner. "'That's how we're going to do it regardless.'"
Twin Peaks have their own studio in Chicago— it was christened by Finn Wolfhard & co., who recorded Calpurnia's debut EP there last year. But the lack of resources in the space limited their ambitious ideas for Lookout Low. So they used it as a rehearsal space to perfect the songs before they hit the studio with Johns.
For the next eight months, the band workshopped those tracks, which yielded a mellower, looser and jammier bunch than ever before. But the going wasn't always easy.
"This is one of the first times that we've had such a collaborative effort in the writing process," Colin explains. "Generally, with Down in Heaven and even [Sweet '17 Singles], it's like the song will be 65% there when we start recording. 'Alright we have bass and drums, go in there and figure out the guitar part because I don't know what you're supposed to play.' For this one, we wanted to have all of the songwriting completely done so we could play this live and be like a well-oiled machine by the time we got to Wales, so we all were much more collaborative in the demo-writing process, which I think might have helped in the cohesiveness of it, but it lent more of itself to the mellow side."
By the time they got to Wales, everything happened fast. Johns doesn't like to nitpick. He prefers to roll with the first idea and move on, leaving any imperfections in the mix.
"We've always laid down the scratch guitar and then the drums and then do the bass and then the guitars again and then three hours to get the vocals right," Cadien says. "Which is a fun process because you can really zero in on it. It was daunting at first, but doing it was pretty refreshing, tracking it live, because you get your shit sounding right and you just play it and then you've done one take and the guy is saying, 'That's great,' and then you kind of want to keep playing it because you took hours to set up."
"We spent months rehearsing the songs," Dolan adds. "To do it in one or two takes was like, 'What the fuck? That's it? Seriously?'"
The resulting record, Lookout Low, sounds like a live band through and through. Album opener "Casey's Groove" explodes into a Grateful Dead-esque jam, while "Laid in Gold" and the title track mine Some Girls or Tattoo You-era Rolling Stones. An ambitious '70s rock album made for the late 2010s, Lookout Low is a fun listen front to back. It doesn't stray from the full-hearted rock 'n' roll of their past work, but it ups the ante quite a bit.
"If anything, practicing, rehearsing, and recording new songs live for eight fucking months will make you better musicians," Colin says. "It will up your musicianship."
And he's right. Lookout Low showcases the band's best guitar solos, keyboard lines and vocals to date. It may not be as in-your-face as the Wild Onion material, but it's certainly just as lively. Lookout Low is the album they've always dreamed of making, one that reflects those rowdy shows that earned them their reputation in the first place.
"It's the closest we've ever bridged the gap between the record and a live show of ours," Dolan says. "Which is something that we've wanted to do for a long time, and finally we had the means to do it."