Tyler Childers Builds a Rich and Inviting World on Rustin' In The Rain
The country singer's sixth album is an ambitious and zealous showcase of his ample talents
Music
Reviews
Tyler Childers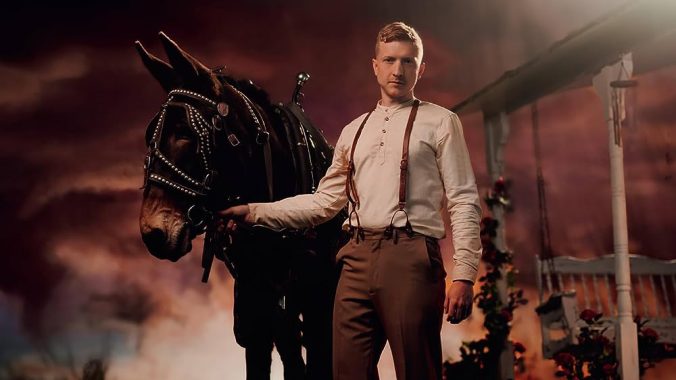 Tyler Childers conceived his new album Rustin' In The Rain as an audition for Elvis, and the result is an ambitious and zealous showcase of the 32-year-old's ample talents. The title track opener is a supremely self-assured triumph—beginning with a frenetic electric guitar riff that recalls the work of rock n' roll "Godmother" Sister Rosetta Tharpe, before transitioning into anthemic honky-tonk. Another surprise arrives at the halfway mark, when a blues-inspired piano line briefly takes center stage, courtesy of Chase Lewis. The song is an effective and exhaustive showcase of the many ambitions of Childers and the alchemized finesse of his backing band, The Food Stamps. Its maximalist tendencies—and Childers' impassioned croon—suggest that "Rustin' In The Rain" was designed not just as an audition for Elvis, but to Country Music's Hall of Fame. In short, this record is Tyler Childers' claim to greatness.
But Childers doesn't need to make grand statements to leave a mark, and a song like "Phone Calls and Emails" is a testament to such. Led by an understated piano line and punctuated by sorrowful bursts of pedal steel guitar, the track speaks to a friendship under strain, where communication is growing more and more sparse. "It's so unnerving / To get no reply / To the phone calls and emails / I'm sending to you", admits Childers in the first verse. Across the following three minutes, the song moves along at largely the same pace, and Childers circles the same subject matter with closure continuing to elude him. While the stadium-sized sound of the title track allowed for utmost catharsis, a creeping sense of anxiety builds and lingers in the ample quiet moments of "Phone Calls and Emails".
Though the highlights on Childers' sixth studio album prove to be career benchmarks, it's unlikely that the LP—as a whole—will go down as one of the Kentuckian's more definitive statements. At just seven songs and 28 minutes in length, Rustin' In The Rain more closely resembles an EP than it does an album—even if it has been officially designated as the latter. But it would be unfair to dismiss Rustin' In The Rain as a stopgap project sandwiched between more meaningful releases. Favoring a full-band sound over the scrappy homespun charm that defined some of Childers most iconic numbers in year's past, like "Feathered Indians" and "Lady May," this effort effectively showcases yet another dimension of the country innovator's sound.
Childers' sixth album was led by the single "In Your Love"—a tasteful piano ballad which became his first entry on the Billboard Hot 100. The accompanying music video—depicting a romance between two coal miners (played by Colton Haynes and James Scully)—attracted media attention and a predictable response from homophobic trolls. At the time of its release, Rolling Stone contrasted the song's "tale of love and compassion" to Jason Aldean's controversial "Try That in a Small Town." Ultimately, "In Your Love"—as with the rest of Childers' thoughtful and incisive discography—feels like a wider rebuttal of modern country music's most unfortunate prevailing trends. Whereas other country artists reinforce the genre's regressive, conservative reputation—be it by hurling racial slurs or scapegoating welfare recipients—Childers proves a thoughtful dissector of America and its past. Such is obvious from the "In Your Love" music video, as it was on 2020's Long Violent History—an album-length protest against racism that was inspired by the Black Lives Matter movement.
Childers' forward-thinking and inclusive vision for country music is evident in everything he does—his evocative world-building and the oft-ignored characters that populate said world invite people in rather than pit them against one another. For all of country music's commercial success this past summer, many of the genre's most popular songs right now resemble its past more than its future (or at least what one would hope constitutes its future). The music of Rustin' In The Rain is an exception—and best of all, there's space in its world for all of us.