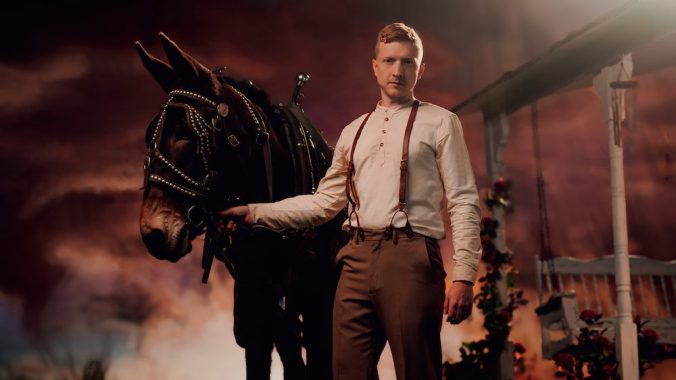 If you don't know who Tyler Childers is by now, the only explanation must be that you're absent from social media. The Kentucky-bred singer/songwriter has taken the world by storm ever since the release of his 2020 album Long Violent History, especially on TikTok, where thousands and thousands of users have posted clips of his live performances. Childers is far from just an internet sensation, though. Long before TikTok got its legs, he was making some of the most essential modern country music. His 2017 album Purgatory, in particular, is a platinum-certified record produced by Sturgill Simpson.
In the wake of the "go woke, go broke" movement employed by right-wing country artists who have seemingly forgotten where the roots of the genre stemmed from, Childers is an artist who maintains the same integrity that was bestowed upon him by outlaw and folk forefathers like Willie Nelson, John Prine, Waylon Jennings and Townes Van Zandt. Childers makes records that stay true to the rebellious, blue-collar, love-thy-neighbor ethos set in stone decades ago. I've always been a fan of Childers because he, like myself, is an Appalachian man from a rural town.
Country music has been in the news quite a bit this year, whether it's because of the once-cancelled Morgan Wallen's dominance on the mainstream charts, or because of Jason Aldean's pathetic attempt at turning small town pride into a manifesto on enacting violence against anyone who doesn't fit into a pre-determined mold—aka a straight, white, cis male body. For reference, Aldean was born in Macon, Georgia, a town of over 157,000 people. I was born in a town of 3,500 people. Childers originates from a town of less than 5,000 people. I think it's a shame that Aldean's "Try That in a Small Town" debuted at #2 on the Billboard Hot 100. But then again, a guy like Wallen, who makes some of most cookie-cutter, saturated and heartless pop-country has seen his song "Last Night" sit at #1 for a total of 14 weeks this year already. So what do I know, I guess.
But, if you have only spent your days on TikTok, you'd think that all of those accolades belonged to a guy like Childers, whose songs "Jersey Giant" and "Feathered Indians" are damn-near inescapable. Nearly every video gets 50,000 likes and a couple-hundred-thousand views each time, it seems. In my opinion, Childers is the most essential mainstream country musician working right now.
Which brings us to this week, as Childers has announced his brand new album, Rustin' in the Rain. Lead single "In Your Love" is a beautiful ballad about two men who are in love with each other against all odds. Childers enlisted Kentucky poet laureate Silas House to write the video for "In Your Love," which turned into a depiction of two coal miners who want to be with each other at a time when no one wants them together. Despite the video being a period piece, much of the turmoils and joys it reflects still intersect in 2023.
This isn't the first time a country or folk artist in recent memory has bent his own light to that of marginalized romance. In 2021, Chris Acker put out "Nick and Joe," an epic story of 40-year love shared between two men who've migrated from Texas all the way to the Bayou. It's one of the best folk songs of the last five years. It might feel like a risk taken by Childers to release a single like "In Your Love" at a time when his stardom has never been greater and country music fans have never been more eager to embrace anti-humanity tropes. But every Childers fan I know is a decent person who values the rights and freedoms of others.
I'm sure there are fans of his out there who will watch "In Your Love" and never stream one of his songs again, because, sometimes, folks cannot open their hearts to any piece of writing that goes against the grain of bloated, propagandizing, post-9/11 country music. To have Childers put out such an empathetic, beautiful music video mere days after Aldean's video (that takes place at a notorious lynching site) alienated millions is the righting of the ship we've all desperately hoped would arrive.
There's no way, of course, that any of this was calculated by Childers. The time it takes to write, film and edit a music video is much, much longer than the time that's passed since Aldean released his video. But, the work House and Childers do here is deeply touching, cinematic, honest, heartbreaking and urgent. He recently spoke with NPR and revealed that his cousin was a huge inspiration for him writing the song and making the video. Childers wanted that cousin, a gay man from Northern Kentucky, to have something on CMT that represented his own life.
Childers' use of coal miners is special to me, too, as a queer man with an entire lineage from West Virginia. There is something deftly moving about seeing a familiar romance depicted in an industry that defined the lands my family grew up on. "In Your Love" is not the political agenda that naysayers will spin it into. It's a human story told by one of our very best songwriters. There's no hidden message of ill-will or violence, just a connection between two people who have a cord between their hearts in Appalachia—something Morgan Wallen and Jason Aldean know nothing about. "It's a long, hard war," Childers sings. "Ah, but I can grin and bare it, 'cause I know what the hell I'm fighting for. And I will wait for you." I think we can all find something to hold onto within that.
Watch the music video for "In Your Love" below. Rustin' in the Rain arrives September 8 via Hickman Holler Records.