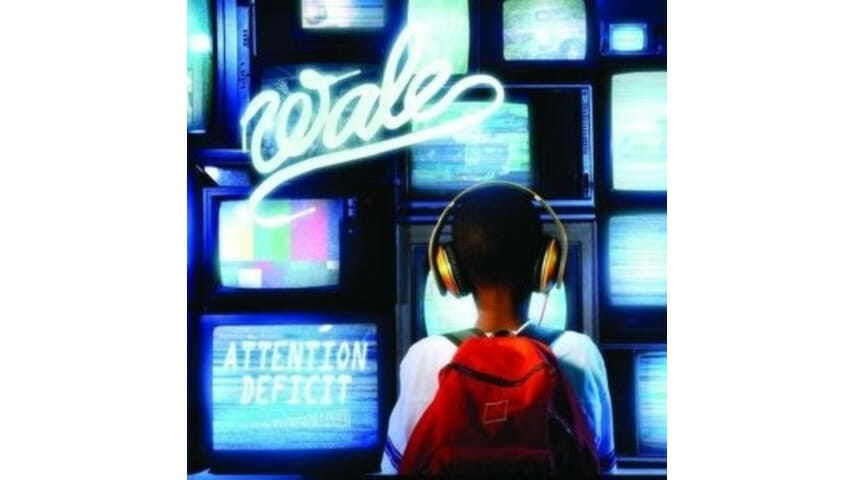 On major label debut, mixtape star looks to the West
Born of Nigerian parents in our nation's capitol, Wale rose to prominence in 2008 with The Mixtape About Nothing, where he used his favorite program as a framing device for his technically adroit diatribes on race, rap, and authenticity. "The Kramer," for instance, sampled Michael Richards' infamous Laugh Factory tirade, and subsequent apology, to bookend a fearless dissection of racist language. Wale also adopted Seinfeld's habit of knowing self-deprecation to send up stale rap conventions, titling a track with three guest stars (including mixtape staple Bun B) "The Feature Heavy Song," continuing from there to check all the boxes: "The Freestyle," "The Skit," "The Remake of a Remake," and even "The Cliché Lil Wayne Feature." The rare parody that also excelled on a musical level, The Mixtape About Nothing established Wale as a major talent, albeit one burdened with the familiar, weighty desire to save hip-hop from ambiguous forces of phoniness: to be a martyr, or a saint.
The next mixtape, Back to the Feature, lacked the ingenious framing device and topical focus of its predecessor, but Wale's syllabic virtuosity—the hard rubber bounce of his flow, and his showy, self-righteous punch lines—were enough to keep his major label debut an enticing prospect. Attention Deficit manages to reconstruct everything that worked about The Mixtape About Nothing in the more polished context of a proper record. Plenty of fiery air time is given to the epic difficulties of making it in a postlapsarian rap game, the psychology of the fairer sex, D.C. pride, brands of clothing and skin tone, over soulful and diverse production by TV on the Radio's Dave Sitek, Mark Ronson, the Neptunes and many others. Rich and robust, the music feels credibly momentous. But two things slightly mute its impact: Kanye West has practically trademarked this particular blend of self-aggrandizing confession and passionate critique, and by hitting all the major-label rap album stations, Wale again embodies what he rails against, as he did on The Mixtape About Nothing.
Opener "Triumph" finds Wale doing what he does best: Ripping boasts over taut, drenchingly musical production by Sitek. The woozy horns and rolling hand percussion of "Mama Told Me" are also perfect for his style, and he gets suitably grandiose, invoking Nas by name, like he tends to do when he gets worked up. From here things stay exciting but are sometimes predictable. On "Mirrors," Bun B again appears, a gangster rapper whose tendency to hand out free psychiatric assessments in scolding second-person is drastically amplified in Wale's haughty world. D.C. homage "Pretty Girls," which samples legendary Go-Go crew The Backyard Band, is delightful, except that Gucci Mane feels totally (opportunistically) shoehorned in. On "Let it Loose," the Neptunes rip themselves off, pretty much repurposing the shimmering drones from "Ride Around Shining" as arpeggios. The album is a pretty great example of a certain format, but it's certainly not pushing anything forward, as it so ardently claims.
We don't get to know Wale himself that well, because he's so outwardly focused. We peek into his world on "Shades," a trenchant meditation on having dark skin, but he's more often finding things about the world around him to measure up. "90210," a catchy and inventive electro-pop nubbin, is a vaguely mean-spirited, good-girl-gone-bad character sketch, and "Contemplate" has the same recriminating, vindictive feel, familiar from Kanye's 808's and Heartbreaks. The Lady Gaga-assisted single, "Chillin," still feels flashy and hollow, but "TV in the Radio" (another wild Sitek production, who really shines here), thrills with its nimble wordplay, and "Beautiful Bliss" is a terrific 9th Wonder-style production from Ronson and DJ Green Lantern. Overall, the ups far outweigh the downs. It's just that Wale's open-armed embrace of current album conventions doesn't jibe with his continual assertions that he's above it all; it makes something seem off-kilter in his self-image. At what point does critique by emulation turn into capitulation?