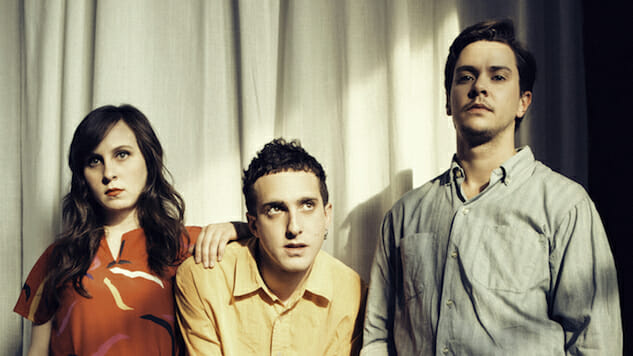 Washington, D.C., is one of the most influential music cities in the country, especially for hardcore and punk music. Its famous hardcore scene flourished in the '80s thanks to independent labels like Dischord Records and bands like Bad Brains, Teen Idles, Minor Threat and The Faith. The hardcore scene also nurtured Henry Rollins, who later formed Black Flag in California. D.C. is also known for its post-hardcore, punk, emo and indie-rock scenes that produced bands like Fugazi, Embrace, Rites of Spring, and Ted Leo and the Pharmacists.
Home to venues like the 9:30 Club, The Anthem and Black Cat, the District of Columbia is still a hub of rock music, particularly with its DIY punk and indie-rock circles. Paste chose 15 new bands from the city to prove just how tight-knit and talented D.C.'s music scene is.
1. Flasher
Flasher are a trio who play an amalgamation of joyful, frenetic pop, punk, post-punk and shoegaze. The band released their debut album, Constant Image, this year via Domino Records, and it's unequivocally one of the best albums of the year so far. What sets them apart from many of their peers is their knack for writing such immediate pop melodies and their slick production value, which maintains their chugging rock energy and allows their impressively consistent tracklist to shine. Each member contributes vocals—guitarist Taylor Mulitz (formerly of Priests) is playful and self-assured, bassist Danny Saperstein's vocals are snotty and eccentric and drummer Emma Baker lends gorgeous vocal harmonies.
2. Priests
Despite how much fun they're having, punk rock three-piece Priests aren't messing around. On last year's debut LP, Nothing Feels Natural, the band, led by frontwoman Katie Alice Greer, gunned for the patriarchy, corporations and the Trump administration with their vivacious, snarling, towering vocals, surfy guitars and post-punk grooves. Paste contributor Zach Schonfield wrote of the album, "By chance or by design, Nothing Feels Natural might well be the first great punk album of the Trump presidency."
3. Ultra Beauty
Ultra Beauty are signed to Priests' Sister Polygon label and they released their self-titled debut EP earlier this year, produced by Flasher's Danny Saperstein and Big Hush's Owen Wuerker. The band's shimmering pop music might not sound overtly punk, but under the surface, their socially conscious lyrics make them every bit as fiery as Priests. The EP's lead single, "Get Pure" features a minimalistic, rhythmic guitar framework with clouds of lustrous, overlapping pop vocals hovering above.
4. Saturday Night
After forming last year, pop/rock quartet Saturday Night released their self-titled debut album last month via Gentle Reminder. The album features a punchy, sweet-and-sour mix of power-pop and rock, though don't be fooled by their sweet, romantic sound—their lyrics delve deep into the soul. Their summery, carefree sound can be heard on album highlights like "$400" and "Pilot of the Night," as guitarist Cash Langdon and keyboardist Nora Button share the reins on lead vocals with charming, glossy results.
5. Tosser
Tosser released their self-titled debut EP back in November 2017 and they released a follow-up EP this summer called Lures. Led by vocalist Eric Zidar, the band's new idiosyncratic effort shifts from melodic lo-fi rock to noisy shoegaze pop across its six tracks. The songs yearn with urgency, frankness and angst and the distortion nicely mimics the narrator's often muddy predicament.
Listen to Lures on Bandcamp here.
6. BRNDA
Four-piece BRNDA take classic art-rock and post-punk and infuse it with shades of pop, addressing our present-day quandaries. The band's 2018 release, the six-track Thanks for Playing, melds spiky, rhythmic rock with subversive, tongue-in-cheek humor and amusing wordplay.
7. Puff Pieces
Punk trio Puff Pieces have been a mainstay in the D.C. scene for a few years with all three of their releases getting pressed by Dischord partner label, Lovitt Records. Since their first full-length dropped in 2016, the band put out a 7-inch single in 2017, which was co-produced by Ian Mackaye of Minor Threat and Fugazi. The single, titled "Born 2 Die," is a wonky, unhinged punk tune backed by the strange, synthy B-side with synthetic beats, "Born 2 Cry."
8. Mock Identity
Grungey quartet Mock Identity play the kind of turbulent, boisterous music that immediately grabs your attention. Frontwoman Adriana-Lucia Cotes adds a fiery punch, sultry beauty and gripping personality to the band's well-greased punk engine. The band released their debut album, Paradise, this past summer, and its wiry, jolting sound can be heard on tracks like the feminist rippers, "Glamour" and "No Means No."
9. Big Hush
Featuring members of Pygmy Lush and Flasher, four-piece Big Hush's quiet firestorm has to be heard to be believed. Their murmured, wispy vocals are just as ardent as the band's chaotic noise rock backdrop. Big Hush's first two cassettes, Wholes and Who's Smoking Your Spirit, released in 2014 and 2015 respectively, were pressed to vinyl last year as Spirit/Wholes via Robotic Empire. The vinyl release also included a vehement, blossoming new track, "Soft Eyes."
10. Bat Fangs
Formed two years ago by Betsey Wright (Ex Hex) and Laura King (Flesh Wounds, Speed Stick), rock duo Bat Fangs released their self-titled debut album this February via Don Giovanni Records. After fellow D.C. band Ex Hex took a break, Wright was eager to get back in the ring (and she does literally in the video for "Rock the Reaper") and Bat Fangs proves that Wright hasn't missed a beat. It's got the kind of uplifting, summery power-pop, punk and classic rock that's perfect for riding a motorcycle victoriously into the sunset.
11. Sneaks
Sneaks is the project of Eva Moolchan, and her sparse approach to post-punk is radical and riveting. Featuring just bass, vocals and a drum machine, Moolchan's second LP, It's a Myth, was released last year via Merge Records and it was produced by fellow D.C. musician Mary Timony (Helium, Ex Hex). Moolchan creates experimental music with a distinct space and flow, and her deadpan vocals perfectly counterbalance her deeply melodic instrumentals and hypnotic psych grooves. She released a new single this week, "Beliefs," from her forthcoming third album, out next year.
12. Paperhaus
DIY four-piece (or as they prefer it, DIT, meaning "do it together") Paperhaus take their name from the city's seminal house-show venue and homemade recording studio operated by the band's frontman Alex Tebeleff. Though the house has fallen victim to gentrification, the band is still kicking and entrancing people with their psychedelic alternative rock and pop. They released their latest album, Are These The Questions That We Need To Ask?, last year, and its swirling psych and jagged post-punk delight in equal measure.
13. The Obsessives
Indie-rock duo The Obsessives have released two full-length albums including last year's self-titled LP, which came out on Lame-O Records. Their angsty, youthful indie-rock sound contains glimmers of emo, indie pop, slacker rock and power pop. Their fretful lyrics are juxtaposed with rambunctious pop sensibilities, and their underlying earnestness is hard not to identify with. On "You're My God," lead singer Nick Bairatchnyi declares, "In my life/ I try my best" and on "It's Not Fair," he yelps, "I understand/ That I am a vacuum/ And there is light elsewhere."
14. Bad Moves
Formed in 2015, indie-pop band Bad Moves are set to release their debut album, Tell No One, this Friday via Don Giovanni Records. The band recently appeared as themselves in cartoon form on Cartoon Network's Craig Of The Creek and they were the subject of a comic by New Yorker illustrator Sara Lautman. Cartoons aside, the band's music reflects a childlike energy with its sprightly power pop, catchy hooks and happy-go-lucky nature.
15. Psychic Subcreatures
Surfy punk quartet Psychic Subcreatures released their latest EP last December called Candy Apple. Though surf-rock and punk are a common musical combination, the band adds their own avant-garde twist with disorienting snyths, arty lyrics and stark vocal delivery. Across the band's EP, lead vocalist Ariana Stone exhibits dynamism and spunk while the band's garage-rock zest and biting fervor anchors the ship.