Here's Some of the Weird, Overpriced Junk You Can Buy at the Rio 2016 Megastore
Photos courtesy Emily Jensen and Getty Images
Olympics
Lists
Rio 2016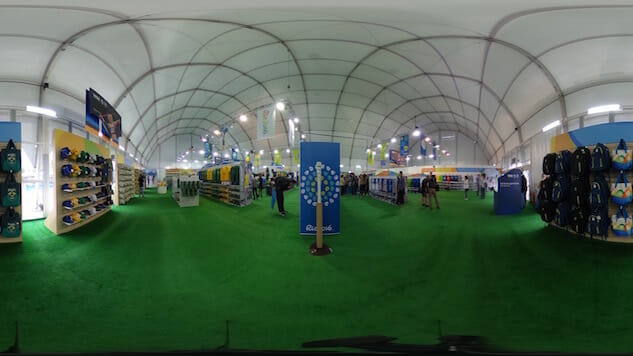 Forget for a moment the displaced residents and looming political crisis and think about what really matters at the upcoming Olympic Games: swag. Olympic organizers may have dropped the ball on things like cleaning up Guanabara Bay, but at least they've insured you can get yourself a Rio 2016 beach towel. Paste goes inside the Rio 2016 Megastore on Copacabana Beach and rounds up all the strangest merchandise you can buy with your hard-earned reais. (Conversion to US dollars here.)
A holographic popcorn bucket (R$25)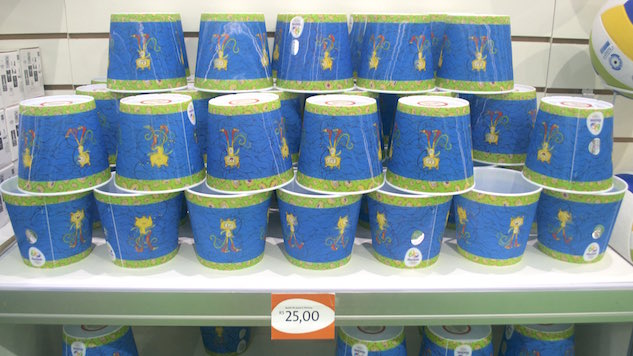 Whichever Rio 2016 intern had to brainstorm all the ways to merchandise Olympic mascots and came up with a holographic popcorn bucket deserves a gold medal. Practical but whimsical, it's an item whose beauty cannot truly be captured on film.
A piggy bank (R$50)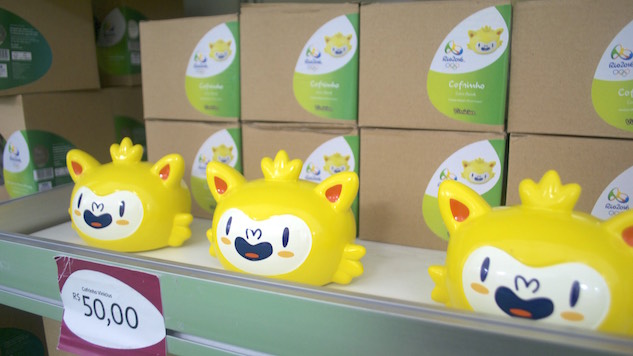 Is there something ironic about buying a piggy bank in support of an event that is inextricably tied to the financial crisis of an entire country? Maybe. The fact that it comes in the form of Vinicius' discombobulated head doesn't help make it seem any less menacing.
A Vinicius hat (R$75)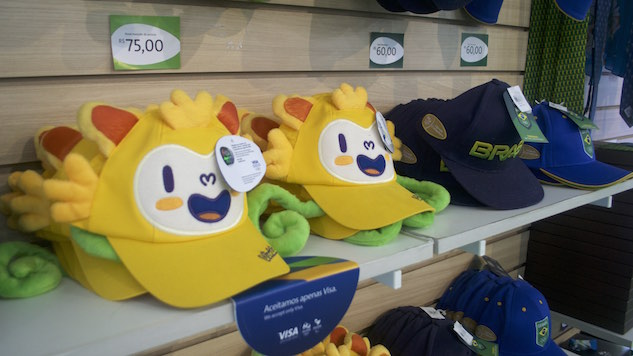 You could buy yourself an Olympic baseball cap, or you could buy yourself an Olympic baseball cap with a tail. And a face and ears for that matter. Lest you think this is merely for children, the hat also comes in adult sizes, because sometimes grown-ups would also like to look ridiculous while attending a sporting event. (Ed. note: I will probably buy one of these hats.)
A commemorative coin (R$1,180)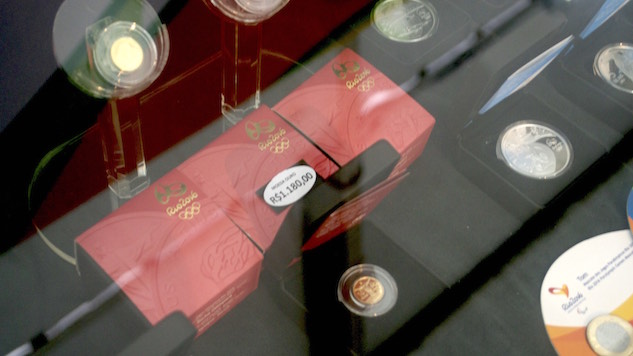 What is the coin depicting? What is it made of? Why is it so special? We don't know, but it costs over 300 bucks, and thus will stay behind the glass case under the watchful eye of Megastore security.
Wine (R$25-$130)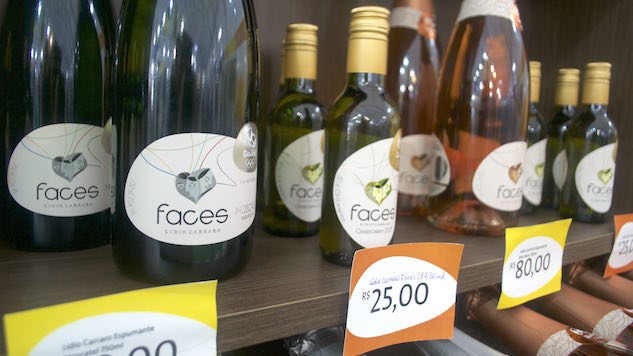 As you walk the aisles of Olympic-branded bikinis and flip flops, you might find yourself struck with the sudden craving for a refreshing glass of…Merlot? 2016, the year Brazil becomes known for its wine?
Lego set (R$130)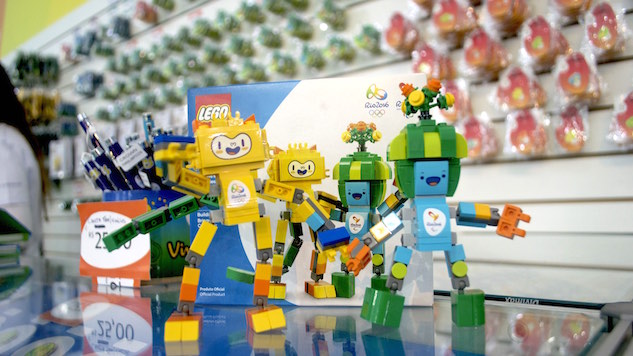 By this point you are probably wondering who or what the hell are these creatures you see all over the store – their blocky Lego interpretation doesn't do much to clarify their origins. Vinicius, the Olympic mascot, is a mixture of all the Brazilian animals, while Tom, the Paralympic mascot, is a combination of Brazilian wildlife. Both were "born out of the explosion of joy that happened" when it was announced Brazil would host the Olympic and Paralympic games. They are also the first Olympic mascots to be turned into a Lego set, but we're disappointed Lego didn't produce reproductions of the Olympic venues so that you could have slowly built them in real time as Rio scrambled to finish construction.
Sarong (R$85)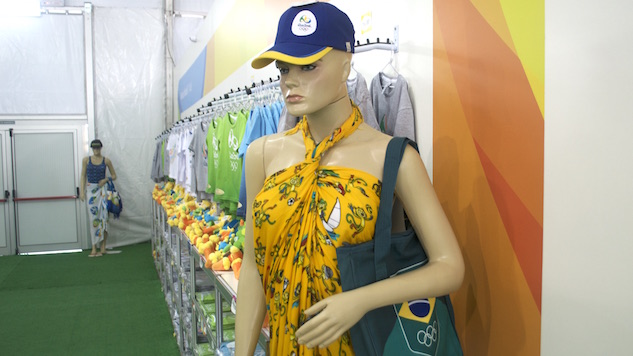 Vinicius makes yet another appearance at the Rio Megastore, this time dotted all over a sarong while playing multiple Olympic sports – just the thing every elegant woman needs while strolling the glamorous beaches of Brazil. Make sure to pair it with your Rio 2016 hat (Vinicius tail optional) and tote bag and a surly expression.
Memomímica game (R$50)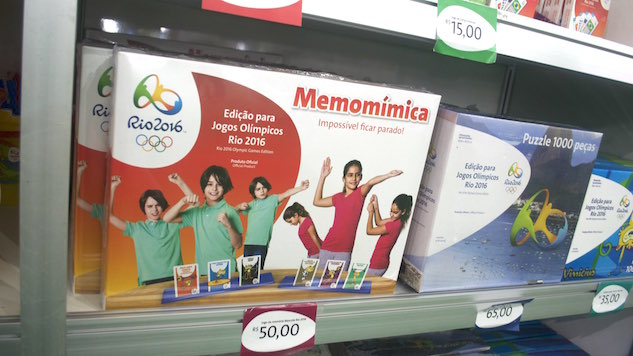 Why play actual sports when you can mime them? Purchase this game to help your kids improve their memory skills and learn the importance of branding and merchandising.