Team USA Men's Gymnastics Qualifiers: a Primer
What you need to know about this weekend's qualifiers
Photos courtesy Getty Images
Olympics
Lists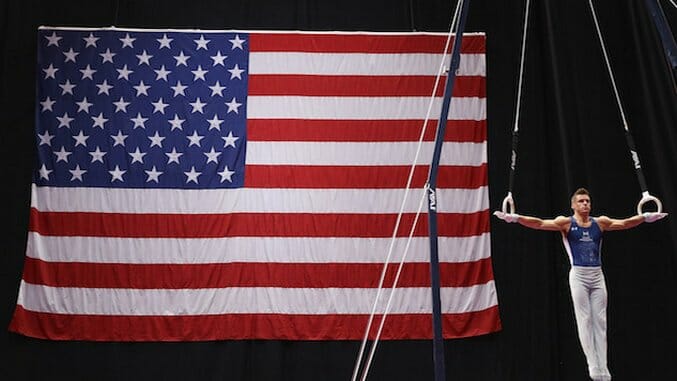 The selection process for the U.S. Men's Olympic Gymnastics Team will come to an end this weekend with the Olympic Trials, held at Chaifetz Arena in St. Louis. This process includes both the results of the Trials and the P&G Championships that were held earlier in June. At the end of the weekend the five-member team and two alternates will be named, by automatic qualification for some and committee selection by others.
18 male gymnasts will participate in the two-day competition that starts today (June 23) and will conclude on June 25. The event will also coincide with the women's P&G Championships on June 24 and 26, which kicks off their qualification process for Rio. The women's Olympic Trials will be held July 8-10 in San Jose.
During the weekend this group of 18 gymnasts will be reduced down to a team of five. Heading into the competition, some competitors have an advantage thanks to their performances at P&G's earlier in June. Here's a look at where these gymnasts stand heading into the weekend that will decide the Olympic Team.
Probable Locks:
Sam Mikulak, Donnell Whittenburg
When Sam Mikulak won P&G Championships earlier this month, for the fourth consecutive year, he basically locked up his spot on the U.S. Olympic Team. Returning from an Achilles injury suffered in October, Mikulak has now competed in two major U.S. meets and he has looked 100 percent healthy. Another strong showing in St. Louis should be expected and would also be enough to place the reigning U.S. champion on the team.
Halfway through P&G Championships, Donnell Whittenburg held the lead and looked as if he was going to take a major step towards breaking out as the top gymnast in the country. But a few mistakes on Day 2 of the meet caused Whittenburg to slip to a tie for fifth-place overall. Still. Whittenburg possesses potential no other U.S. gymnast has for difficult skills and high scores. A high-risk, high-reward play on Whittenburg's consistency, or lack-thereof, is a gamble the committee will likely take.
Potential Automatic Qualifiers:
Chris Brooks, Paul Ruggeri, Jake Dalton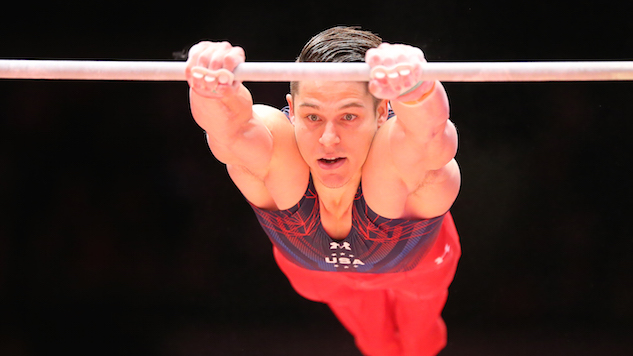 Chris Brooks
There's two ways of automatic qualification onto the Olympic team. One way is to finish in the top two of the all-around in both P&G Championships and the Olympic Trials, the way Chris Brooks can qualify. An alternate for the 2012 Olympic Team in London, Brooks had a stellar Day 2 of P&G Championships that launched him up the standings to second place in the all-around behind Mikulak. With another top-two finish at Trials, Brooks would automatically have a place on the team.
The other path to an automatic qualification is to finish in the top three of three individual events in both weekends. There are two gymnasts with the potential to pull off that feat. Jake Dalton was a member of the 2012 Olympic Team and has a good chance of making back-to-back Olympic teams. During P&G Championships, Dalton finished first on floor and vault and third on rings. He also finished third in the all-around, which would also be a boost to his resume should he not automatically qualify.
Then there's Paul Ruggeri, who did enough to at least be selected as an alternate in 2012 after finishing sixth all-around in the two-part qualifying process, but was not selected for the team. Ruggeri still remains one of the most underrated gymnasts of this group and he has a legitimate chance of forcing his way onto the 2016 team. Ruggeri finished first on high bar, second on floor and third on vault during P&G Championships. His 16.0 score on high bar during Day 2 of the competition was the highest single score on any event during the weekend. Ruggeri might be a fringe candidate if left to the committee, but he could have a performance good enough to make his own way onto the team.
Pommel Horse Help:
Alex Naddour, Marvin Kimble, Donothan Bailey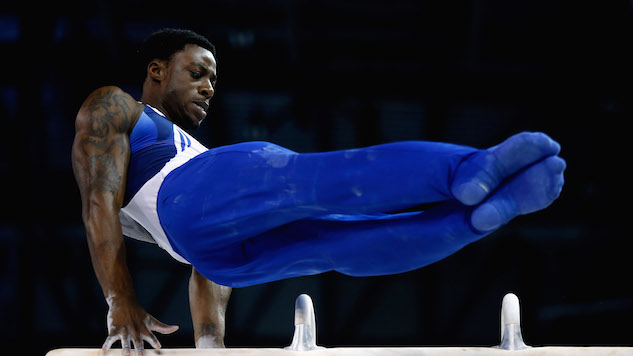 Marvin Kimble
Pommel horse has routinely been the weakest event for the U.S. During the 2012 team final, only Germany had a lower team score than the U.S. on the pommel horse in the three up, three count format, meaning only three routines are performed by each team on each event and all three scores count toward the team total. Naddour and Kimble had the two highest start values on the event during P&G Championships — the highest potential score for a perfect routine — but both gymnasts fell on Day 1 of the competition, which prevented them from finishing in the top three of the event. Despite the falls, both finished just off the podium. Kimble tied for fourth after two days and Naddour finished sixth.
Neither gymnast will be considered just for pommel horse, but the high ceiling on the event will be a helpful factor for consideration. Both gymnasts finished fairly well in the all-around at P&G Championships, Kimble tied for eighth with Ruggeri and Naddour finished 12th.
Bailey hit both of his pommel horse routines during P&Gs and finished first on the event at the end of the weekend. However his finish of 14th in the all-around behind both Kimble and Naddour likely puts him third in the pecking order.
Uphill Veterans:
Danell Leyva, John Orozco, Brandon Wynn, Eddie Penev, Steve Legendre, CJ Maestas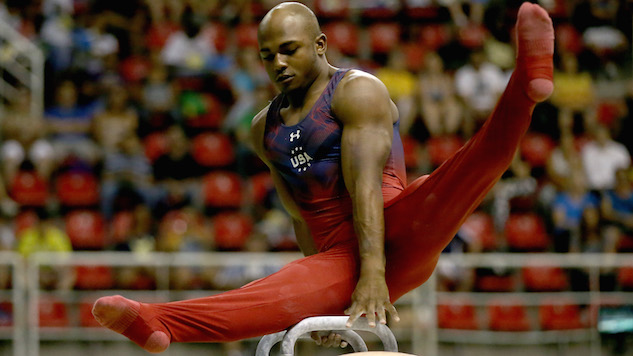 John Orozco
There's a long list of gymnasts who have been on the international scene for a while who will head to St. Louis facing an uphill battle to make it to Rio. None stand out more than the two U.S. qualifiers for the Olympic all-around competition in London. Danell Leyva and John Orozco were the two biggest stars on the men's side four years ago, but both have struggled in competition since then.
Leyva, a bronze medalist in the all-around during the London Games, was not 100 percent while competing at P&G Championships. His left leg was wrapped after he was bit by a family dog a month prior to the meet. He finished 16th in the all-around, which continued a stretch of disappointing finishes for the only member of the 2012 team to medal.
Orozco has been in his own battle with injuries since London. He tore his ACL just months after the Games during a post-Olympics tour. He came back to full strength and finished second in the all-around during the 2014 P&G Championships. Then in June of 2015 he tore his Achilles, an injury that usually takes a year to heal. Orozco returned to place 10th in the all-around earlier this month but he will need an even stronger showing during Trials to make his way to second Olympics.
Up and Comers:
Akash Modi, Sean Melton, Kanji Oyama, Yul Moldauer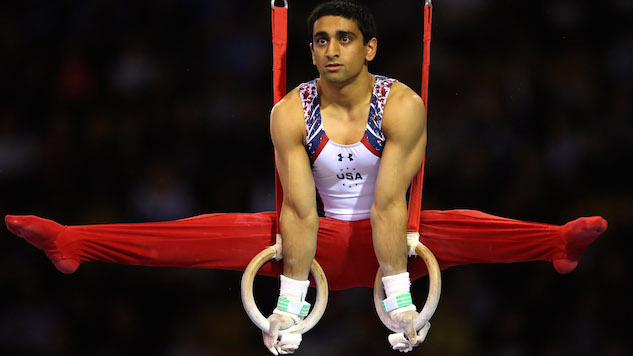 Akash Modi
Within this group are really good gymnasts, but it might not be their time just yet. The oldest, Kanji Oyama at 22 years old, just finished his senior season at Oklahoma University. The other three are still in college, but they all had great showings at P&G Championships. All three finished within the top five of the all-around. Modi finished fourth while Moldauer and Melton finished tied for fifth along with Donnell Whittenburg. Moldauer, at just 19 years old, is the reigning NCAA all-around champion in just his freshman season. There might be an alternate that makes it out of this group of four, but most likely these gymnasts will be the favorites heading into the 2020 qualification process.
Dan Pizzuta is a freelance writer and former Division I gymnast at Temple University.