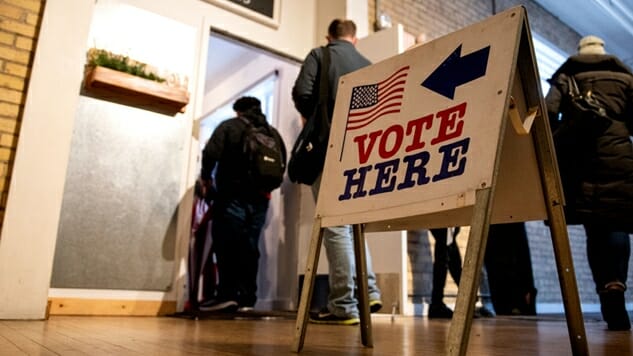 This piece is designed to be used as a quick reference guide for Election Day. Not all of these races may be the most important in each state. I will be going out of my way to avoid most of the obvious candidates (meaning that Beto O'Rourke will not be part of this preview), and in addition to the races for Congress, this piece will focus a lot of attention on the vitally important battles for governor, as well as various referendums of which some will certainly have a larger impact on democracy than the majority of candidates who win tonight.
Here are the races you need to know about, how the most recent polls look going into election night (some referendums have no polling available, however) and a quick explanation why they are so important to America's future.
* — denotes the party that currently holds this seat
Alabama
Race: Amendment 2 — State Abortion Policy
Rating: No polling available
Reason: A yes vote would make it state policy to "recognize and support the sanctity of unborn life and the rights of unborn children, including the right to life." GOP state Rep Matt Fridy, who sponsored this amendment, said it was intended to ensure that no justification for abortion could be used in the event of Roe being overturned.
Alaska
Race:Mark Begich (D) vs. Mike Dunleavy (GOP) for Governor
Rating: R+1% per Ivan Moore Research last week
Reason: America's most remote state doesn't have many options to choose from, but it does have a competitive governor's race between former Senator Begich and former state Senator Dunleavy now that incumbent Independent Governor Bill Walker suspended his campaign due to his belief that "we cannot win a three-way race."
Arizona
Race: Kyrsten Sinema (D) vs. Martha McSally (GOP)* for Senate
Rating: R+0.2 per RCP Average
Reason: The battle for Jeff Flake's seat will be one of the races which will determine the composition of the Senate. It seems all but certain that the Republicans will hold the Senate, but there are a handful of scenarios where the Dems sweep congress, and almost all of those scenarios include Sinema defeating McSally.
Arkansas
Race: Issue 5 — Minimum Wage Increase
Rating: 60% Yes, per Talk Business & Politics/Hendrix College Poll last month
Reason: Arkansas' current minimum wage is $8.50, and this would raise it to $11 per hour by 2021. When centrist Democrats say that progressive policy can't win in red states, point to this seeming impending victory in Arkansas.
California
Race: Mike Levin (D) vs. Diane Harkey (GOP)* for CA-49
Rating: D+7 per KGTV/SurveyUSA last week
Reason: This is Darrell Issa's seat, and hoo-boy has it attracted a lot of money. Levin has received three times the "large individual contributions" as Harkey, so this is no-doubt one of the DNC's key races they have invested in while trying to build a blue wave.
Colorado
Race: Proposition 112
Rating: 52% Yes per University of Colorado/YouGov
Reason: This is another "we need to get serious about climate change" vote. A "yes" vote establishes a 2,500 foot buffer (currently 500 foot) for new oil and gas projects from buildings and other assorted quirks of civilization. Based on the absurd ads put out by the oil and gas lobby, you'd think civilization was at stake over this 2,000 foot buffer.
Connecticut
Race: Ned Lamont (D)* vs. Bob Stefanowski (GOP) for Governor
Rating: D+4.5% per RCP Average
Reason: Lamont's biggest problem is how deeply unpopular outgoing Democratic governor Dannell Malloy is—as the GOP has dedicated a significant portion of their budget trying to pick off this governor's mansion from one of the few Democratic incumbents they conceivably could usurp.
Delaware
Race: State Legislatures Up for Grabs
Rating: No polling available
Reason: Delaware has a lot of important elections for their state legislatures, but nationally, it's slim pickings, so we'll highlight the fact that Democrats hold a one-vote lead in the Delaware Senate with five seats up for grabs.
Florida
Race: Andrew Gillum (D) vs Ron DeSantis (GOP)* for Governor
Rating: D+4 per RCP Average
Reason: The United States of America has had four black governors. All of it. Ever. There are three on the ballot this cycle, and two have a real shot at winning. It may not feel like it, but some good changes are indeed happening to our country.
Georgia
Race: Stacey Abrams (D) vs Brian Kemp (GOP)* for Governor
Rating: R+2.8 per RCP Average
Reason: Brian Kemp is the current Georgia Secretary of State, meaning that he's overseeing his own election, and he's put a voter disenfranchisement operation in place that's reminiscent of Jim Crow. If Georgia were a poor country in the Middle East with oil, the United States would have invaded it by now, citing Kemp's outright authoritarianism.
Hawaii
Race: Surcharge on Investment Properties to Fund Public Education
Rating: +18% oppose, per Civil Beat poll a few weeks ago
Reason: Perhaps America's bluest state, Hawaii doesn't provide much fodder for political drama. They elect Democrats. That's about it. That said, this does not look like a very liberal outcome, as it seems that most Hawaii voters don't deem this tax of investment property for education funding necessary.
Idaho
Race: Proposition 2 — Medicaid Expansion
Rating: "Nearly 60%", per "public and internal campaign surveys."
Reason: As part of Barack Obama's Affordable Care Act, states essentially received free money to expand Medicaid. Many states with Republican governors have not taken the free money. Maine has a Republican governor, and their populace overruled him to expand Medicaid, and there is a good chance that we could see that happen in four deep red states tonight.
Illinois
Race: Lauren Underwood (D) vs. Randy Hultgren (GOP)* for IL-14
Rating: D+6% per NY Times/Siena last week
Reason: Hultgren is one of Paul Ryan's most faithful servants in the House, and Underwood is running a campaign in the Chicago suburbs to try to prove that Democrats can run and win on gun control.
Indiana
Race: Joe Donnelly (D)* vs. Mike Braun for Senate
Rating: D+1.3% per RCP Average
Reason: If the Democrats want to take the Senate, they must hold seats like this one.
Iowa
Race: Cindy Axne (D) vs. David Young (GOP)* for IA-3
Rating: D+ 1.5% per RCP Average
Reason: This is one of those famed Obama-Obama-Trump districts, and if the Democrats have learned anything from 2016, this should swing back to the left.
Kansas
Race: Laura Kelly (D) vs. Kris Kobach (GOP)* for Governor
Rating: R+1, per Emerson last week
Reason: The fact that this is a race to watch in one of the most conservative states speaks to how unpopular Kobach is as well as the Kansas GOP, which followed the GOP's austerity politics to its logical conclusion and sparked a massive budget crisis.
Kentucky
Race: Amy McGrath (D) vs. Andy Barr (GOP)* for KY-6
Rating: Tied per NY Times/Siena this week
Reason: This will be one of the early bellwethers of the "blue wave." If McGrath wins by a comfortable margin, watch out.
Louisiana
Race: Amendment 2 — Unanimous Jury Verdicts
Rating: No public polling available
Reason: Louisiana is one of two states where unanimous juries are not required to convict a defendant, but Oregon at least requires all 12 jurors to agree for a murder conviction. In Louisiana, it only requires 10 of 12, and its impact falls down along racial lines exactly how you think it would. This is such a no-brainer that both the Koch brothers and the ACLU support requiring unanimous jury verdicts in Louisiana.
Maine
Race: Janet Mills (D) vs. Shawn Moody (GOP)* for Governor
Rating: D+8 per Emerson last week
Reason: This is the battle to succeed Governor Paul LePage, who is like Trump if Trump gave himself a concussion before going to bed every night, and it looks like it may tilt back to the Democrats. This is one of the reasons why most projections have the Democrats gaining somewhere around 10 governorships tonight.
Maryland
Race: Election Day Voter Registration
Rating: No polling available
Reason: There isn't a whole lot of action going on in one of America's bluest states, as a Republican looks poised to win the governorship going away, but an important step in the long battle for voting rights in America is taking place in Maryland, as there's really no good reason for refusing to allow people to register to vote the day they need to vote.
Massachusetts
Race: Question 3 — Gender Identity
Rating: +52% Yes, per Boston Globe/UMass Lowell last month
Reason: This looks like it will be a model as to how the transgender community can fight back against the array of conservative litigation designed to destroy their lives, as a "yes" vote upholds SB 2407 which prohibits discrimination based on gender identity in public places.
Michigan
Race: Proposal 1 — Marijuana Legalization
Rating: 55% Yes, per the Detroit Free Press
Reason: Do you live in Michigan, and want to make marijuana commercially legal, so that it's taxed and regulated like alcohol? Go vote.
Minnesota
Race: Ilhan Omar (D)* vs. Jennifer Zielinski (GOP) for MN-5
Rating: Not worth polling
Reason: A Republican has yet to break 26% support in this district this century, which means that Omar will take Keith Ellison's seat in Congress tonight, becoming the first Somali-American in Congress, and one of the first two Muslim women ever elected to the United States Congress (Rashida Tlaib is in a similar situation where she has Michigan's 13th all but wrapped up by now).
Mississippi
Race: Mike Espy (D) vs. Chris McDaniel (GOP)* for Senate
Rating: Espy at 43% per NBC News/Marist from two weeks ago.
Reason: This is a "jungle primary," meaning that candidates battle in an open election regardless of party affiliation, and if one person is unable to garner 50% of the vote, then the top two will go to a runoff in three weeks. The problem that McDaniel has is that he has another conservative contender to deal with, while Espy, who was the first African American elected to congress by Mississippi since the Reconstruction era, has none on the left. Espy is leading the polls, but right now it doesn't look like enough to stave off a runoff. If this Senate seat gets resolved tonight, it will likely be a very, very good night for Democrats (or a catastrophic one).
Missouri
Race: Claire McCaskil (D)* vs Josh Hawley (GOP) for Senate
Rating: R+0.6% per RCP Average
Reason: If the Democrats want to complete the hail mary pass that is their bid to control the Senate, this seat is a must-defend.
Montana
Race: I-185 — Medicaid Expansion
Rating: "Nearly 60%", per "public and internal campaign surveys."
Reason: This is the second of four red states proposing ballot initiatives to receive money allotted to them, but this one is a bit different in that it proposes a tax on tobacco products to pay for it.
Nebraska
Race: Initiative 427 — Medicaid Expansion
Rating: "Nearly 60%", per "public and internal campaign surveys."
Reason: And the third of four red states to try to overrule its GOP governor to get the Medicaid money promised to them by their federal government.
Nevada
Race: Question #6 — Clean Energy
Rating: 68% Yes, per The Mellman Group in April
Reason: If we are to stave off certain planetary disaster, we must switch our economy over to non-fossil fuel sources immediately. This would be a small step in the right direction. A "yes" vote ensures that Nevada energy utilities would have to acquire at least 50% of their electricity from renewable sources by 2030.
New Hampshire
Race: Chris Pappas (D)* vs. Eddie Edwards (GOP) for NH-1
Rating: D+6.5% per RCP Average
Reason: As someone who went to college in the Berkshire area, I really must say that I truly appreciate both of these extremely New England names. This district is known for swinging every single election, and will be a key test of the Democrats' "blue wave," as the GOP has spent a bunch of money trying to continue the trend of flipping this district.
New Jersey
Race: Tom Malinowski (D) vs. Leonard Lance (GOP)* for NJ-7
Rating: D+5.5% per RCP Average
Reason: Hillary Clinton carried this district by a single point, and as much as Trump wants to make the House election about anyone but him, this is the kind of seat that the GOP could lose precisely because of Trump's unpopularity.
New Mexico
Race: Deb Haaland (D)* vs. Janice Arnold Jones (GOP) for NM-1
Rating: D+12% per Albuquerque Journal last week.
Reason: If Haaland wins, she will become the first ever Native American woman to sit in the United States Congress. From a policy perspective, she is an inspiration as well, as she has campaigned hard on climate change, and a win would help (further) prove to the national Democratic Party that progressive policy is popular.
New York
Race: Antonio Delgado (D) vs. John Faso (GOP)* for NY-19
Rating: D+1% per NY Times/Siena this week
Reason: Delgado is a Rhodes Scholar, but he also rapped a few times, and you'll never guess which part of Delgado's distinguished career the New York Republican Party has chosen to highlight.
North Carolina
Race: Two Amendments Stripping Power from the Governor
Rating: No polling available
Reason: It's not a coincidence that these two measures appeared on the ballot once a state deemed "not a democracy" by the Electoral Integrity Project elected a Democratic governor. Right now, the North Carolina governor appoints people to oversee election commissions and also replaces judges. Two ballot measures would strip the governor of those rights, and give it to the state legislature—which, surprise surprise—is currently Republican. All five of the state's living former governors—three Democrats and two Republicans—oppose this measure. This is an attempted coup by the North Carolina GOP, plain and simple.
North Dakota
Race: Heidi Heitkamp (D)* vs. Kevin Cramer (GOP) for Senate
Rating: R+9% per RCP Average
Reason: If you're wondering why it's going to be so difficult for the Democrats to take the Senate, the litany of red state Democrats like Heitkamp defending their seats is why. To win, the Democrats not only need to gain seats, but they damn near have to pitch a perfect game across the seats they currently hold, and this one is looking pretty lost right now.
Ohio
Race: Richard Cordray (D) vs. Mike DeWine (GOP)* for Governor
Rating: D+4.7% per RCP Average
Reason: As America becomes more detached from Washington D.C., it will become all the more important for liberals to control huge states with a disproportionate share of national power, like America's 7th most populous state with the 7th highest GDP to boot.
Oklahoma
Race: Marsy's Law
Rating: No polling available
Reason: In 1983, Marsy Nicholas, then a senior at UC Santa Barbara, was stalked and murdered by her ex-boyfriend. After going through the pain of the criminal investigation, her brother, Henry Nicholas, fought to get a bill passed in California that for victims of crimes, includes the right to legal standing, protection from the defendant, notification of all court proceedings, and restitution. This law is now making its way to ballots and legislatures in several other states, including Oklahoma.
Oregon
Race: Measure 105 — Repeal "Sanctuary" Law
Rating: +13% No repeal, per DHM Research a month ago
Reason: Know how Trump rants about "sanctuary cities?" This is a direct consequence of it. The "sanctuary law" that has become a favorite talking point in conservative media is actually in place to bar law enforcement from "detecting or apprehending" people based on their immigration status, since it typically leads to racial profiling. What repealing this law would do is bring "papers, please" one step closer to America.
Pennsylvania
Race: Connor Lamb (D) vs. Keith Rothfus (GOP)* for PA-17
Rating: D+12% per RCP Average
Reason: This district exists in this iteration because the Pennsylvania Supreme Court overturned a GOP-gerrymandered map. Lamb sent shockwaves across the political establishment with his upset win in the 18th congressional district special election in March, and now his home resides in the 17th district, forcing him to run again. This is like doubling down in blackjack, winning, then letting it all ride on the next hand. Given his comfortable lead in the polls, taking this analogy one step further, it's like Lamb was dealt a 20 and now he just needs to avoid the dealer pulling 21 out of their hat.
Rhode Island
Race: Gina Raimondo (D)* vs. Allan Fung (GOP) for Governor
Rating: D+12.5% per RCP Average
Reason: Another governor's race that the Democrats have to have, Raimondo has held a comfortable lead the entire time, but it's still juuuuust close enough where the scars of 2016 make this one worth keeping an eye on.
South Carolina
Race: Joe Cunningham (D) vs. Katie Arrington (GOP)* for SC-1
Rating: R+7% per Public Policy Polling two months ago
Reason: This is likely a safe seat for the GOP, but in a nightmare "blue wave" scenario, a Democrat could claim this seat for the first time since 1981.
South Dakota
Race: Billie Sutton (D) vs. Kristi Noem (GOP)* for Governor
Rating: R+2% per RCP Average
Reason: Like Kansas, it's just astounding that it's this close. Trump carried South Dakota by thirty points, and Sutton's numbers have basically been going up in tandem with Trump's going down in South Dakota.
Tennessee
Race: Phil Bredesen (D) vs. Marsha Blackburn (GOP)* for Senate
Rating: R+5.2% per RCP Average
Reason: Also known as "the race that got Taylor Swift to dive into politics," this battle for Bob Corker's Senate seat has been one of the most expensive in the nation.
Texas
Race: Lizzie Pannill Fletcher (D) vs. John Culberson (GOP)* for TX-7
Rating: R+1% per NY Times/Siena last week
Reason: With all respect to Beto who's run a great campaign—and I hope I'm wrong—but let's talk about a Texas Democrat who can actually win. This seat hasn't been held by a Democrat in 50 years, but Fletcher has made a serious bid for the suburbs surrounding Houston—a city which became the largest in American history to elect a lesbian mayor (Annise Parker, 2009).
Utah
Race: Proposition 3 — Medicaid Expansion
Rating: "Nearly 60%", per "public and internal campaign surveys."
Reason: The last of four deep red states to vote for expanded health care coverage (*stares directly at the DNC and DCCC*) is combining it with a 0.15% increase in the sales tax to pay for it.
Vermont
Race: Christine Hallquist (D) vs. Phil Scott (GOP)* for Governor
Rating: R+10% per Gravis last week
Reason: If Hallquist could pull off the upset, she would score a landmark victory for LGBTQ rights in America, becoming our first transgender governor.
Virginia
Race: Jennifer Wexton (D) vs. Barbara Comstock (GOP)* for VA-10
Rating: D+8.3% per RCP Average
Reason: Comstock is one of the most thoroughly establishment figures in congress, and her 97% voting record with Trump is putting her in danger in this district which stretches from the D.C. suburbs to West Virginia.
Washington
Race: Lisa Brown (D) vs. Cathy McMorris Rodgers (GOP)* for WA-5
Rating: R+4.6% per FiveThirtyEight
Reason: This is the Democrats' best chance to take out a member of the GOP leadership this cycle.
West Virginia
Race: Richard Ojeda (D) vs. Carol Miller (GOP)* for WV-3
Rating: R+7% per Emerson last week.
Reason: Trump won this district by 50 freaking points and now the race for this seat is incredibly close. Emerson had a poll from September showing Ojeda up 5 points, and all the polls are hovering right around the margin of error. That this is a real race speaks to how popular the tattooed, retired veteran/state assembly member who allied with the teachers strikes is, but also how far Trump's influence has fallen in one of his most supportive states.
Wisconsin
Race: Tony Evers (D) vs. Scott Walker (GOP)* for Governor
Rating: D+5% per Emerson last week
Reason: This is a preview column, but I'll wander into prediction territory here: Scott Walker will lose this seat, meeting a fate he set in motion when he first came into office and antagonized every single labor group in the state.
Wyoming
Race: Doesn't Matter
Rating: GOP Wins
Reason: There are no ballot measures in Wyoming this year, so our only options to choose from are a bunch of Republicans currently up by a bazillion points in polls that came out yesterday. I'm sorry Wyoming, your state is very beautiful and severely underrated in that aspect, but there's like 20 people who live there and 15 of them vote straight Republican every time. Have more of you vote blue this year and next time you'll have elections dramatic enough to make a list like this.
Jacob Weindling is a staff writer for Paste politics. Follow him on Twitter at @Jakeweindling.