ABC Plans to Handle Midterm Election Night Coverage Like a Presidential Election Year
Photo by Nicholas Hunt/Getty
Politics
News
ABC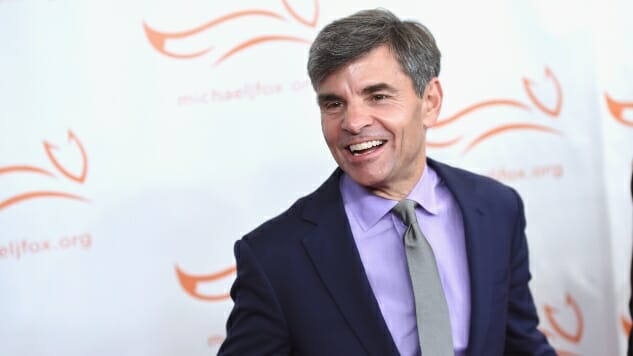 ABC News is planning to treat midterm election night coverage as if it were a presidential election year.
On Wednesday, the broadcast giant promised to devote the entire prime-time schedule on Nov. 6 to reporting midterm election results. The network announced its Your Voice, Your Vote show, anchored by George Stephanopoulos, will begin at 8 p.m. EST.
Meanwhile, four years ago during the midterm election of President Barack Obama's second term, ABC only had an hour of prime-time coverage, starting at 10 p.m. EST. The significant change goes to show just how important the 2018 midterms seem to be to the American public.
"It's something I'm thrilled about," Stephanopoulos said, per the AP. "I've never seen a midterm election that feels like this or could potentially be more consequential. This feels like a presidential election, in part because President Trump has made himself the center of the debate."
"I've worked in a lot of campaigns and I've covered even more," Stephanopoulos continued. "I'm going to bring all of that experience to bear on election night."
With the new start time, ABC will get a one-hour jump on its broadcast rivals.
While cable news networks will likely cover the subject throughout the day, both CBS News and NBC News previously announced that their continuous election-night coverage will not begin until 9 p.m. ET. ABC's head start may give the network a leg up among viewers interested in the race, looking to turn on coverage earlier.
"It's something that our viewers have shown that they want," said ABC News President James Goldston. "I'm hopeful that this will be the most complete coverage that we have ever done."
Throughout the night, ABC will keep close tabs on Nate Silver and his respected FiveThirtyEight blog projections. But perhaps in reaction to FiveThirtyEight's forecast of a strong probability of Hillary Clinton's election, Silver has made clear that changes will be based on results and not polling.
Stephanopoulos' Your Voice, Your Vote will begin on Nov. 6 at 8 p.m EST on ABC News. ABC will also offer a second-screen option, where viewers will be able to see statistics on local races.