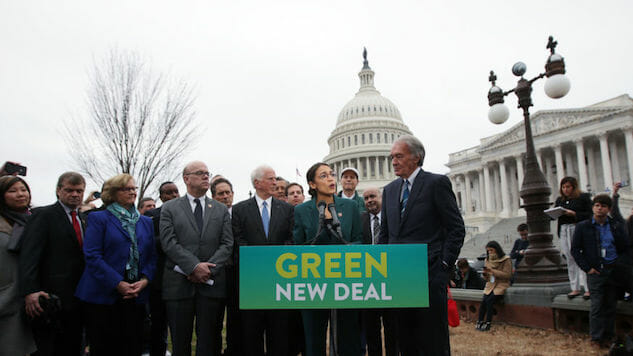 Tuesday, the Senate voted 0-57 against the Green New Deal, Democratic Rep. Alexandria Ocasio-Cortez and Sen. Ed Markey's sweeping framework to address climate change.
Democratic Senators Joe Manchin, Kyrsten Sinema and Doug Jones voted with Republicans against the measure, along with Independent Angus King, who caucuses with Democrats. The other 43 Dems simply voted "present" in order to avoid reaching the mandatory 60 votes to begin formal debate on the proposal.
This restraint from the Democrats came after Senate Majority Leader Mitch McConnell fast-tracked the legislation, hoping to get it to a divisive vote as soon as possible with no discussion or revision. At a rally Tuesday morning (per The Hill), Sen. Markey accused Republican leaders of putting on a "sham vote." "They are calling a vote without hearings, without expert testimony, without any true discussion of the costs of climate inaction and the massive potential for clean energy job creation in our country," Markey said. "And that is because Sen. McConnell wants to sabotage the call for climate action."
In turn, Ocasio-Cortez delivered an impassioned speech at a committee hearing in response to Republican pushback against her proposal.
Watch every second of this… @AOC is so incredibly spot on. pic.twitter.com/ESP4dC5TTo

— Brian Tyler Cohen (@briantylercohen) March 27, 2019
Democratic presidential candidates Bernie Sanders, Kamala Harris, Cory Booker, Elizabeth Warren and Amy Klobuchar all support the Green New Deal, and that's excited Trump. Sen. Lindsey Graham has told reporters that Trump asked Senate Republicans to "make sure you don't kill it too much, because I want to run against it." The ambitious framework will undoubtedly prove itself to be a major issue in the 2020 election.