Bitcoin Just Had its Biggest Week Since the Hysteria–And It's Only Tuesday
Photo by Dan Kitwood/Getty
Politics
Features
Bitcoin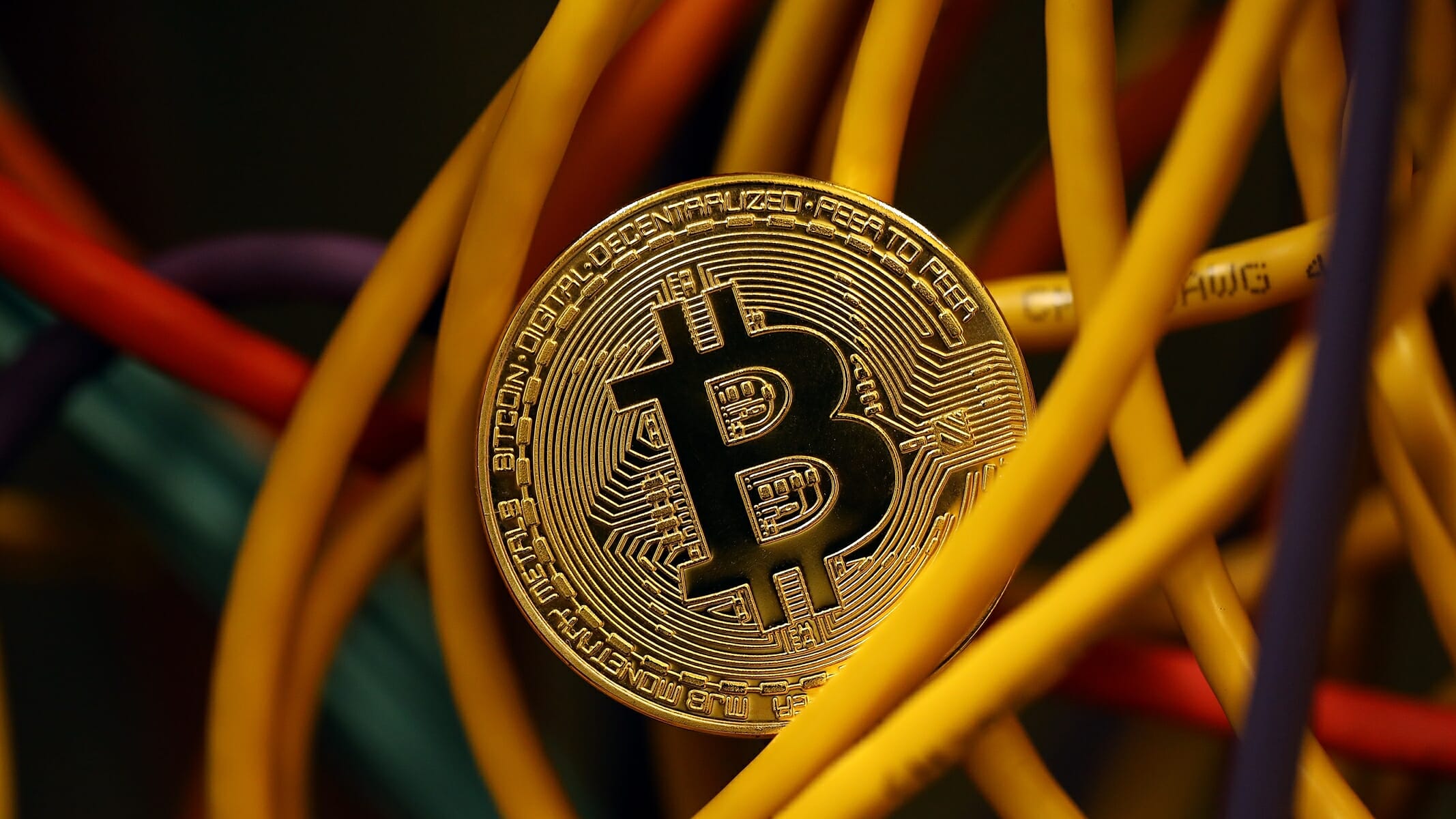 Just because the madness around cryptocurrency died down doesn't mean the market has. Sure, prices have collapsed, but thinking about this as a stock market is the wrong way to look at things. This is a new technology that is still very much working the kinks out, and price reflects investor sentiment and user activity—which is not always representative of where the technology currently stands. Besides, even if you do gauge this by price, Bitcoin is currently up 8.5% from 48 hours ago, and up 117% on the year. This isn't like the mania over the 2017 holidays—real things are happening now.
Bitcoin is the only cryptocurrency with a proven use case. It's difficult to see Bitcoin's ultimate utility while we are blinded by the global reserve currency here in the United States, but for countries with less stable currencies, Bitcoin can literally be a life-saver, as TechCrunch wrote in 2016:
In Latin America, the country most known for bitcoin is Argentina. And while Argentina has had the most bitcoin enthusiasts per capita, that may be starting to change. Brazilians and Venezuelans also have good reasons to adopt bitcoin — bitcoin holders in 2015 enjoyed earnings during 2015 that performed more than 400 percent better than the Venezuelan Bolivar, more than 92 percent over the Brazilian Real, more than 65 percent over the Mexican Peso and more than 41 percent over the Argentine Peso.
Bitcoin is something of a global savings account/global macro hedge fund.
Or put more simply: a Swiss bank account for the common man.
Bitcoin's price may have collapsed from near-hysteria levels, but news like this is far more encouraging to its long-term prospects than the artificially inflated mania we experienced from around Thanksgiving 2017 to the end of January 2018. Per Wired:
Microsoft would like to loosen its grip on your login. The company's credentials are used all around the internet, especially by companies and developers who use its cloud service, Azure. But on Monday, the company unveiled a project that, using the technology that underpins bitcoin, would give you control of your own credentials, independent of any company. The question is whether you'll want to take on the responsibility.
For blockchain enthusiasts, digital identity is one of the most tantalizing, but thus far unrealized, potential uses for the technology. The idea involves designing portable credentials that would work a bit like Facebook Connect, allowing seamless access to all sorts of applications. But instead of Facebook or Microsoft holding the keys, you would. Proponents argue that would be a boon for privacy, because no one could follow your activity around the internet. They also say it would help curb major leaks and hacks, since large pools of user data would be less likely to be stored in one place. Eventually, more complex and sensitive forms of data, from insurance cards to passports, could perhaps be stored in a decentralized digital form.
Call Microsoft's quest another use case for the technology.
This too. Per Engadget:
It's been difficult to spend cryptocurrencies at retail due to the technical and regulatory headaches associated with it, but that might not be an issue at some stores in the near future. Flexa has launched a payment network and a companion iOS app, Spedn, that should let you spend digital currency at major retailers like Baskin Robbins, Gamestop and Whole Foods. You just bring up a barcode at the register and the merchant scans it in — if they don't directly accept crypto, the payment network converts your funds into conventional money in real time.
Spedn works with Bitcoin, Bitcoin Cash, Ethereum and the Winklevoss twins' US dollar-linked Gemini. Android support is "coming soon." And the feature doesn't require new point-of-sale hardware — companies just have to configure their scanners to allow Spedn to work, according to Fortune.
This installment of good news is why the cryptocurrency market is rallying right now—and the sentiment is strong—as registered cryptocurrency derivatives exchange (the most 2019 phrase ever), Bitmex, just settled $10 billion in transactions in a day for the first time ever. Whether people will actually use cryptocurrency to pay at major retailers is still very much TBD, but the fact that stalwarts like Home Depot and Nordstrom are adopting it demonstrates both a non-zero demand that these companies have deemed worth pursuing relative to the cost of implementing the change—which is likely fairly low given the lack of new hardware one needs to purchase to work with this technology.
Plus, you don't have to deal with a half-honest merchant services company trying to nickel and dime you at every turn.
We just endured a mania, and then a bubble—no different from the stock market crash of the 1990s. While last year was stupid, it was not unique.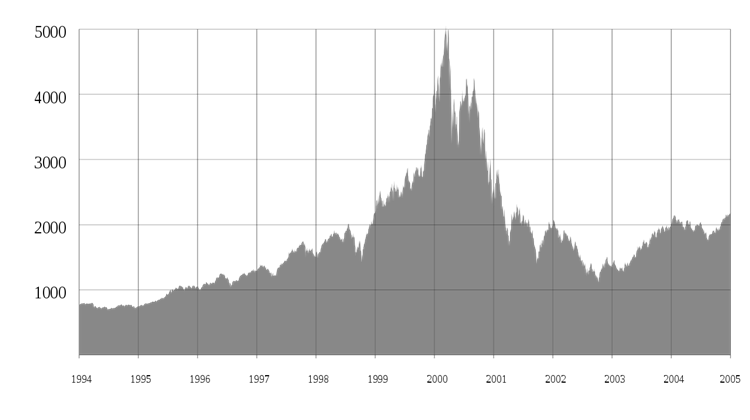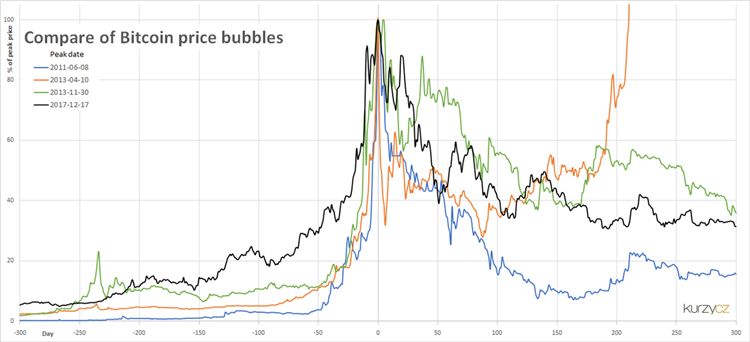 (this most recent cryptocurrency bubble is the dark brown line)
Charts via Wikimedia Commons
It's easy to make fun of cryptocurrency given how many idealistic libertarian utopists have gone from "let's burn down Wall Street!" to "Wall Street is going to make us rich!; but this is a real technology that has the potential to make life better for a lot of people by decentralizing power. "Blockchain for X" was just as stupid and short-sighted as Uber for X. Every business has different needs and specific kinds of businesses can really benefit from using the technology underpinning cryptocurrency.
Most businesses don't need a blockchain. It's just a slower version of a database. But when it comes to things like privacy, cryptocurrency is a potential revelation. The vast majority of the market is still in its nascent stages, but Bitcoin has been around for a decade now. It's proven its worth, and it's not going anywhere any time soon.
Jacob Weindling is a staff writer for Paste politics. Follow him on Twitter at @Jakeweindling.