The FBI Has Looked Into Law Enforcement Agency Infiltration by White Supremacists
Photos by John Moore/Getty, Spencer Platt/Getty
Politics
News
FBI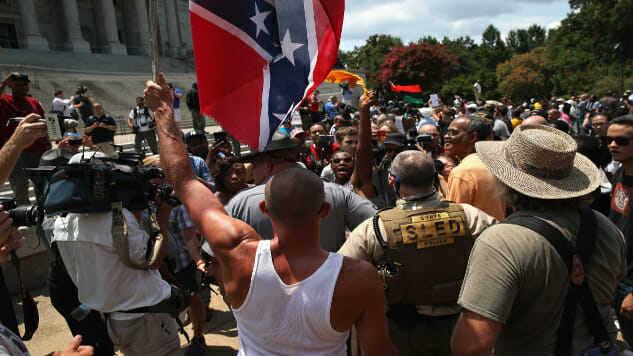 According to a report from The Intercept, building on previous reporting from PBS, the FBI has been covertly keeping tabs on possible white supremacist activity within law enforcement agencies across the country.
Per an FBI Counterterrorism Policy Guide obtained by The Intercept: "Domestic terrorism investigations focused on militia extremists, white supremacist extremists, and sovereign citizen extremists often have identified active links to law enforcement officers."
The guide itself is an echo of a previously redacted FBI internal intelligence assessment from October of 2006 which detailed the threat that white nationalist groups posed in infiltrating police agencies. Such attempts were identified as two-pronged, seeking to both recruit new members and nix investigations against current members of white nationalist groups.
That assessment came after a period of time when police officers in multiple departments were investigated, prosecuted or fired for engaging in racist behavior and supporting white nationalist groups. An officer in Chicago was prosecuted for overseeing a department that tortured more than 110 black suspects and kept a shock device he referred to as a "nigger box." Two law enforcement officers in William County, Texas (near Austin) were fired for being members of the Ku Klux Klan and attempting to recruit others. In that case, there were no direct complaints against the officers (Deputy David Gay and Sgt. Greg Palm) but the county sheriff insisted: "Regardless of how they did their job, the membership, in itself in fact, is enough, as far as I'm concerned as sheriff."
But, as evidenced by the 2015 guide and conversations with police reform advocates, such a dismissal isn't always likely. As Norm Stamper, a former police chief in Seattle, told The Intercept's Alice Speri: "Many of those departments come from a tradition of saying the officer is entitled to his or her opinions … You can fire someone. Whether the termination will stand up under review is the real question."
Moreover, the FBI has had investigations where even the deputy chief of police was found to be involved with the KKK. David Borst, the deputy chief in Fruitland Park, Fla., was fired, along with Officer George Hunnewell, after a confidential FBI source showed clear ties to the Klan. And in that case, the chief deputy state attorney opined, "It's not a crime to hate people. It may be despicable, it may be immoral, but it's not a crime."
And that's a big part of the problem with current investigations and prosecutions of law enforcement involvement in hate groups: there's not necessarily a crime, and officers who traffic in white nationalism can sue in court. Robert Henderson, a Nebraska State Patrol officer, appealed all the way to the Supreme Court on First Amendment grounds after he was fired for having Klan membership.
In arbitration, Paul Caffera ruled that Henderson (who told an investigator he joined the Knights Party after his wife left him for a Hispanic man) should be reinstated and receive backpay because his First Amendment rights were infringed upon. But that was ruling was overturned and then Henderson pursued the case further up the legal ladder.
There's even a difficulty in keeping tabs on such organizations because the FBI and local agencies don't have expansive resources to track right-wing extremist groups. That lack of intel was precipitated in 2009 when Department of Homeland Security Secretary Janet Napolitano was heavily criticized by conservatives who believed that a DHS report lumped far too many groups on the right together. DHS' right-wing extremist unit was then dismantled and the burden of tracking hate groups was left to organizations such as the Southern Poverty Law Center.
Embattled FBI Director James Comey has said, "All of us in law enforcement must be honest enough to acknowledge that much of our history is not pretty," but there have been no known moves to re-establish a task force dedicated to tracking hate groups and the current administration hasn't provided a signal that such investigations would be a top priority in the Department of Justice.