Emails Reveal Fox & Friends Producers Let Scott Pruitt Choose Interview Topics
Photos by Mark Wilson/Getty
Politics
News
Fox and Friends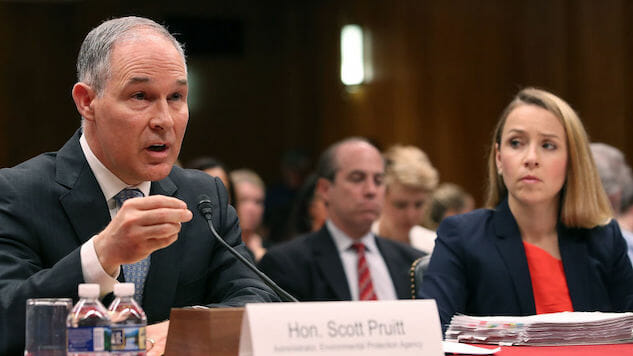 Fox & Friends, it turns out, pre-planned interviews with then-EPA Chief Scott Pruitt. The Daily Beast obtained emails between Pruitt's press team and the Trump-pandering TV show revealing that the two parties agreed on topics, questions and even segues before televised interviews took place. The Sierra Club, an environmental non-profit, brought these emails to light thanks to a Freedom of Information Act request.
Typically, an outlet only prescreens interviews to make sure that the pundit has worthwhile input. It's pretty clear in the case of Pruitt, the head of a government organization, that he'll have pertinent information. That's why it's strange, and even journalistically unethical, that Fox & Friends was so thorough in its interview preparation with Pruitt.
Pruitt, of course, has since resigned for entirely separate reasons, but the revelations about the show itself are frightening, if unsurprising. According to the revelatory emails, Pruitt's press team reached out to Fox & Friends producers in May of 2017 for an interview about helping communities it described as ignored by the Obama administration.
Producers Andrew Murray and Diana Aloi agreed, saying they'd follow up with "pre-interview questions on the agreed-upon topic, the new direction of the EPA and helping communities that were poorly served by the last administration." Aloi then proceeded to request talking points, inquiring about what Pruitt himself wanted to discuss. Even the segue into his segment was pre-approved by Pruitt and his team.
In doing so, Murray and Aloi relinquished their journalistic power. Fox & Friends allowed Pruitt to spin his uninformed views on the environment however he wanted. It wasn't acting as the press; it was purely a loudspeaker for the White House.
That was proven when the interview took place. Everyone stuck to the literal script.
This trend continued over several interviews. Eventually Fox & Friends asked a single question that wasn't prescreened. Pruitt was asked his opinion on the Paris climate accord. He responded by saying he believed the U.S. should find its way out of the deal, which was a major development at the time—but not to the host, who neglected to pursue further details. Instead, he helped Pruitt out by transitioning back to the agreed-upon topic.
When The Daily Beast asked about the prescreened interviews, a Fox spokesperson responded, "This is not standard practice whatsoever and the matter is being addressed internally with those involved." Regardless, these emails confirm suspicions held by many leftists that Fox is pandering to Trump's administration and actively helping to turn all press into good press.
Even the administration is aware of that. Further details reveal Pruitt wanted to appear on Sean Hannity's show so badly that his press team offered Hannity a private jet ride to Oklahoma, where the two would discuss Obama's water policy. Hannity turned the offer down, as he couldn't "make it work this week."