HBO Addresses Trump Tweeting Game of Thrones Meme in Response to Mueller Report
Photo by Drew Angerer/Getty
Politics
News
Game of Thrones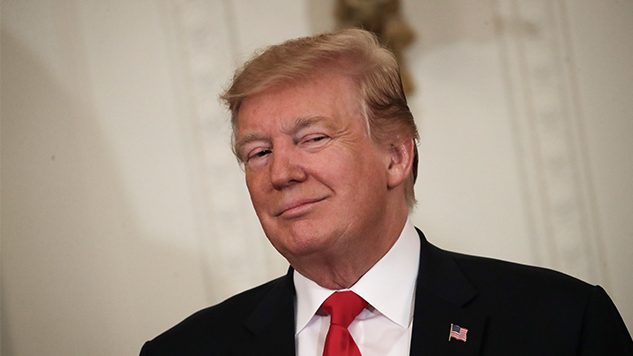 Now that the Mueller report is out, redactions and all, Donald Trump has decided to frame the document as a win, exonerating him of all wrongdoing. It also helps that Attorney General William Barr came out as the president's personal hype man Thursday morning at that ridiculous press conference.
Trump took his victory lap into meme territory, tweeting an image with "No collusion. No obstruction. For the haters and the radical left Democrats—Game Over" typed out in Game of Thrones' iconic font.
— Donald J. Trump (@realDonaldTrump) April 18, 2019
In response, HBO told THR, "Though we can understand the enthusiasm for Game of Thrones now that the final season has arrived, we still prefer our intellectual property not be used for political purposes."
This isn't the first time the president has invoked GoT imagery on social media. In November 2018, he tweeted, "Sanctions are coming," in regards to reimposing sanctions on Iran. HBO never took legal action, but stated at the time to THR, "We were not aware of this messaging and would prefer our trademark not be misappropriated for political purposes."
— Donald J. Trump (@realDonaldTrump) November 2, 2018
THR explains that legally, Trump could readily defend his use of Games of Thrones' font: "If claims of trademark dilution or infringement of trade dress were pursued, Trump would likely defend his posts as fair use of intellectual property in a culture where memes have spread wildly on social media."
Trump is obviously piggy-backing on one of the most recognizable and popular series in 2019 because that's how he operates. Our president is the product of meme-ery. If he actually watched the series, he'd probably be on the Lannisters' side, though there is some doubt as to whether he always pays his debts. Plus, he doesn't drink, so he couldn't hang with Cersei "My Goblet Overfloweth" Lannister. Maybe he's a little Lannister, with Robert Baratheon's stupidity and the Mad King's incestuous tendencies thrown in for good measure.