Nancy Pelosi and House Dems Take Floor to Condemn Congresswoman Ilhan Omar
Photo by Alex Wong/Getty
Politics
News
Ilhan Omar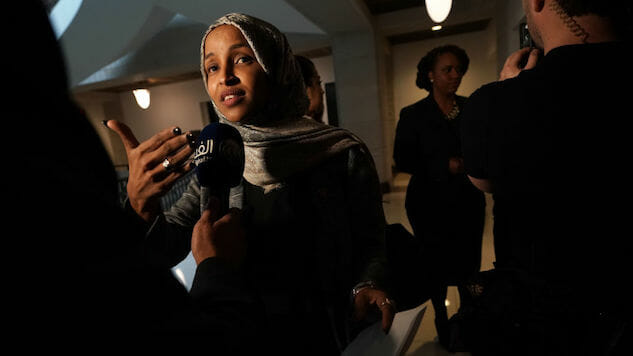 Speaker Nancy Pelosi and other top Democrats will take the House floor on Wednesday to respond to Rep. Ilhan Omar's comments concerning Israel and AIPAC.
While Omar is not mentioned by name in the drafted resolution, the four-page document details the recent rise of American anti-Semitism and specifically condemns the "myth of dual loyalty." This is the same language used by other top Democrats in recent days to condemn Omar for her comments at a Washington, D.C. bookstore event, where she said, "I want to talk about the political influence in this country that says it is OK for people to push for allegiance to a foreign country." Her repeated use of the word "allegiance" to describe support for Israel has been called a slur by many, including the Anti-Defamation League, who have pointed to the trope of "dual loyalty."
While Omar has been in office less than 70 days, this resolution will be her second public rebuke by House Democrats. Many Republicans, like House Minority Leader Kevin McCarthy, are considering moving a censure motion against Omar, according to Politico. GOP lawmakers likely see the controversy surrounding Omar as an opportunity to divide Democratic supporters of Israel and those on the left who remain highly critical of Israel's continually reprehensible treatment of Palestinians.
Representative Ilhan Omar is again under fire for her terrible comments concerning Israel. Jewish groups have just sent a petition to Speaker Pelosi asking her to remove Omar from Foreign Relations Committee. A dark day for Israel!

— Donald J. Trump (@realDonaldTrump) March 5, 2019
Many of Omar's supporters, now promoting #IStandWithIlhan on Twitter, have noted that she came to the United States from Somalia at age 12, and likely hit her political stride surrounded by others who felt comfortable openly criticizing the Jewish nation-state's actions without much thought towards potential use of anti-Semitic dog whistles. They recognize that some of her language has been offensive, but consider it ridiculous—and probably because she is one of the only Muslim women in Congress—to assume that she is an anti-Semite.
This is so important. @IlhanMN is a powerful moral voice at time when very few (even progressive) Democrats speak clearly and knowledgeably on foreign policy. She deserves unreserved support. #IStandWithIlhanhttps://t.co/5dvnYviJww

— Naomi Klein (@NaomiAKlein) March 5, 2019
See our piece on Rep. Omar's comments and the surrounding controversy for a full rundown.