The Parents of Kenneth French Want to See Video After They and Their Son Were Shot by Off-Duty Officer in California Costco
Photo via Getty Images, Scott Olson
Politics
News
police shootings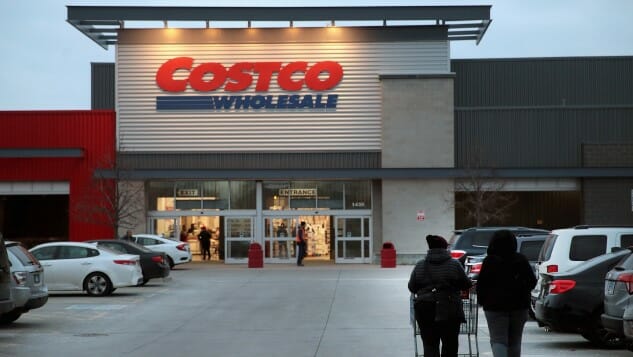 The parents of Kenneth French, a unarmed, mentally ill man who was shot and killed by an off-duty officer at a Costco in California back in June, are understandably consumed with both grief and rage. Not only was their son killed in the course of the family's Father's Day shopping after getting into an altercation with the off-duty officer, but both parents were also shot by officer Salvador Sanchez in the same altercation. An entire family, in other words, was shot in the same Costco, and now they're stating their case in the media and demanding to see surveillance video of the event.
The incident is reported to have taken place as the family stood around a sample table in Costco, and officer Sanchez came into contact with the French family. Kenneth French, who was nonverbal and had been diagnosed with schizophrenia, began some kind of altercation with the officer, and is variously described by witnesses as having shoved or punched the officer, who may have fallen to the ground. At that point the officer, who was there with his own wife and child, rose to his feet, pulled his service weapon, and shot all three members of the French family—Kenneth and parents Russell and Paola French, as they reportedly begged him not to fire.
"After hearing officer Sanchez identify himself as a police officer I begged and told him not to shoot," said Russell French at the family's Monday news conference. "I said 'We have no guns and my son is sick.' He still shot."
Mother Paola French said the same: "I told Officer Sanchez not to shoot twice. I even said please. I was pleading for our son and our lives. I was still shot in the back. What threat did I pose to him?"
All three members of the French family were reportedly shot in the back by the officer, whose attorney is naturally describing the incident as one of self-defense. Kenneth French was shot several times in the back and died of internal bleeding, according to the family's attorney. Russell French was shot in the abdomen, where a bullet grazed his pancreas. He was released from the hospital around a week ago. Paola French suffered more serious injuries after being shot in the back, and has reportedly undergone seven surgeries already to ameliorate the various complications of her injuries. All for committing no crime other than standing near her mentally ill son who struck a police officer.
"The physical injuries and trauma has been extremely painful to endure," said Paola French. "Not only did we lose our first-born son Kenneth, my husband and I have sustained injuries that will impact our lives forever."
Attorney Ira Salzman, representing officer Salvador Sanchez, characterized the encounter as a potentially life-threatening one for his client, saying "This wasn't a little push—this was a severe assault" to the Los Angeles Times. "It's just a terrible tragedy that we have two sets of well-meaning, good parents who were trying to help their children. My client acted in self-defense and this was a sad, tragic result, but he did not commit any crime, nor did he do anything to merit an award of civil damage."
Truly, we live in a disturbing society when the attorney of a police officer who shot three unarmed people in a Costco can acknowledge that his client's actions are "tragic," but simultaneously say that they were reasonable or justified. Following the shooting, Sanchez was placed on administrative leave. In response, the family has filed a claim against the city of Los Angeles as of Monday, citing that they are targeting the city "because Sanchez was trained by its police department, was using a weapon issued by that department, and was acting in his capacity as an officer when he announced himself as one," according to CNN. The city will have 45 days to respond to the claim, whereupon the family will decide whether to pursue a lawsuit. In the meantime, Paola and Russell French are finally burying their son, more than two months after he died.
"A push or a shove or even a punch does not justify the use of deadly force, particularly for a trained LAPD officer who should know better and should de-escalate the situation," said Dale Galipo, the family's attorney. "Especially when you're told someone is sick or has a mental illness, especially when you're in Costco and there's innocent customers and children."
The most profound statement comes from Kenneth French's younger brother Kevin, who sums up the entire situation in a single sentence: "I just can't understand how someone could walk into a Costco, kill my brother, shoot both my parents, shoot my mom in her back and then be able to go home that same night and sleep on their pillow while we're here struggling."