Despite high costs, Copa América Centenario will go down as overwhelming success
Photo by Mike Stobe/Getty
Soccer
Features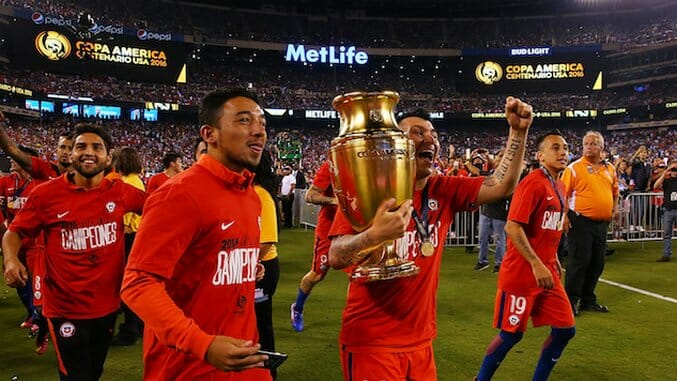 Chile wrapped up Sunday's Copa America Centenario with a win on penalties over Argentina in a rematch of last year's Final, when La Roja, hosting the tournament, triumphed in the capital, Santiago.
Lionel Messi missed his penalty in the shootout, further extending his reputation for failing to bring titles home to Argentina, a stark contrast to the 30+ he's won at Barcelona including four Champions League titles and as many Ballon d'Or awards.
Argentina's title drought for a senior trophy continues, and will reach 25 years the 2018 World Cup in Russia. In the post-match press conference, Messi shocked the world by announcing his retirement from international football. He'll never being home a top-tier honor to his country of birth, with the highlight being the 2008 Olympic Gold Medal.
Chile, on the other hand, are really coming into their own as a top international side. Coach Juan Antonio Pizzi has La Roja organized into a tough team with a reputation for knocking off giants. That all may start to change though, as Chile entered Sunday's ranked fifth in FIFA's national team rankings. Back-to-back Copa America titles call for well-deserved applause.
Here's where things start to get weird, though. While Centenario is the 45th edition of the Copa America tournament they've won, and while Chile will represent CONMEBOL (the South American football governing body) at the 2017 Confederations Cup and continue to wear the badge on their kits until the 2019 America's Cup scheduled to be held in Brazil, it's not technically a 'Copa América' title.
FIFA recognizes it as an official title, but it doesn't count as consecutive wins for Chile, so they still only have one CONMEBOL Copa América title, officially. Get it?
Futher clarification for those who want it from CONMEBOL: this is an official title, but not a Copa América title. https://t.co/CkvTSD78lq

— Sam Kelly (@HEGS_com) June 27, 2016
It's just another weird nuance at this summer's tournament hosted in the United States, and it could be a sign of things to come down the road. Commercialism is gaining a bigger influence in the beautiful game with every new lucrative television deal that is signed between governing bodies and networks for rights to show the matches.
During the tournament rumours emerged of a possible merger between CONMEBOL and CONCACAF (North American governing body). If it came to pass, it would see the end of CONMEBOL's Copa America as we knew it, replacing it and CONCACAF's Gold Cup with a tournament that would take place every two years with the United States as the permanent host country.
This greed-fueled speculation was one of the ugly sides of the Copa, with the other the high ticket prices at most of the venues. That had some negative repercussions, like empty stadiums and backlash over the cost, but as Copa America Centenario pressed forward into the knockout stages, attendances rose across the nation.
Chicago's four games (Jamaica vs. Venezuela, USA vs. Costa Rica, Argentina vs. Panama and Colombia vs. Chile) saw 174,510 walk through the gates at Soldier Field, for an average of 43,627.5 per game. That's only 71.5% capacity, and plenty of empty seats were visible at every match, representative of the tournament as a whole. The seven elimination matches did, however, see higher attendances.
New Jersey's MetLife stadium earned the biggest attendance for a soccer match in the state with 82,026 paying to see Chile defeat Messi and Argentina. Excluding the third-place playoff between the United States and Colombia (a rematch of the opening game, a 2-0 win for Colombia attended by 67,439 in Santa Clara) which saw just 29,041 spectators, games after the group stage boasted 66,364 fans per match. That's a pretty good counterargument for the organizers of both CONCACAF and CONMEBOL.
I spoke with fans outside of Soldier Field before the Chicago matches, and most seemed genuinely happy with their decision to take the opportunity to watch high-level international soccer. And, of course, to see Lionel Messi, arguably the greatest footballer of all time, play. He announced his retirement after Argentina's loss to Chile.
Elena Martellacci, a 31-year-old chemical engineer from Toronto, was outside of the gates with family members from Argentina for La Albiceleste's group stage match against Panama.
"We waited to see the results of the other games before we picked which one we were going to go to. We wanted to see a better game," Martellacci said.
They had considered going to a knockout round game, but that seemed like a hassle. The cost of getting to the location wasn't an obstacle, and the price of the tickets was only a slight deterrant.
"We're sitting in the upper level, the lower level seats were like $250 a ticket. A little too much, given the exchange rate (from Canadian dollars)," Rob, a man going to the game in Elena's group, told me.
Eventually they settled on tickets in the upper bowl, and undoubtedly were impressed with Messi's 25-minute hat trick. As were Robert Siegrist and David Reegan, two 16-year-olds from the sububs of Chicago who paid $130 each "to watch the greatest of all time, Lionel Messi," as Siegrist put it.
Certainly it could feel like a money grab, as many football tournaments these days are, but the tournament did set an attendance record, averaging more than 46 thousand fans per game with a cumulative official tally of 1,477,037. Those who had the money to spend simply didn't care, they just wanted to watch entertaining football.
As predicted, the South American sides dominated. Jürgen Klinsmann's USA was the only North American nation represented in the semifinals, and Mexico, the other CONCACAF team (out of six) to escape the group, was pulverized by Chile 7-0 in the quarters.
Of course, matching South America will involve a major learning curve, so will Copa American Centenario be good for the sport of soccer as a whole in the United States? The interest generated over the course of the games will be invaluable for the United States Soccer Federation (USSF) going forward, and the gate receipts and TV numbers prove that it was very profitable. When the bidding process for the 2026 World Cup comes around (which has been postponed due to corruption allegations aimed at FIFA concerning the previous tournament), the stats from this tournament will boost an already-strong US bid to host the Finals.
Crucially, the United States has yet again demonstrated it has the infrastructure to host a World Cup. With FIFA looking to improve its image, awarding the hosting rights of the premier competition in sport to a nation that already has the stadiums and airports necessary to avoid logistical nightmares and debt seems wise.
Yet even the United States may not be entirely free of the corrupt world of international soccer. This summer's Copa was cast into doubt around six months before the start of the tournament, when the US Justice Department discovered that CONMEBOL officials took around $110 million in bribes so this competition could be hosted in North America.
Regardless of what happens with the World Cup, Copa America and the Gold Cup could still merge into a tournament on a four-year cycle, presumably played on a similar rotation to the European Championships. This would be quite harsh on South American fans wishing to see their country play in, much less host, a Copa America match. The sheer number of inhabitants in the United States makes for a dream scenario for organizers wishing to fill stadiums. If it's still played at a time that South Americans can watch the matches, the reasoning goes, what's the issue?
Buy a flight to the United States, and there's still lodging, transportation and food to take care of, before you factor in a ticket to the match that's certain to cost over a hundred dollars itself just isn't feasible for fans from a continent with an average GDP of 11,027 American Dollars.
For estimate's sake, let's say the cost of the trip is $2000 total. The average Argentine makes $17,376 per annum, while Bolivians take home just $4,863 each. On average, a person in South America would have to spend between 11 and 41 percent of their income to watch a match at a Copa America tournament hosted in the United States.
Spending a fifth of your income to see a soccer game is a big ask. Unfortunately, it doesn't seem like this fact seems to be in the mind of anyone with the power to determine where this tournament is played.
Even so, a tournament showcasing the best of North and South American football is a great idea. The Copa America brought us some wonderful things this summer, including captivating attacking play and wonderful defensive efforts like the 120 minutes of scoreless soccer in the final.
Admittedly, the refereeing was below par with some questionable red card decisions handed out over the 32 matches. Brazil went home after a bewildering no-call on a handball in the box gave Peru a 1-0 victory and trip to the quarterfinals. The officials chatted for multiple minutes, but chose to let the goal stand. Brazil probably didn't deserve to move on after playing poorly in the group stage, but they'll still be upset about the way it went down.
On the home front, Jurgen Klinsmann remains under pressure going forward. Sure, his team reached the pre-tournament goal of reaching the semifinal stage, but they were handed a 4-0 defeat by Argentina, with both the players and the manager admitting they were scared of last World Cup runners-up.
The German came under fire for fielding too conservative a lineup, but that wasn't quite accurate. Without Jeramine Jones, Bobby Wood and Alejandro Bedoya at his disposal, Klinsmann had to shake things up. Chris Wondolowski is old, at 33, but going with a 4-4-2 against Argentina's high-pressing 4-3-3 was almost suicidal. Kyle Beckerman and Michael Bradley were overrun through the middle of midfield, and the floodgates opened after three minutes when Brad Guzan was caught in no-man's land as Ezequiel Lavezzi volleyed home a Messi pass that rendered the American backline useless following a corner.
A rematch against Colombia for third offered another chance that went begging. The creativity wasn't lacking, but the Stars and Stripes were missing the ability to finish, losing 1-0 in the end. Three wins, and three losses with a goal difference of 0 for the USA at Copa America makes it a perfectly average tournament, statistically.
One thing Klinsmann was able to provide was excitement. A 2-1 quarterfinal victory over Ecuador gave hope to the fans, especially with the way that Bobby Wood was prospering on the left flank. Blending veterans with youth is one of Jürgen's strong points, and it's something Americans can thank him for as they move forward. More importantly, it looks like he's done enough to keep his job, at least until 2018.
Will Copa America merge with the Gold Cup? It seems likely, considering the amount of money this year's tournament was able to bring in. As for lasting impressions, fans who were able to attend games seemed satisfied, but those who couldn't afford it may be left with a bitter taste.