Living in poverty is expensive and bad for your health, and people struggling to make ends meet are increasingly and disproportionately affected by climate change. Social entrepreneur Brandale Randolph knows all of this well, not only from growing up in rural Louisiana but as the founder of Project Poverty, he studied poverty, researching its outcomes and effects, trying to find alleviation solutions. 
After a career change sparked by the financial crisis of 2008, Randolph took training from his work as a commodities broker to follow his passion: helping people break the cycle of poverty. For eight years, the founder of 1854 Cycling has honed the fine art of pivoting, all while helping underserved communities, including the formerly incarcerated. The company, first launched in 2016, makes tech-laden electric bikes for first responders and is now expanding into motorcycles.
1854 Cycling is named after a pivotal year in Boston history, according to Randolph. A few years after the passage of the Fugitive Slave Act of 1850, a local man named Anthony Burns was found to be a runaway slave from Virginia. In Boston, organizations like the Massachusetts Anti-Slavery Society opposed the law and thwarted many slave-hunters from other states. During Burns' trial, he was found guilty, leading to a riot as people tried to prevent his recapture. The unrest led the federal government and the National Guard to escort Burns to the docks for return. 
Randolph's focus on serving underrepresented communities has shifted as he moved across the United States. When he lived in Lubbock, Texas, he discovered kids recently emancipated from foster care, the chronically unemployed and folks formerly incarcerated were the most likely to suffer from poverty. When his wife moved to Massachusetts for a teaching job, he ran the same numbers for the city of Framingham and found that another demographic, mothers who had been formerly incarcerated, were the most vulnerable. 
"I will always try to help those less fortunate and it bothers me that there are kids with no food or a coat in winter," he told Paste. "Everything I do is filtered through that passion of breaking that cycle."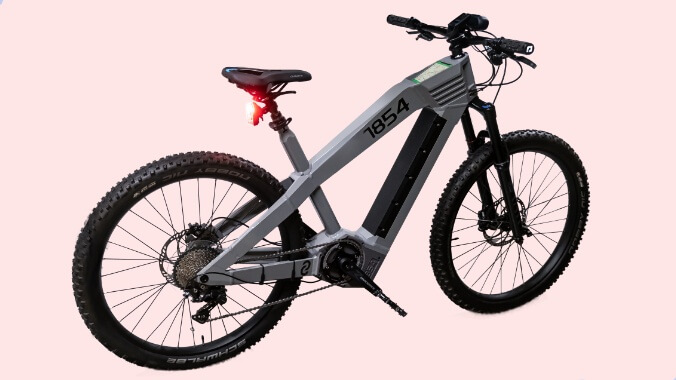 1854 Cycling's flagship product, the Bowditch, is an e-bike with advanced technology to help law enforcement better serve the public. Named after Henry Ingersoll Bowditch – a Boston-area physician, abolitionist and founder of the Anti-Man Hunting League – the bike is intentionally designed to not appear militaristic or invasive and comes with a special console that allows for better coordination, drone capabilities, and encrypted communication with homeless shelters, health care organizations, and other social service providers.
Randolph said the company studied hundreds of bicycles and design concepts before it developed what it believes is the most aesthetically pleasing bicycle in the world. The Bowditch is set to debut at the Massachusetts Chiefs of Police Association Trade show on Apr. 12. 
"The Bowditch was designed to give first responders access to tools and data from cloud servers that could foster a better relationship within the communities that they serve," Randolph said. Currently, the company is in the process of moving into a new facility in Hyde Park where Randolph estimates he'll be able to immediately employ 35 to 40 people and hopefully grow to 100 as production grows to 1,000 bicycles per year.
Now, Randolph said he's ready to shift gears literally, as well. Using new electric propulsion tech developed in conjunction with M.I.T., he wants to move into motorcycles.  When it was founded, 1854 Cycling employed about 20 employees—women that had previously served time in jail—fixing up old bikes. As the business shifted amid the effects of supply chain issues and complications arising from the pandemic, Randolph has had to rethink how 1854 Cycling can impact communities most in need. His new venture will require highly skilled labor, but Randolph has a plan. 
As a business-to-government (BTG) supplier, and in response to a recent executive order signed by President Joe Biden to boost the production of goods "Made-in-America," Randolph said the 1854 Cycling Company is seeking to work with local suppliers and manufacturers to, again, pivot while pursuing their mission.
"We are currently in development of our own fully electric, fully enclosed three-wheeled motorcycle, we have named the Hayden," Randolph said. "Sounds far-fetched I know but I have tried to live by a quote that I read and it said. 'The size of your dreams must always exceed your current capacity to achieve them.' If your dreams don't scare you, they aren't big enough. So far, it has served me well."
Currently in the concept phase, Randolph said the new three-wheel, two-person bike will employ new electromagnetic technology and could make 1854 the first Black-owned motorcycle company. 
"Building our e-bikes I think we could provide 60 to 80 jobs if we grew to our potential," he said. "Building motorcycles, now you're talking 300 to 500 jobs."
Dana Forsythe is a freelance writer covering tech, comic books and culture. He lives in Massachusetts, enjoys photographing street art, collecting comics and can be followed via Twitter @danafour.