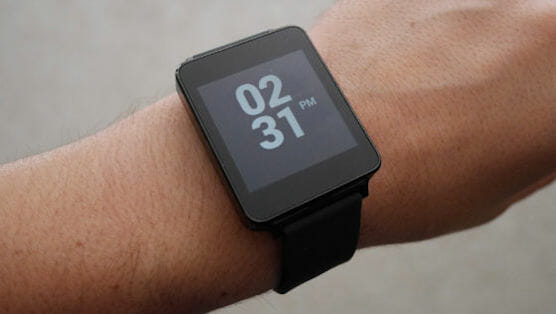 With the release of the first two Android Wear devices—LG's G Watch and Samsung's Gear Live—smartwatches are officially going mainstream. At least, that's what Google is hoping. It's still yet to be seen if the mainstream population really wants these watches, but they're here regardless. The two devices are very similar in technical specs and functionality—it's pretty much down to the design of the display and the fit on your wrist.
In a year or so, LG's G Watch probably won't be seen as a revolutionary smartwatch. Instead, it'll be seen as the first the first of many devices to use Android Wear—Google's new wearable software. At $229 the device also verges on unrealistic purchasing territory for most people who are unsure why they need another screen on their person.
The G Watch is still interesting as a competitor to Pebble's smartwatches and does shed some light on where the smartwatch category is headed.
Hardware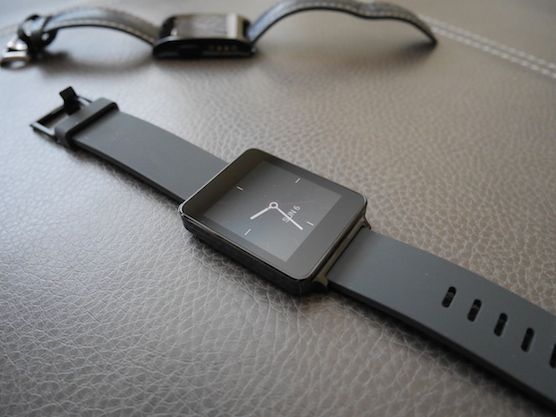 The G Watch isn't a flashy piece of hardware. It's a fairly plain, buttonless black square, a form factor I found to be a bit boring, although unobtrusive. In terms of size it's bigger than some probably prefer, but considering the technology packed in, the watch isn't huge and is definitely a manageable size for men. For women or anyone else used to a smaller watch face, they'll most likely be turned off by the G Watch's utilitarian look and feel.
The watch features an always on color LCD that consistently made it a full day on single charge. There's a built in pedometer for counting steps, but the G Watch lacks the heart rate monitor which comes on Samsung's Gear Live. The color LCD is bright and colorful, coming in with 280×280 resolution and looking fantastic indoors. Outdoors, however, the display is the watch's Achilles heel. The brightness is adjustable, but it makes little difference in direct sunlight.
The LCD being hard to read outside was annoying, but I don't think it's a deal breaker. Reading the screen occasionally took some angle readjustments, but most of the time I found myself in lighting conditions that didn't affect the visibility. People who spend a lot of time outside would probably be better served with Pebble's E-paper display. For everyone else, however, the LCD will be perfectly fine and having a colorful touchscreen display is a nice feature.
The rubber watch strap that comes on the G Watch I found to be a nice upgrade over the one on the original Pebble, but in general feels a little cheap. The good news is that it shouldn't matter all too much because the strap is user replaceable with any standard 22mm watch band. Overall, the band has plenty of adjustment holes and fit well on my wrist. Wearing the G Watch wasn't too different from any other watch, it wasn't overly heavily and never became too noticeable.
When you do need to charge it, the G Watch sits on a magnetic block barely bigger than the watch face. There's pros and cons compared to Pebble's proprietary cable, but overall it's a nice solution that should fit well on a nightstand. Speaking of charging, you'll need to get used to doing it every night because the G Watch's 400 mAh battery won't get you passed one day of normal usage.
For better or worse, the LG's G Watch hardware is simple. There's no visible branding, no buttons, and little to get excited about. For some people the plainness may be a let down, however, in some ways a nondescript device is a perfect way to show off the Android Wear software.
Software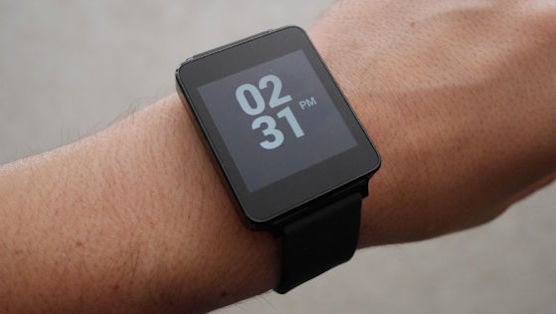 More important than the G Watch's hardware is Android Wear. Unlike the open nature of Android on mobile devices, Google seems to be putting a tighter lid on the customizability of their wearable operating system. The software is the Android OS paired down in a way that makes sense for a small device on someone's wrist. Google designed Android Wear in such a way that developers can simply add extensibility to their existing apps in order to run on watches. This should make adoption of the system quicker and users should see new apps sooner.
Since it's still very early, however, there aren't many apps yet. Some of the more interesting ones with real world benefits are from Delta and American Airlines which puts a boarding pass barcode right on your wrist. Making it easy to scan as you pass through the line. There's also a controller for Hue connected lights which means you won't have to be continually digging in your pocket for the Hue app. There's also different types of apps beginning to crop up like Mini Launcher which provides easier access to local watch apps.
As developers start figuring out what kinds of apps work and which ones don't the possibilities will inevitably get more interesting. Until that happens, Google Now is the star of the show. Because typing on a watch would be near impossible, voice is the main input method. One tap on the screen will bring up Google Now, or you can simply say "OK Google" while the watch is awake (not dim).
Once you have Google's attention, you can send texts, emails, set timers, or just search the web. If speech to text is something you're currently comfortable using on your phone in public then it's no different talking to your watch. For me, I found it a tough sell to navigate the watch asking it to set a timer or search while around other people. Sending messages worked well and it's a cool use case—but again I found it to be awkward to do anywhere other than in my house.
Part of Google Now's appeal on the watch is that you can be notified about different items without even asking. If it knows what sports teams you like, or stocks you follow, that information will just show up throughout the day. As great as the feature is, the implementation isn't quite right just yet.
For example, you can't necessarily tell if multiple cards are waiting without tapping and scrolling through them. Right now you can also only turn app notifications on or off. Selective notifications from certain designated contacts isn't possible yet—nor are a number of other customization options that we've grown to love on our smartphones. It's an all or nothing approach that will hopefully get refined in the future at some point. Fortunately, Android Wear does a good job of staying in sync with Android smartphones, which is one of the main draws of having a smartwatch.
Overall it still feels like the very early days for Android Wear. The basics like swiping and voice input have been decided on, but beyond that it's all just one big experiment. As a wearables platform, the software is a solid foundation, but it's one that will likely frustrate or confuse anyone beyond the dedicated technophiles. The good part is that Google has always been a company about iteration, especially when it comes to software—and if the Android mobile OS is any proof, they know how to do it well over a long period of time.
The LG G Watch is a more than adequate first effort, but still falls short of the huge potential in wearable technology. It's unlikely that the G Watch or Samsung's Gear Live smartwatch will truly open up the market it any substantial way or expose the newness of the wearables category to the masses. The first circular Android Wear device, the Moto 360, might have a better chance of doing so, but until then, smartwatches still have a lot to prove to the world.